Super AMOLED
Anand talked about the Galaxy S line's Super AMOLED display in his Epic 4G review. I thought I'd expand on that by saying that reducing the number of layers and air gaps between display, coating, capacitive digitizer, and finally top layer glass, is what the "Super" in Super AMOLED is all about.
It might not sound like a big deal, but reducing the number of interfaces between those light emitting OLED pixels and your eye is hugely important. Each successive interface - purely by being an interface with different index of refraction - creates a reflection that attenuates light. Glass to air interfaces usually have a reflection coefficient of around 4%, meaning only 96% of light makes it through. If you've got two or more air-glass interfaces, that adds up quickly, and you lose that light entirely to reflection. How much that reflection coefficient is depends on the index of materials at the interface, but more interfaces in general hurts transmission. Reflections and glare is also what makes reading displays difficult outside.
This sort of display-digitizer lamination is quickly becoming the norm rather than the exception. The iPhone 4 did it, and now Samsung is doing it with its own AMOLED displays - expect to see others do the same. The result is that there's perceptibly less distance between the top of the digitizer and the pixels themselves (viewed from an angle), and now less glare and more light making it through. Yay for optical contact!


View this one bigger in full size to see what I mean
Next to the Nexus One, you can really see how much less distance there is between pixels and the surface of the top glass. The Samsung's Super AMOLED display literally appears to be on the surface.
The front of the Fascinate is one unbroken glass surface. Honestly, the display is probably the best part of the Fascinate. The 4" size isn't too big, but just right. At the bottom are capacitive buttons - as usual in yet a different order than I'm used to. Menu at the far left, home, back, then search from left to right.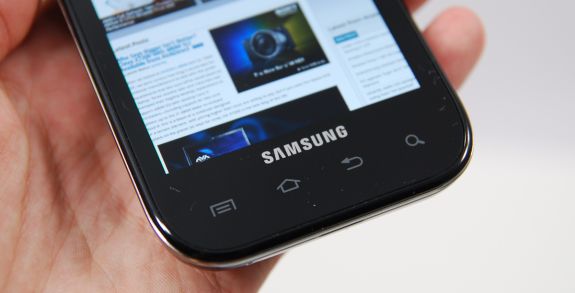 The buttons are backlit, but only for a few seconds at a time. It's a bit frustrating, especially since right when you want them to be backlit most, they're inexplicably not lit.
I'd say AMOLED has come a long way since the Nexus One. My Nexus One routinely has ghosting and appears off-white - the Fascinate's Super AMOLED display is perfect. I used to be turned off by AMOLED's weird grain from the PenTile matrix - the Fascinate somehow has noticeably less. Either that, or I've just grown more accustomed to it. The oversaturation downside is still there, it's especially obvious when you pull screenshots from the Fascinate or any AMOLED device down to the desktop on a calibrated display.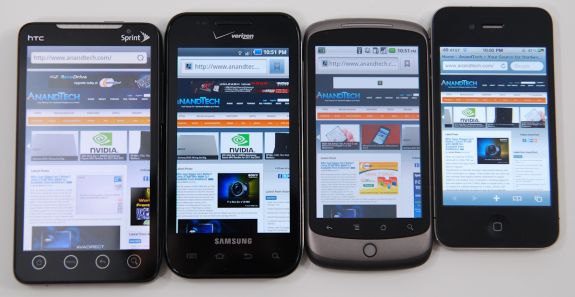 Outside readability in practice is improved from the Nexus One. Honestly, it's still hard to read in direct sunlight outside, but it's better. For doing just about anything, seek shade.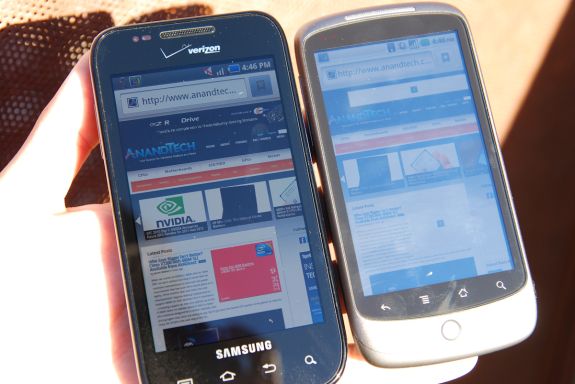 Viewing angles on Super AMOLED are pretty awesome. I'd say contrast is pretty much unchanged even at extreme angles like 85 degrees. I've included lots of different angles and more outdoor and indoor comparison shots in the gallery below.
The oddest parts of the Fascinate's display are all the brightness settings. There are three of them - one in settings that every Android device has, another down below that's basically dynamic contrast, and one in the browser. It can get a bit confusing controlling everything that's going on brightness wise.
I measured a bit more brightness than Anand did on the Epic 4G: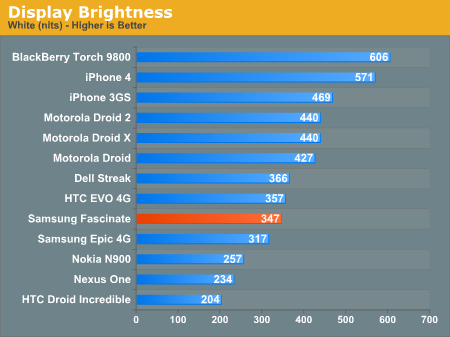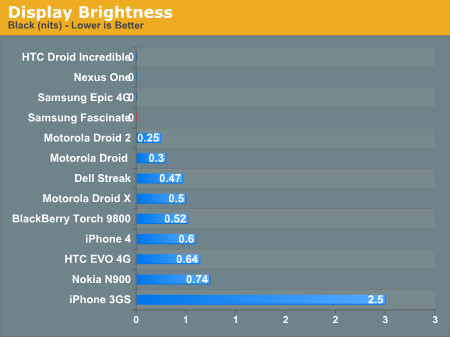 Black levels are perfect again, and thus so is contrast.
I have to agree with Anand - if resolution is what you care about, the iPhone 4 leads. If contrast and seriously vibrant (to the point of being oversaturated) colors are what you like, Super AMOLED is where it's at.