General Performance with the ID49C
Our testing suite remains consistent with our previous test results, but what may make this a bit more interesting is the spread of i5-powered notebooks. Thanks to our ASUS reviews, we've got i5-430M and i5-450M notebooks sporting GeForce GT 325M and 335M GPUs, along with the Studio 14's Mobility Radeon HD 5470. This gives us a fairly level playing field when we move on to gaming performance.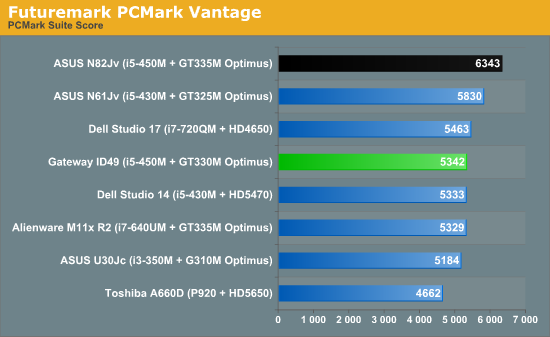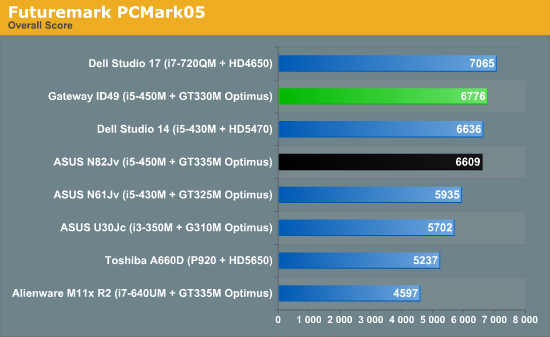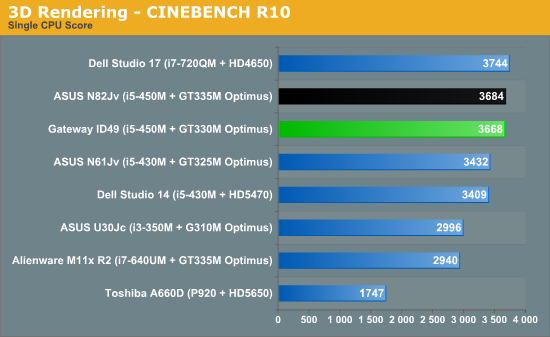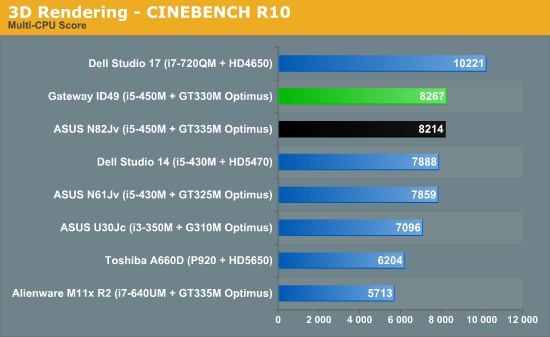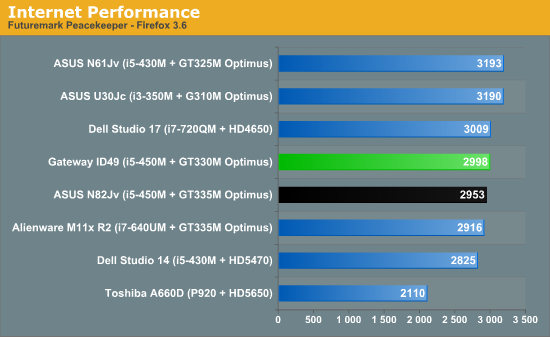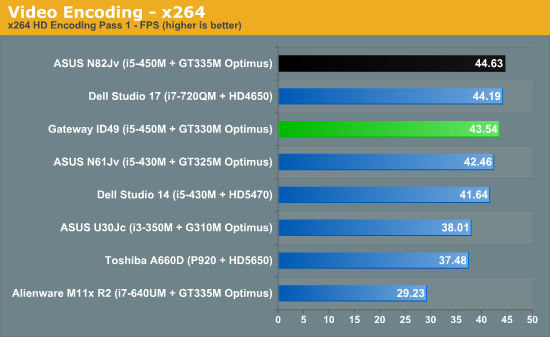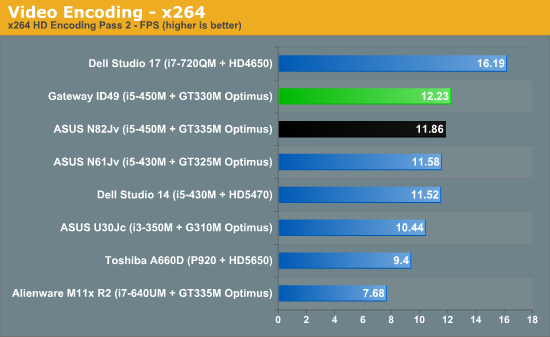 The ID49C is performing pretty much where we'd expect it to, falling in line with the other i5-450M notebooks and even actually posting a slight lead on the ASUS machines.
Starting with the Futuremark benchmarks, PCMark Vantage's predisoposition to faster storage subsystems allows the ASUS units with their 7200 RPM hard drives to sail past the ID49C. PCMark05 is a bit more balanced, where the 450M is bested only by the quad-core 720QM in the Dell Studio 17; the 720QM has a nominal 1.6 GHz clock speed, but it turbos up to 2.4 GHz on two cores, allowing it to close the gap with the 450M in less heavily multithreaded applications. Peacekeeper remains inscrutable, with the ASUS units running at slower clocks posting minor leads.
When you spread out to Cinebench and the x264 benchmarks, the story remains the same, with the ID49C falling in line exactly where it should be. While it posts leads on the other i5-equipped notebooks, these leads are minor and within the margin of error. The extra 266 MHz the i5 is capable of under turbo mode allows it a slight advantage over the 720QM in the Dell, but that advantage is ceded the instant the two additional physical cores come into play. In almost all cases, the unfortunate Phenom II P920 in the Toshiba A660D brings up the rear. The 1.6 GHz clock speed is devastating to an architecture that's already slower clock-for-clock.