x264 HD Video Encoding Performance
Graysky's x264 HD test uses x264 to encode a 4Mbps 720p MPEG-2 source. The focus here is on quality rather than speed, thus the benchmark uses a 2-pass encode and reports the average frame rate in each pass.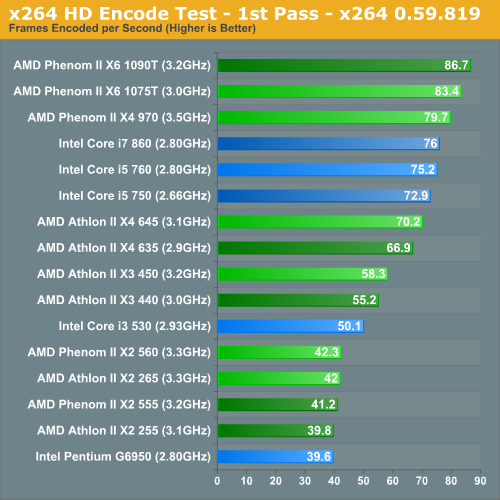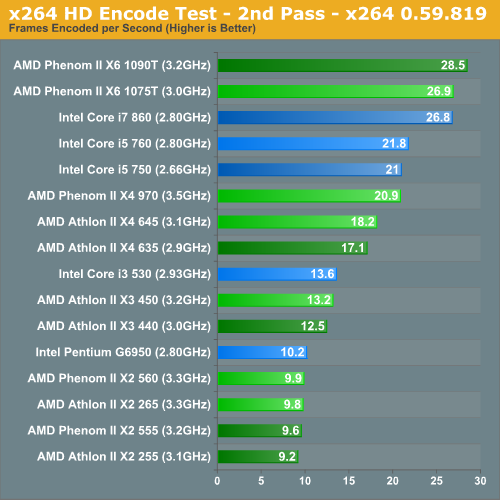 Video encoding performance is a definite strength of the Phenom II X6. You get comparable performance to the more expensive Core i7 860. And without Hyper Threading, the Core i5s are unable to distance themselves from the Phenom II X4 970.
Again the Athlon II X4 645 and X3 450 dominate their respective competitors.
PAR2 Multithreaded Archive Recovery Performance
Par2 is an application used for reconstructing downloaded archives. It can generate parity data from a given archive and later use it to recover the archive
Chuchusoft took the source code of par2cmdline 0.4 and parallelized it using Intel's Threading Building Blocks 2.1. The result is a version of par2cmdline that can spawn multiple threads to repair par2 archives. For this test we took a 708MB archive, corrupted nearly 60MB of it, and used the multithreaded par2cmdline to recover it. The scores reported are the repair and recover time in seconds.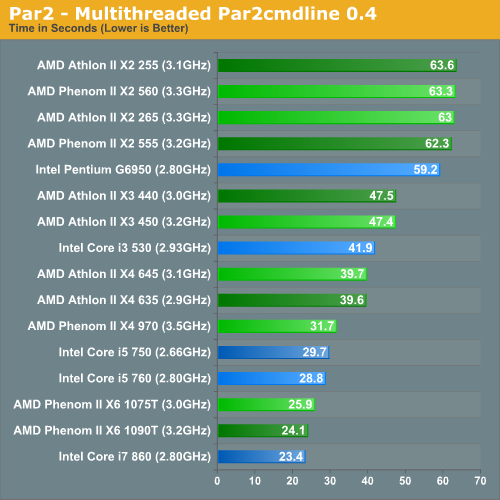 The direct comparisons we've been pointing out this entire match continue to hold as we look at different applications. The Phenom II X6 1075T performs as it should, while the Phenom II X4 970 falls short of the i5 750. The triple and quad-core Athlon IIs couldn't be better.
7-Zip Benchmark Performance
Included in 7-zip is a pure algorithm test that completely removes IO from the equation. This test scales with core count and as a result we get a good theoretical picture of how these chips perform. Note that the actual 7-zip compression/decompression process is limited to 2 threads so there's no real world advantage to having more cores.