Battery Life
Apple rates the new iPod Touch at 7 hours of battery life playing video and 40 hours of audio, this is down from 10 hours on the iPhone 4 (the 4 is still rated at 40 hours of audio playback). I'm still working on battery life tests but I'll update this section once the results are in :)
Update: At 50% brightness and volume set to 50% I measured 8 hours and 10 minutes of video playback battery life on the iPod Touch.
Final Words
I was extremely curious about the new iPod Touch simply because of the pretty big leap Apple made with the iPhone 4. I suspect many of you may have had the same questions - whether the new iPod Touch really could be a contractless iPhone 4. While the new Touch is a nice iPod, it's not an iPhone 4.
The size and dimensions of the new Touch are wonderful. This is one aspect of the iPhone 4 that I don't miss. I long for the day when we'll see all smartphones this thin and light.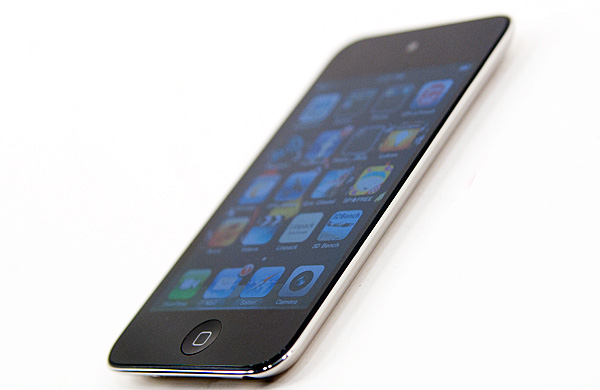 For what could ultimately be a great FaceTime platform, I am very disappointed that Apple dropped the ball with some obvious shortcomings. Not shipping earbuds with a mic is very unfortunate, and the external speaker is too quiet for a comfortable FaceTime conversation. The rear facing mic worked in my experience but it seems like an odd place to put it.
The new Touch is pricey. In fact, Apple's entire updated iPod lineup struck me as more expensive than they should be. At $229 for an 8GB player, it actually costs you more up front to get into an iPod Touch than it does to get you into an iPhone 4. If all you need is an MP3 player, you'll want to look elsewhere. The appeal of the iPod Touch is really the App Store. So if that matters to you, the price is easier to swallow but still noticeably higher than I'd like.
The pricing guarantees Apple is going to continue to have incredible quarters going forward. Apple found sneaky ways to reduce the total BOM (bill of materials) cost on the new iPod Touch. A cheaper chassis compared to the iPhone 4, no GPS, less DRAM on package (256MB vs. 512MB), a cheaper screen and a worse imaging sensor. Granted the iPod Touch is significantly less expensive than the iPhone 4, particularly if you take into account the AT&T contract you need for the latter. At least the new iPod Touch was on par with the iPhone 4 as an MP3 player, which is important given this is an iPod.
The bottom line is that the new iPod Touch is not an iPhone 4 without the phone, it's more like an updated iPod Touch - maybe even an iPod Touch 3.5. It's not bad but it's not great either. You have to set your expectations accordingly.