Last week Apple announced a complete overhaul of its iPod lineup including a new Shuffle, a new Nano (with multitouch screen) and a new iPod Touch. While the nano looks cool, it's pricey and honestly I haven't been interested in a dedicated MP3 player in about a decade.
The new iPod Touch however piqued my curiousity. With many of the same specs as the iPhone 4, I wondered if the new Touch might be a neat way to get most of the functionality of the 4 without the albatross of a contract AT&T hangs around your neck.
It turns out there's a lot more than a cellular radio that separates the new iPod Touch from the iPhone 4.
iPod Touch, The Fourth
The new Touch comes with a pair of typical Apple earbuds (the ones without a mic or remote!) and a dock cable (no wall power adapter) in a fancy new plastic case: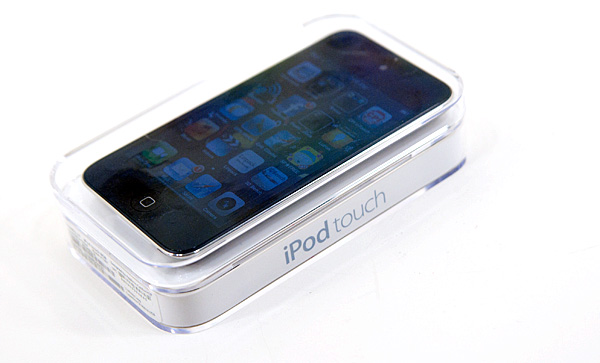 Apple hasn't given the new iPod Touch the full iPhone 4 styling treatment. You get a glass front but a smudgefactory chrome back: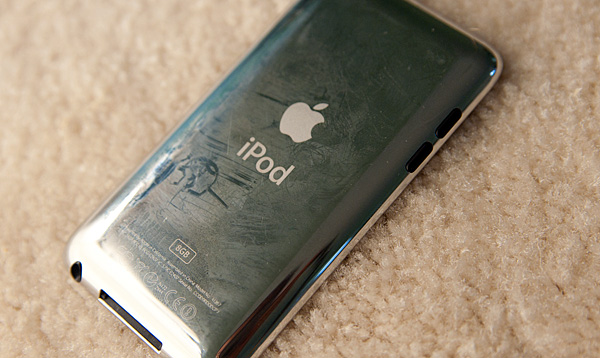 This is after less than a day of use
The entire device is ridiculously thin, it makes the iPhone 4 feel like a brick. It's comfortable to hold in your hand and honestly the size I wish all smartphones were.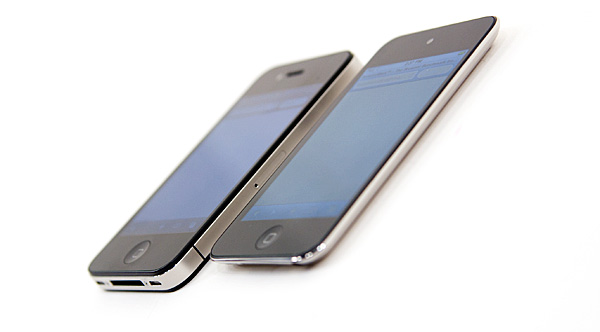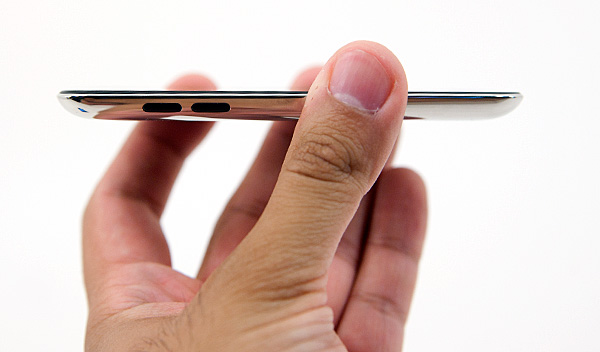 The buttons are also cheaper than what you get on the 4. The new iPod Touch has individual rubber volume up/down buttons on the left side and a low profile power/lock at the top.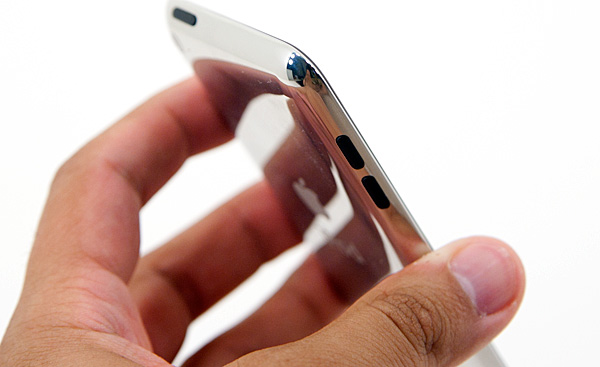 There's a 1/8" output jack at the bottom of the iPod Touch, but the opening is tapered so you actually leave a bit of your headphone connector exposed when it's plugged in: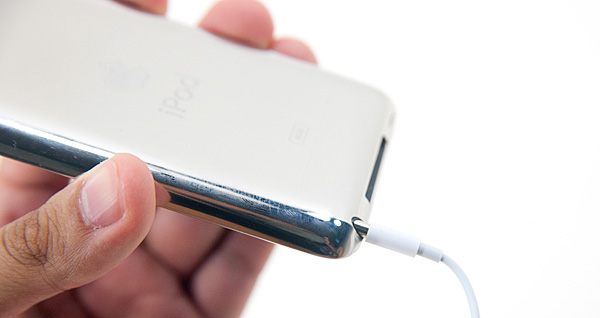 It's not the most elegant (or engineering friendly) design, but it does work.
There's an external speaker at the bottom of the iPod Touch, but it's not quite as loud/bassy as what you get with the iPhone 4. It's enough to listen to music in a relatively quiet room but you're much better off with headphones.

To give you an idea, I measured sound pressure 5" above the iPhone 4 and iPod Touch while playing a Kanye West track (Power):
External Speaker Comparison
Apple iPhone 4
Apple iPod Touch (2010)
Sound Pressure - Higher is Better
90 dB(A)
78 dB(A)
The 4's external speaker weighed in at 90dB(A) compared to 78dB(A) on the new iPod touch. This is very important for our FaceTime discussion later.
The new iPod Touch is available in 3 flavors: 8GB, 32GB and 64GB. The features are the same across all models.
iPod Touch Pricing
8GB
32GB
64GB
Apple iPod Touch (2010)
$229
$299
$399
Internally, the new iPod Touch uses Apple's A4 SoC. The A4 is an ARM Cortex A8 based SoC with integrated PowerVR SGX 535 GPU. The Cortex A8 in the SoC runs somewhere in the 700 - 900MHz range and appears to be the same CPU speed as the iPhone 4. The GPU also appears unchanged. I ran a few sanity tests to confirm:
Apple iPhone 4 vs. iPod Touch (2010) Performance
Apple iPhone 4
Apple iPod Touch (2010)
Geekbench
380
378
Sunspider 0.9
10666.8 ms
10693.2 ms
Rightware BrowserMark
30915
32106
Linpack
34.5 MFLOPs
33.9 MFLOPs
3D Benchmark App
47.7 fps
46.9 fps
If you're wondering why I didn't run Epic's amazing Citadel demo, it's because of the next major difference between the iPhone 4 and the iPod Touch: memory size.
The A4 in the iPod Touch appears to be a lower clocked version of what you get in the iPad, it only has 256MB of memory compared to the 4's 512MB. Currently Epic's Citadel demo treats the iPod Touch as an iPhone 4 and crashes before getting into the demo as a result. Epic should have an update out soon that fixes the problem by lowering texture quality to fit within the memory limits of the iPod Touch.
The reduction in memory size simply means you won't be able to have as many apps open as you would on an iPhone 4. iOS does a relatively good job of memory management so you'll only see this surface while multitasking with a lot of apps. When it does surface you'll simply try to switch to an application and note that it has to reload from scratch rather than just picking up where you left off.
This is purely a profit play on Apple's part. The iPhone 4 is much more expensive, especially taking into account AT&T's contract, and as a result you get more hardware despite relatively similar up front costs.