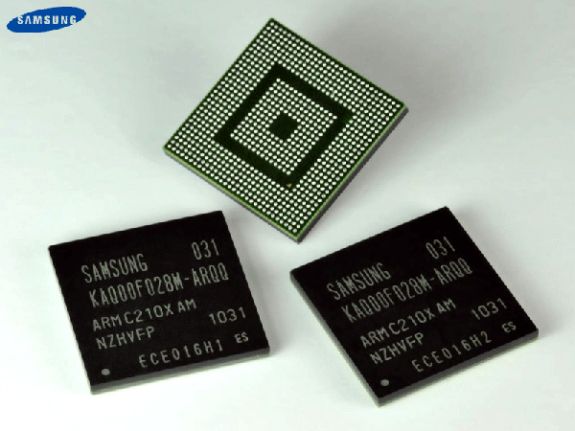 Last night LG announced that it would be using NVIDIA's Tegra 2 in its Optimus Series smartphones starting in Q4 2010. The most exciting part of Tegra 2 is its use of two ARM Cortex A9 cores. The Cortex A9 is ARM's first out-of-order architecture and should deliver a performance boost similar, at worst, to what we saw in the ARM11 to Cortex A8 transition. But NVIDIA isn't the only company working on a Cortex A9 SoC.
Samsung was unwilling to talk about its Cortex A9 plans at CES, but today it announced the successor to Hummingbird: Orion. Samsung's 45nm Orion SoC implements two Cortex A9 cores running at 1GHz, each with a 64KB L1 cache (32KB+32KB) and a large 1MB shared L2 cache. At 45nm peak power consumption should be greater than the Cortex A8 based Hummingbird, but average power consumption may be lower thanks to the improvement in IPC that accompanies the Cortex A9.
The GPU specs are unusual. Samsung lists Orion as having up to 5x the GPU performance of its previous generation SoC (presumably Hummingbird). We just finished talking about how great Hummingbird's PowerVR SGX 540 is, but to outperform it by 5x would require a serious GPU. I'm not sure I believe Samsung's claim. It is interesting that 5x is the same number NVIDIA used in its announcement yesterday.
TI is also working on a Cortex A9 based SoC - the OMAP 4. Due to ship in Q4 2010 with devices available in 2011 the OMAP 4 series sounds a lot like Orion. However OMAP 4 will use the SGX 540, not whatever higher performing option Samsung turned to for Orion.
If you like you keep your smartphones for a while, it seems like now would be the worst time to buy. Within 6 months you should have much faster options at your disposal (Update: it's unclear when Orion will ship, but at least NVIDIA will have dual core A9 based products in the market by then).