Battery Life
The first 4G phone we reviewed, the EVO 4G, didn't do so well in our battery life tests. I'm sorry to say that the Epic 4G is even worse.
Other than our WiFi web browsing test, I wasn't able to get more than 4.5 hours out of the Epic 4G. Adding insult to injury, our web browsing battery life test showed worse battery life while operating on a 3G network vs. a 4G network (while stationary). I double and triple checked the numbers, and each time I got better battery life on 4G than I did on 3G.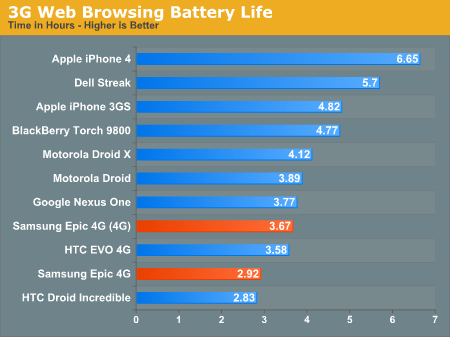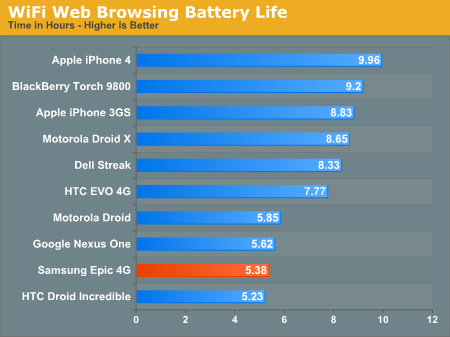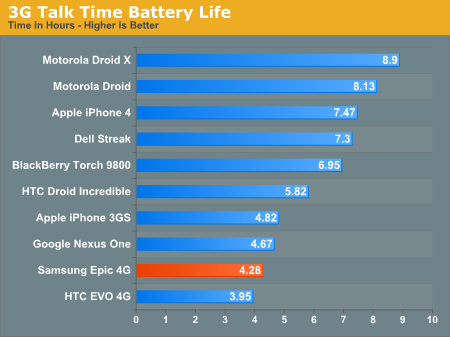 The Epic 4G has a beefy 1500 mAh battery and thankfully it's removable, but battery life just isn't a strong point of this phone. I'm not sure whether it's Samsung dropping the ball on the software optimization side or if the power management on Hummingbird is just that bad.
Perhaps it's Sprint related? After all, the EVO 4G had terrible battery life as well.
There are just too many variables to narrow it down. The bottom line? While the Epic 4G performs better than any other Android phone I've used, its battery life is among the worst.