To find out how the CPU-NB affects the performance, we picked three data points each for our 1090T's stock frequency (3.2 GHz) and for overclocked frequency (4.0 GHz). Ideally we wanted to control memory ratio, frequencies and timings, but the data size became quickly too large for this review. In the end we decided on some of the key data points so that users can easily understand the impact of the CPU-NB and memory configuration on this platform. For these tests, we disabled Window's power saving features and 1090T's Turbo Core. Keep in mind that these tests were not performed as a comparison between different products, so the data here cannot be directly compared to numbers you may see elsewhere. Games were run at 1680x1050 in full-screen mode with maximum in-game settings. AA and AF were disabled.
Stock Configuration (1090T, 3.2 GHz)

3200-2000: CPU 3.2 GHz, 16x200 | CPU-NB 2.0 GHz, 10x200 | 2x2GB DDR3-1066/CL5
3200-2400: CPU 3.2 GHz, 16x200 | CPU-NB 2.4 GHz, 12x200 | 2x2GB DDR3-1333/CL6
3200-2800: CPU 3.2 GHz, 16x200 | CPU-NB 2.8 GHz, 14x200 | 2x2GB DDR3-1600/CL7

Overclocked Configuration (1090T, 4.0 GHz)

4000-2000: CPU 4.0 GHz, 16x250 | CPU-NB 2.0 GHz, 8x250 | 2x2GB DDR3-1333/CL6
4000-2500: CPU 4.0 GHz, 16x250 | CPU-NB 2.5 GHz, 10x250 | 2x2GB DDR3-1666/CL7
4000-3000: CPU 4.0 GHz, 16x250 | CPU-NB 3.0 GHz, 12x250 | 2x2GB DDR3-2000/CL8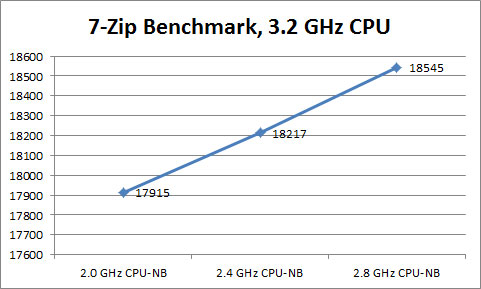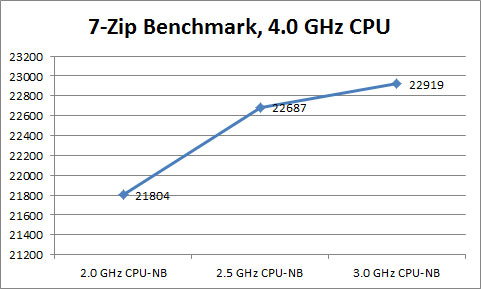 The 7-Zip benchmark does set the trend of what's to come. Note we had to stretch the charts in order to keep the numbers legible. It looks like the performance gain is almost linear at 3.2 GHz while it tapers off somewhat as we raise the CPU-NB from 2.5 GHz to 3.0 GHz at the core frequency 4.0 GHz. The improvements from the default CPU-NB frequency 2.0 GHz ring at 3.5% and 5%, respectively.
X264 HD 3.0 Benchmark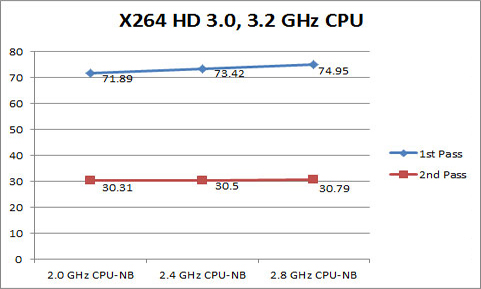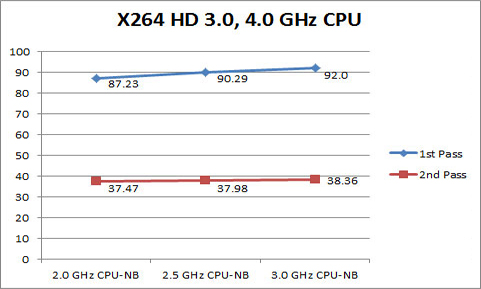 We ran the latest version of X264 HD 3.0 benchmark five times, and averaged the middle three scores. X264 HD 3.0 benchmark results are interesting. We see slightly better scaling than 7-Zip for the 1st pass (FPS increases by 4.2% and 5.4%, respectively) , but the improvement in 2nd pass was almost non-existent. We are starting to wonder whether it is worth raising the CPU-NB frequency because the gain pales in comparison to the gain made by increasing the core frequency. Simply overclocking the CPU core by 25% without touching the CPU-NB got us 20% performance improvement in the 2nd pass.
H.A.W.X.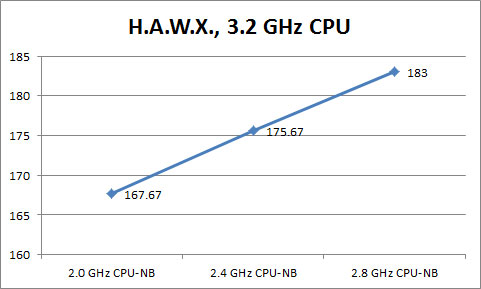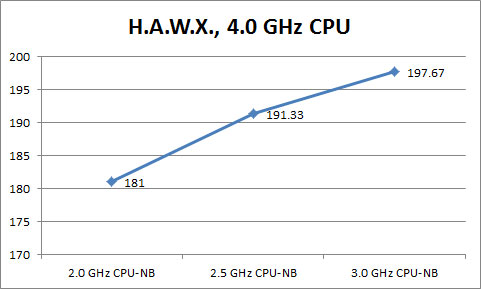 Finally we are seeing some impressive gains. We are using the game's built-in benchmark at 1680x1050 with in-game graphics options set to maximum in DX9 mode. This game is not known for particularly being CPU-bound, so we are seeing ridiculously high frame rates here. At the same time, the gains made by overclocking the CPU-NB seemed too good to be true, 3.2 GHz CPU / 2.8 GHz CPU-NB combo surpassing 4.0 GHz CPU / 2.0 GHz CPU-NB combo. We ran the benchmark over 10 times on both ASRock's 890FX Deluxe 4 and the ASUS M4A89GTD Pro/USB3 and the trend was the same, CPU-NB overclocking benefiting the game as much as, if not more than, the CPU core overclocking. Overclocking CPU by 800 MHz nets an 8% improvement in FPS, yet overclocking CPU-NB by 800 MHz got us 9% FPS increase.
This was a completely unexpected result after the 7-Zip and X264 benchmarks, so we had to turn to a game that's known to be more stressful to CPU. Enter StarCraft 2.
StarCraft 2
This game needs no introduction. We are using a 38 minute replay file and let it play throughout from a player's point of view to ensure the game data stays in the memory. We then go back and measure the 5 minutes of the battle near the game's end using FRAPS utility. We set the resolution at 1680x1050 and in-game quality options at maximum.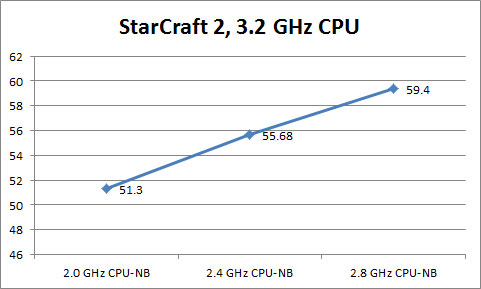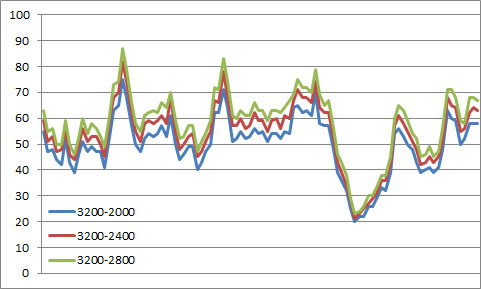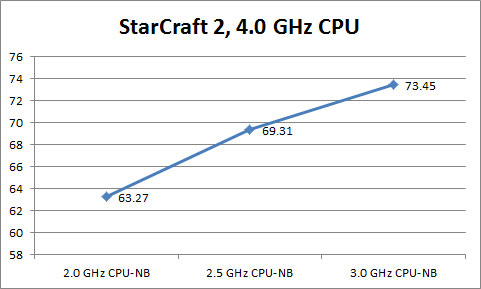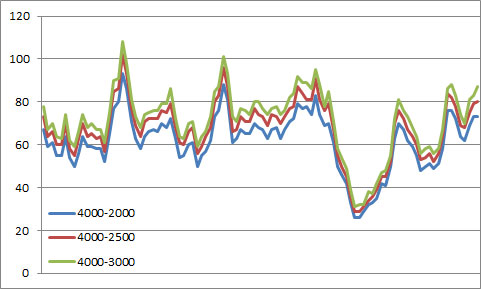 It was quite disorienting to watch the player's frantic mouse clicks and keyboard tapping while the camera followed the commands (and 130+ Zerglings). Nevertheless, we had to take many disorienting trips in order to ensure the reliability of our results. We ended up running many more replays countless times and played the game ourselves, and conclude the results are valid.
Both at 3.2 GHz and 4.0 GHz, the CPU-NB overclocking yielded 16% more performance in this game without moving an inch of the CPU frequency. Of course in both the cases the CPU-NB overclocks were massive - 40% at 3.2 GHz and 50% at 4.0 GHz. Whatever conclusion you draw from these tests, one thing is for sure: If your X6 CPU feels sluggish in StarCraft II, overclock its CPU-NB and memory.