Bulldozer
AMD already gave us a good amount of detail on Bulldozer earlier this year. We'll start with a quick refresher.
With Nehalem, Intel moved to a more modular design process that would allow it the ability to quickly configure different versions of the chip to hit various markets. With Bulldozer, AMD is doing the same.
The basic building block is the Bulldozer module. AMD calls this a dual-core module because it has two independent integer cores and a single shared floating point core that can service instructions from two independent threads. The two thread machine is larger than a single core but smaller than two cores with straight duplication of resources.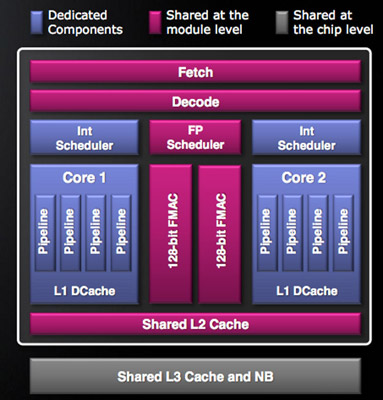 All else being the same, it should give you more threaded performance than a single SMT (Hyper Threaded) core but less than two dedicated cores. The savings are obviously on the die side. AMD tells us that the second integer core increases the Bulldozer module die by around 12%, despite significantly increasing performance in threaded integer applications.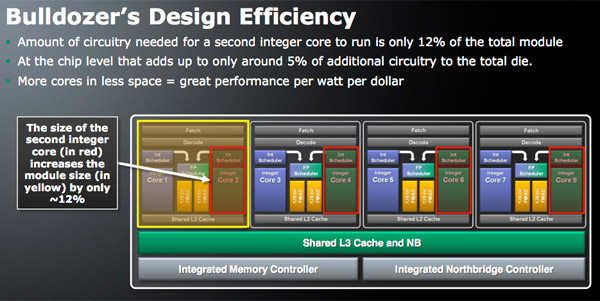 Processors may implement anywhere from one to four Bulldozer modules and will be referred to as 2 to 8 core CPUs. Each core appears to the OS as a logical processor similar to what you get with Hyper Threading. A CPU with four Bulldozer modules would appear as an 8-threaded processor under Task Manager in Windows.
AMD argues that the Bulldozer module is ideal provisioning of hardware. With SMT (Hyper Threading) you force too much into a single core, while with traditional multicore you often waste hardware as any idle resources are duplicated across the chip.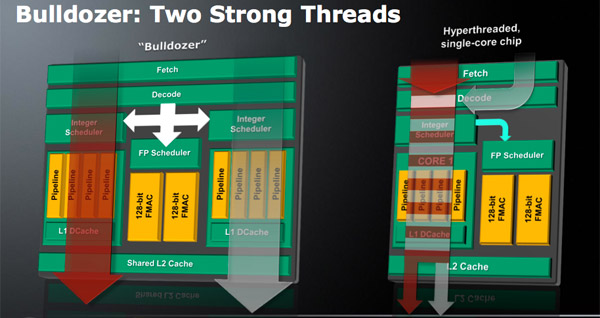 Bulldozer CPUs will be AMD's first 32nm processors manufactured at GlobalFoundries.
The new details today are about everything inside of the Bulldozer module.