Hotspot Use
Optional WiFi tethering is finally becoming a top-tier smartphone feature, with a number of recent smartphones offering out of the box hotspot functionality for an additional monthly fee. The X is no exception and also packs WiFi hotspot functionality. The obvious comparison is the EVO 4G's built in tethering interface. Next to it, the X's looks a bit barebones, only offering very basic configuration and an active users list.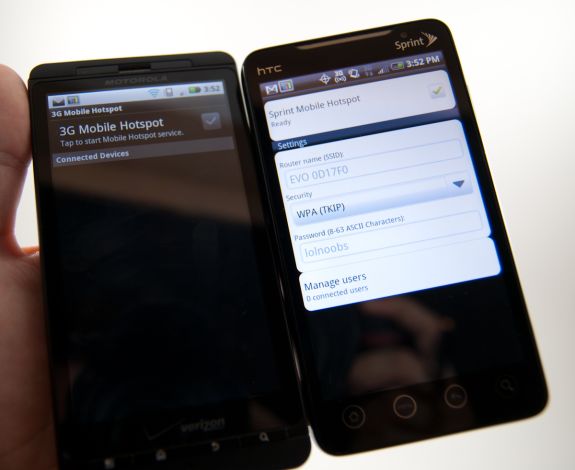 The EVO's has more eye candy but really no additional functionality. It'll be interesting to see how HTC and Motorola integrate the WiFi tethering features from froyo into their platforms. For an extra $20/month, the X will allow up to 5 devices to connect, with a 2 GB per month cap. The EVO allows 8 users to connect.

I decided we needed to do some real-world hotspot testing and find out what battery life really looks like. To do so, I loaded up four tabs of our page loading suite which loads through a set of more than a dozen pages every 20 seconds. Two tabs with 1-4 flash ads, two tabs with no flash ads. I also fired up a 64 kilobit/s streaming radio station. All of this was on one wireless client in the same room. The screen is off, and any other background applications were killed before launch.

It's a heavy load, but not unlike what you could potentially see in the real world. I also tested my Nexus One, but had some instability and lost connection before the test completed. After tweaking my setup, I got some numbers.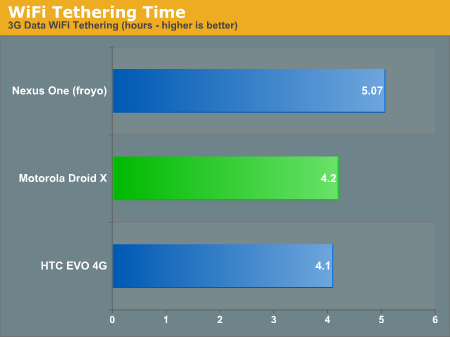 We see that the EVO and X alike have very similar tethering lifetime. I noticed that the EVO's wireless range was notably less, however. Looking at the numbers, it seems possible that Android's native implementation in Froyo offers a small but notable battery life benefit.
When I tested the original Droid, I was shocked by the long call time battery life. True to form, the X also has impressively long CDMA talk time. For being a big phone, the X also pulls some impressive other battery numbers thanks to being the second device on the market with a 45 nm process SoC.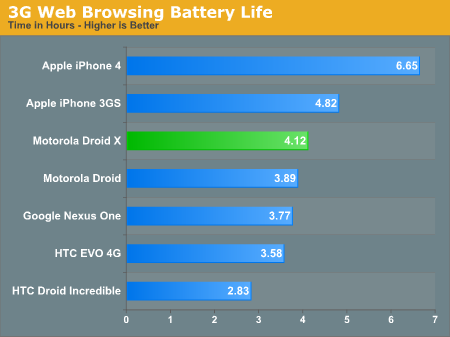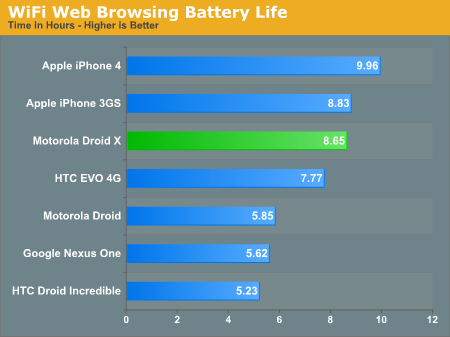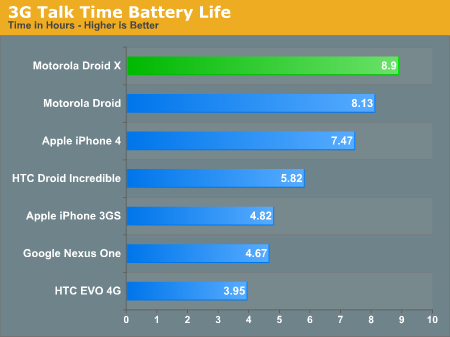 The results are definitely interesting - the X has the longest battery life among devices running Android 2.1.