Energy measurements

So we measured the power over a period of 70 minutes (longer than the slowest test run), and calculated the real energy (power x time) consumed.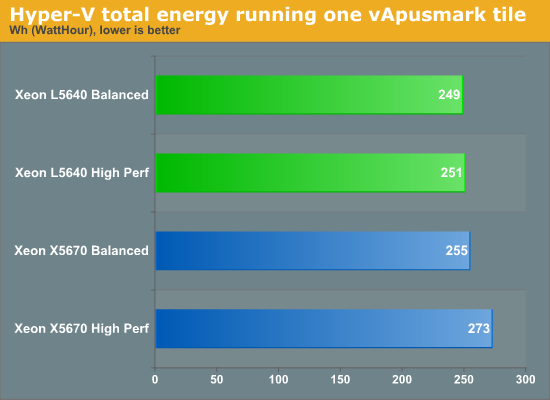 You can see that with the exception of the Xeon X5670 running with the high performance plan, there is almost no difference between the L5640 measurements and the "balanced" X5670. And let us look at performance now. We made a geometric mean of the number of URL/s and the number of database transactions that the server was able to process.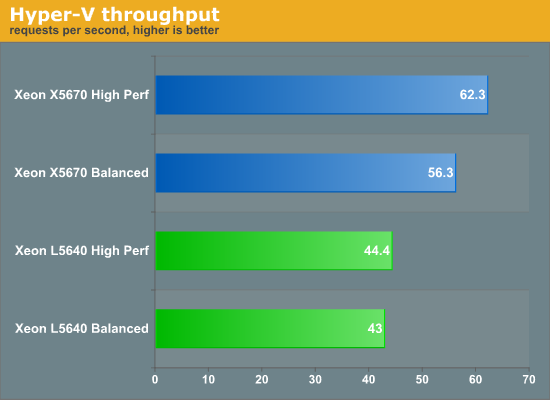 This graph explains why the Xeon X5670 does so well: as it is able to handle more transactions and web requests per second, it can empty the queues more quickly. When the web request and database queues are empty, the CPU can throttle back and save power. Since the idle power of the Xeon X5670 is pretty low (almost as good as the idle power of the low power version), this is a real tangible advantage.
Response time

At the end of day, users will not complain about throughput, they experience high response times as disturbing. Responses times are the ones that are part of the SLAs. Let us see what we measured. We made a geometric mean of the response time of the database queries and web requests.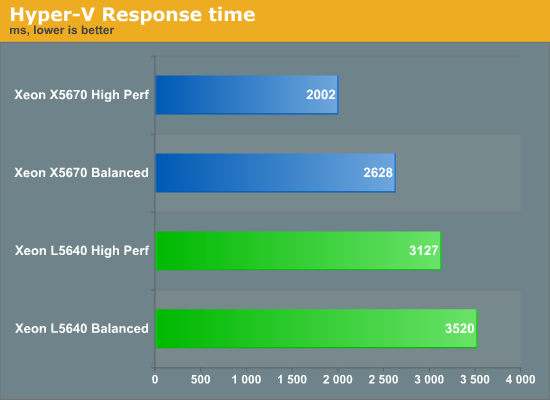 The results are stunning! Despite the fact that we do not max out the CPUs at all, the X5670 leaves the low power version far behind when it comes to response times. This is partly due to the fact that vApus Mark I is constructed as a CPU test. In your own datacenter you might not see the same results if you are (partly) I/O constrained of course. But if web and database applications are well cached, the higher performing CPU can deliver tangible lower response times.