Idle power
We start measuring idle power running on the two most "used" Power Plans of Windows 2008 R2 Enterprise (Hyper-V enabled): Balanced or High Performance. We described both Power Plans and the resulting effect on the server here. This is the power consumption of the complete system, measured at the electrical outlet.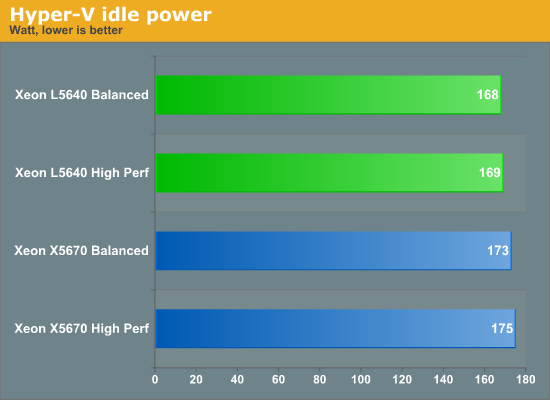 The Xeon family has made large steps forward in the power management department: fine grained clock gating and core power gating reduces power significantly. This however also results in a very small difference between the low power Xeon and the "Performance" Xeon. When running in idle, the Power management hardware (PCU) shuts down 5 cores and clockgates all components of the remaining core that are not necessary. The result of all these hardware tricks is that it hardly matters if you run those CPUs at 1.6 GHz or 2.26/2.93 GHz. The power plan "balanced" allows the CPU to scale back to 1.6 GHz, the power plan "high performance" never clocks lower than the advertised clockspeed (2.26/2.93 GHz). The amazing thing is that even at the higher clockspeed and voltage, the CPU only needs 2W more at the power outlet. So the real difference at the CPU level is even lower.
Let us put some load on those servers. One tile of vApus Mark I demands 12 virtual CPUs, and as we described before, it will demand about 25-45% of the dual CPU configuration.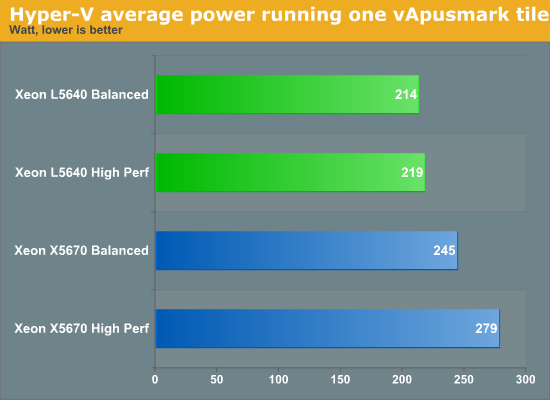 If we calculate the average power, everything seems to be "as expected". However, the problem with this calculation is that the some of the tests took longer than others. For example the test on the L5640 took about 66 minutes, while the Xeon X5670 needed only 59 minutes.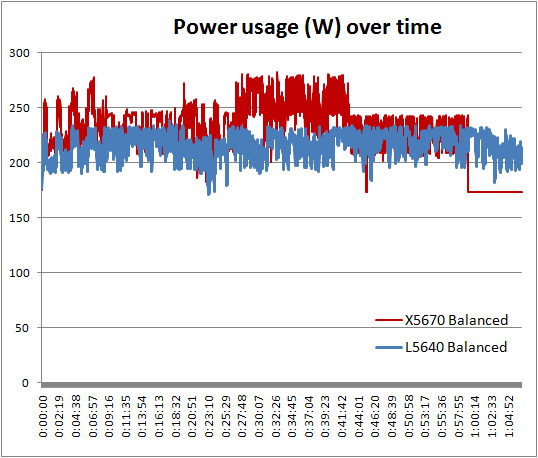 And that was a real surprise to us: as we were not loading the CPU to 100%, we did not expect that one test would take so much longer than the other. But you can clearly see that the fastest Xeon went more quickly to an idle state.