Hardware Configuration
We have reviewed the Intel Xeon X5670 before: it is the best performing Intel Six-core in the 95W TDP power envelope. For comparison, we add the Intel Xeon L5640. The 32 nm "Westmere"L5640 reduces TDP to 60W, although it still has 6 cores. This chip runs at 2.26 GHz, but at lighter load it should boost itself to 2.8 GHz.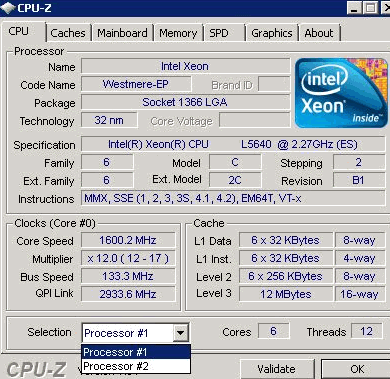 Test server
Asus RS700-E6/RS4 1U Server
Asus Z8PS-D12-1U Motherboard
Six-core Xeon L5640 2.26 GHz or Six-core Xeon X5670 2.93 GHz
6x Samsung M393B5170DZ1 - CH9 1333MHz CL9 ECC (24GB)
2x Western Digital WD1000FYPS 1TB (VM images and OS installation)
2 x Intel X25-E SLC SSD 32GB (Data Oracle OLTP & Log Oracle OLTP)
BIOS
Most Important BIOS Settings: (BIOS version 0701 (20/01/2010))
C1E Support: Enabled
Hardware Prefetcher: Enable
Adjacent Cache Line Prefetch: Enabled
Intel VT: Enabled
Active Intel SpeedStep Tech: Enabled
Intel TurboMode: Enable
Intel C-State Tech:Enabled
C3 State: ACPI C3
Software configuration:
Windows 2008 R2 Enterprise, Hyper-V enabled
vApus Mark I softwareas described here.
Current measurements
We used the racktivity PM0816-ZB datacenter PDU to measure power.

Using a PDU for accurate power measurements might same pretty insane, but this is not your average PDU. Measurement circuits of most PDUs assume that the incoming AC is a perfect sine wave, but it never is. The Rackitivity PDU measures however true RMS current and voltage at a very high sample rate: up to 20.000 measurements per seconds for the complete PDU. We read out the current and voltage out each second, which already gives us more than 4000 data points along our 70 minutes long virtualization power test. As the PDU has 8 ports, this allows us to test several servers at once, which will be very handy for future reviews.
Where is AMD's Opteron?
We did not manage to get a decent server based on the latest AMD's Opterons in the lab. The current "Magny-Cours" Servers in our lab are reference motherboards running in a desktop tower. So to avoid any unfair comparison with our Xeon rack servers we delay our measurements on the AMD platform until we find a way to get a real server in the lab.