Battery Life Testing
Battery life on the KIN was a shocker. It was superb.

Both of the KIN not only delivered above average call times of around 6 hours, but also 3G web browsing times of around 7. But the real shocker was WiFi web browsing battery life, which came in at around 13.5 hours. I ran this test twice on both phones because I was confused. It really lasts that long.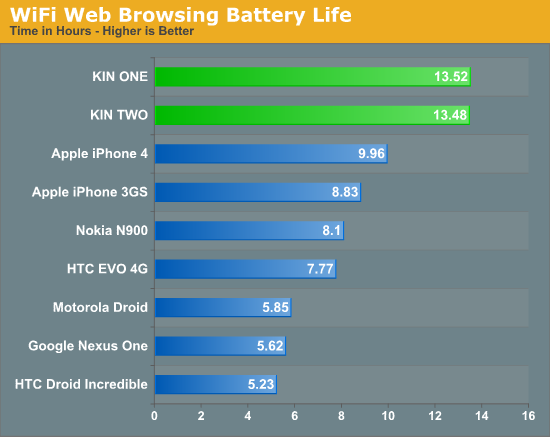 As a quick reminder, our web browsing benchmark loads a set of nearly two dozen webpages, pauses for 20 seconds on each one, and then loads the next page. None of the pages use flash, and the set loads endlessly until the phone's battery is exhausted. Screen brightness is set to 50%, and configured to remain on the whole time. Testing over WiFi is done in the same room as the AP.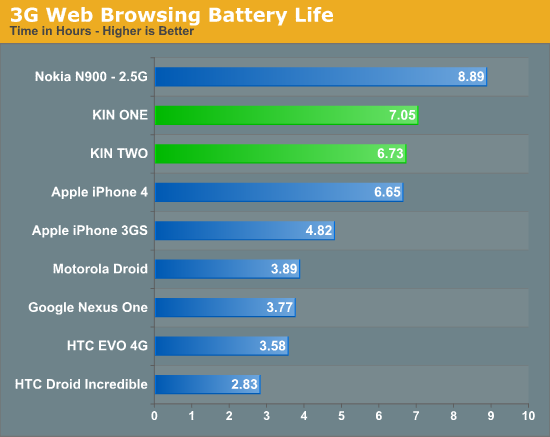 For call time testing, we play music on repeat into the microphone of the phone and call another phone, also playing music into it. This simulates voice transmitted and received. The displays are also allowed to go to sleep as they would when used in a normal call.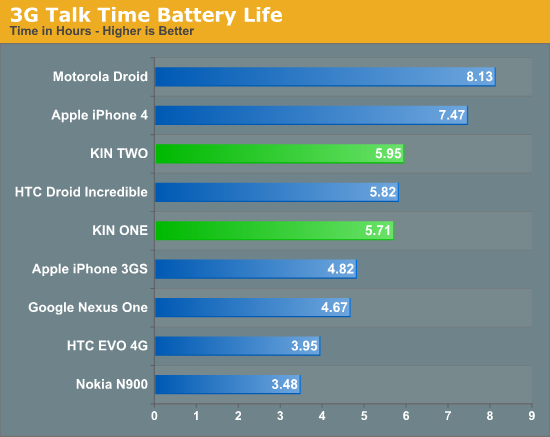 The result of all this testing is the obvious conclusion that the KINs have incredible battery life. In fact, the WiFi battery life on these devices was nothing short of amazing. It's entirely possible that Sharp aggressively underclocked the NVIDIA Tegra APX 2600 to get these numbers, or that there's other throttling going on when the device is idle. We don't measure standby time yet, but whereas my HTC Incredible would be dead within 24 hours of being unplugged, the KINs would last multiple days in standby.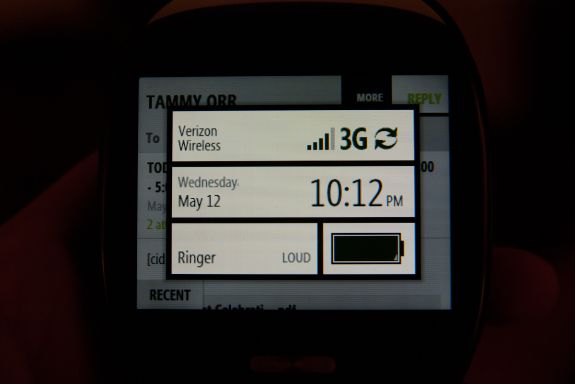 Performance in the browser wasn't stellar, but pinch zooming and other multitouch gestures felt snappy. At other times, the browser and UI would really feel choppy while scrolling. It was a mixed bag. One thing was for certain however, the JavaScript engine on the KIN browser was abysmally slow, so even though the browser felt decently fast for most browsing, the JavaScript heavy tests we run on smartphones gave very poor results.