Final Words
In terms of new, out of box performance, the Crucial RealSSD C300 does very well. It performs like a next generation drive and is significantly faster than Intel's X25-M G2 or anything based on an Indilinx controller. The 128GB C300 tends to be slower than the 100GB SandForce drives while the 256GB C300 is about on par and sometimes faster. The 256GB C300 also pulls ahead if you move to a 6Gbps SATA controller.
For Crucial the achilles heel is our old friend: the read-modify-write, a used C300 can potentially lose a good amount of its initial performance. The major disadvantage for SandForce is if you're writing perfectly random or highly compressed data. Again I'm talking about data that's random in nature, not random in terms of access pattern. Our heavy downloading workload shows this best where the 256GB C300 remains on top while the 100GB SandForce drive drops to Indilinx-like performance.
The C300 is clearly a drive made for Windows 7. With no TRIM utility, poor 512-byte aligned performance and clear degradation over time with heavy random writes, the C300 is best used with Windows 7 and its native TRIM support. Luckily for Crucial, there are a lot of Windows 7 users out there. Update: Version 2.6.33 of the Linux kernel supports TRIM as well. Presumably the C300 would do just as well under Linux so long as there's TRIM support.
I often get questions from Mac users asking what the best SSD is for OS X. Since Apple still won't support TRIM you need a very resilient drive under OS X. That path leads you to SandForce. Pick up a Corsair Force, OCZ Vertex 2, G.Skill Phoenix or whatever SF drive tickles your fancy if you want the best of the best in your Mac.
At last year's IDF a very smart man put this slide up on a projector: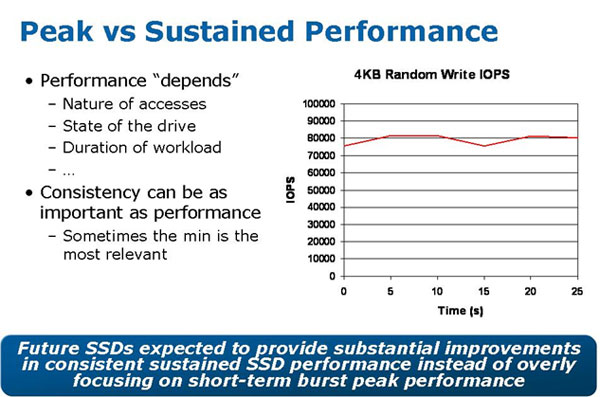 At the time, the best SSDs offered great peak performance but lost a significant percentage of that over time. The aforementioned smart man then went on to say that Intel is currently playing with technologies that would trade peak performance for better overall performance, not to mention more consistent performance.
Ultimately that's what bothers me about the C300. In terms of pure performance, in many areas, it's the drive to beat. The 256GB version performs admirably regardless of workload, and even the 128GB drive is pretty fast. But its performance drop over time just isn't indicative of a next generation controller. I want to see less of a drop from peak to worst case scenario performance. The larger that hit is, the more write amplification is going on. TRIM fixes much of this but it really depends on the workload. I'd say most desktop users should be fine.
It boils down to this. Crucial is a big company. Micron, its parent, is just plain huge. Despite the early hiccups with the drive I do trust their validation and testing. Even the best fall victim to mistakes. Micron works with enough OEMs to know the importance of shipping stable product. I don't like that Crucial continued to sell C300s while the drives could potentially brick themselves, but the company gets points for being a name you can trust. Particularly if paired with a good 6Gbps controller, the 256GB C300 is fast. As a result, the C300 is a good balance of high performance and reputable brand.
SandForce on the other hand is much smaller. Most of its validation falls on the shoulders of its partners. And there's also this nasty habit of selling drives with RC instead of MP (mass production) firmware. Things that wouldn't fly at Crucial/Micron. But the performance ranges from decent to absolutely amazing depending on the workload. And in terms of degradation over time? I'm almost willing to say that SandForce is simply immune to it. Almost.
So who do you pick? The big company with a controller that behaves more traditionally, yet still tops the charts. Or the smaller company, with a controller that acts more like a rockstar.
If you're running Windows 7, have a 6Gbps controller and want a 256GB drive, go Crucial. If you're running any other OS, are using RAID or can only afford a 128GB drive, go SandForce.