Application Performance: Arrandale ULV beats OCed CULV
While the gaming performance was generally a wash, application performance shows some clear improvements. Granted, we have the more expensive model with an i7-640UM instead of the i5-520UM, so besides a 133MHz higher base clock it also comes with Turbo Boost that up to 333MHz faster. Subjectively, the M11x R2 feels plenty fast, though the use of a conventional hard drive makes it less snappy than it otherwise could be. In fact, the R2 takes longer to boot than most other laptops, clearly hindered by the various Alienware applications that control the lighting and other features. Once in Windows, though, things settle down and the laptop runs well, launching applications and games noticeably faster than CULV laptops. We ran through our standard application benchmarks just to confirm our impression.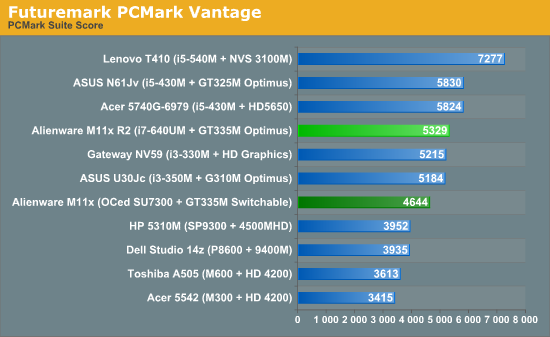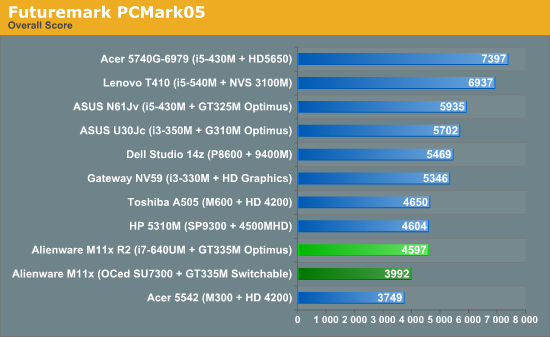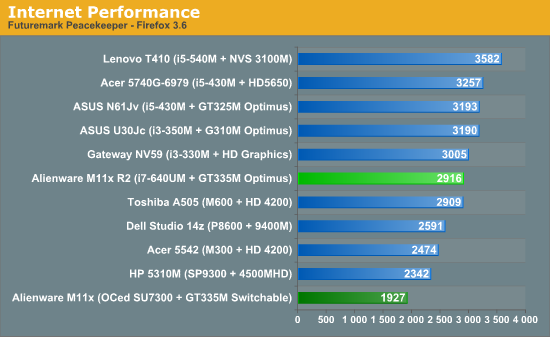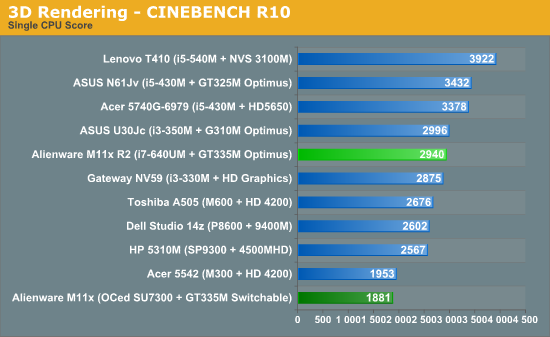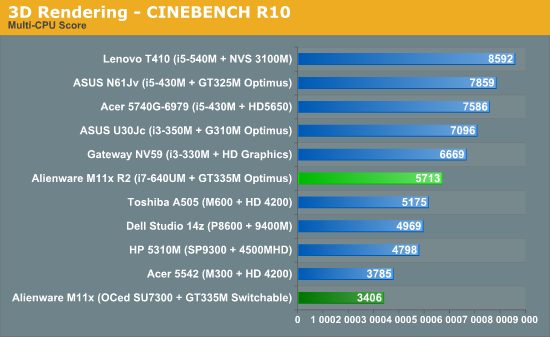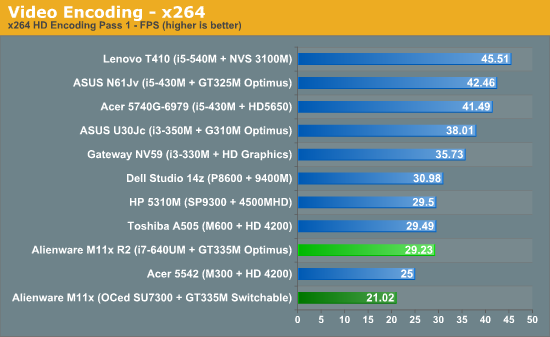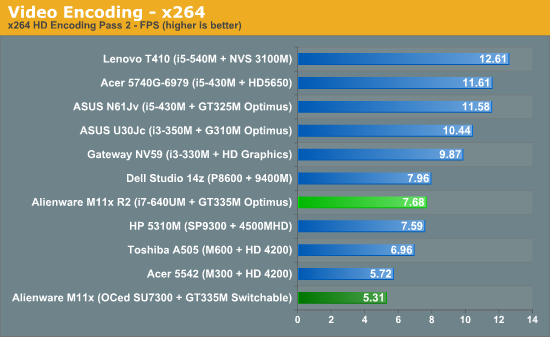 Both PCMark results improve by 15%, but they're at the lower end of the improvement scale. Peacekeeper shows the benefit of Turbo Boost, with 51% faster scores on the R2. Likewise, Cinebench is 56% faster on the 1CPU test, and Hyper-Threading plus Turbo Boost improve the multi-core rendering score by 68%. Rounding things out, x264 encoding also benefits from HTT and Turbo modes, with 39% and 45% faster encoding in pass one and two respectively. If you opt for the standard i5-520UM model, we expect scores will drop at least 10%, and perhaps as much as 20%, so keep that in mind.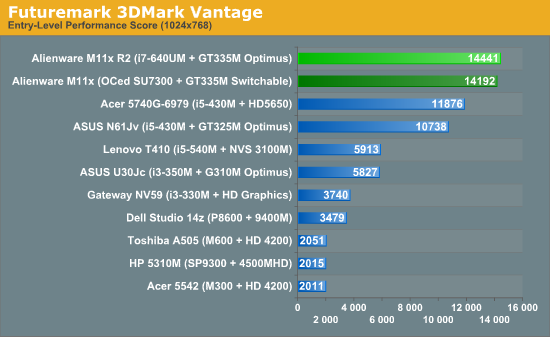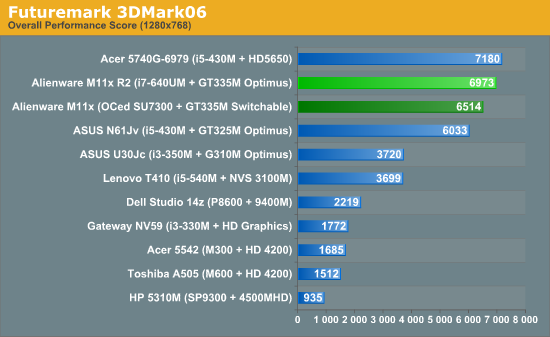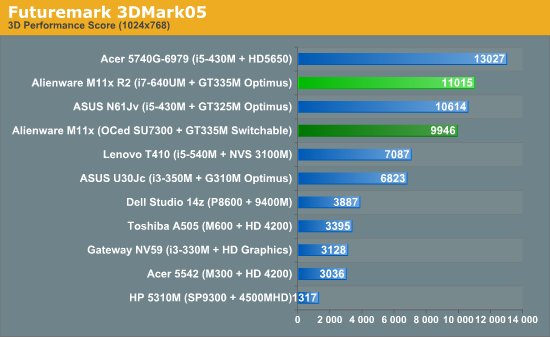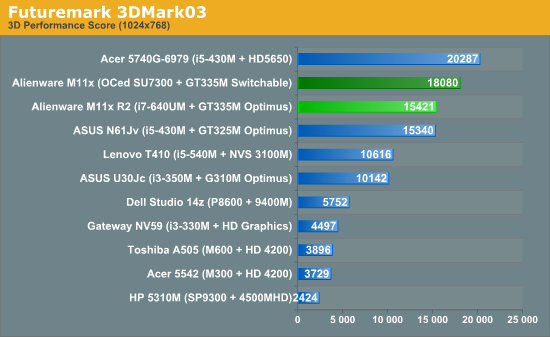 A quick look at 3DMark results confirms our gaming scores. 05, 06, and Vantage all have the R2 leading by a small amount—11%, 7%, and 2% respectively. Meanwhile, again we have a situation where an older application with higher frame rates runs slower on the R2. 3DMark03 is 17% faster on the original M11x, and while we don't "play" 3DMark it suggests that the process of transferring frames over the PCI-E bus to the IGP frame buffer is likely limiting performance. If you recall, Optimus doesn't have any direct connections to the displays, letting all of those go through the IGP. It's what allows the instantaneous switch between IGP and dGPU with no screen flicker. The catch is that all the frames go over the PCI-E bus. That's not a problem when you run at reasonable settings and get frame rates of under 60FPS, as you're only looking at around 250MB/s of data on a bus capable of handling 8000MB/s. However, theoretical performance and practical performance are different matters, and with the game tests on 3DMark03 running at anywhere from 110 to 350 FPS congestion seems likely.
We looked at the detailed results for 3DMark03, and sure enough it's the Game 1 test that shows the biggest drop. On the original it ran at 348FPS while it gets just 179FPS on the R2. The other results are closer; Game 2 runs at 136 vs. 128, Game 3 at 112 vs. 110, and Game 4 at 135 vs. 108—with the R1 beating the R2 in all four tests. This also appears to confirm that the lower scores in our Empire: Total War and STALKER: Call of Pripyat games (at minimum detail where frame rates are high) are not a driver issue so much as a PCI-E congestion issue. Again, this isn't a problem when you're playing games at reasonable frame rates (you don't really need more than 60FPS on typical LCDs), but we found it interesting nonetheless.