Dell Adamo 13: Battery Life
The Adamo's battery is straight out of the Apple playbook, a sealed-in, non-removable unit using lithium polymer cells. Except for one thing - while Apple generally fits large batteries in their systems (as seen by the 63.5 Wh units in the new 13" MacBook and MacBook Pro and the downright massive 84 Wh battery in the 15" MacBook Pro), the Adamo makes do with a comparatively tiny 40 Wh battery. The MacBook Air ships with a 39 Wh battery though, so maybe harping on Dell for the small battery isn't exactly fair.
But fair or not, it doesn't make the battery life numbers any nicer to look at. Absolute maximum life is just over 6 hours, and under our heavy load browsing test (usually a realistic measure of daily use battery life) is roughly 4 hours. I usually averaged around 3.5-4 hours when using it, maybe a bit less if I had a movie going. As such, the Adamo ran for just under 3 hours in our HD video playback test (a 720p copy of the movie Jumper ripped in the x264 codec - trust me, Jumper on repeat is just as painful as you think it is; it wasn't my first choice of movie...)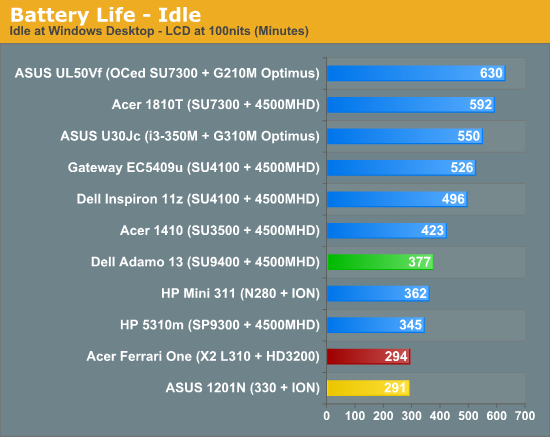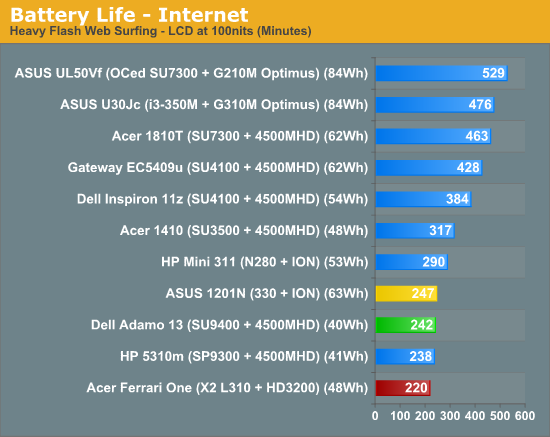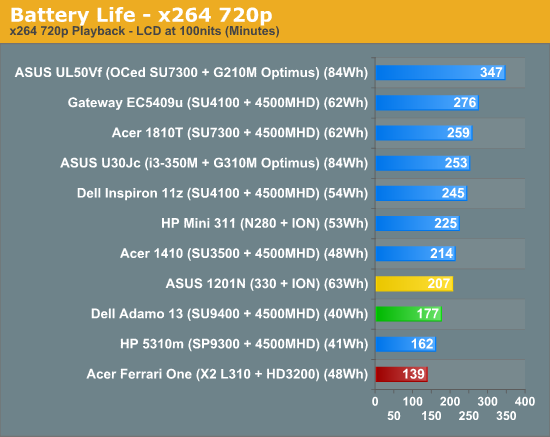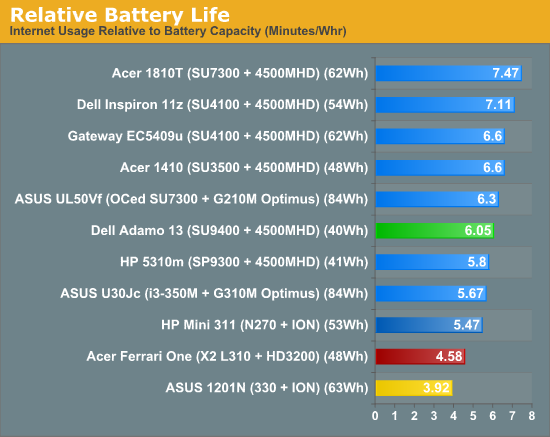 The HP ProBook 5310m has a similarly small battery (41 Wh) along with a faster low voltage Core 2 Duo SP9600, and gets marginally less battery life. On a per unit of battery capacity basis, the Adamo is within 10% of all the CULV competitors, and a little bit better than the HP. Considering that the processor is faster than both the SU4100 and the SU7300 that were in prior test units, this is about expected. That the SSD didn't save us any power is kind of disappointing, but considering that Intel's first generation of SSDs were never that much better than standard hard drives with power, it's not a big deal.
Overall, the battery life isn't great due to the small battery, and due to the sealed in nature, you run into the same problem as you do with the MacBook Air: you have an extremely portable system that needs to be tethered to a power cord all the time. However, if you can live with 4 hours of battery life or can carry a charger with you, it's fine.