Final Words
Don't be fooled by the minor 0.1 bump in the version number; Froyo is a massive update that brings a lot to the table. With Froyo, Google has focused on improving the overall fit and finish of the OS. There are numerous speed improvements like the new JIT compiler and the V8 Javascript Engine, small fixes and UI tweaks and some big ticket features like Flash support and Wi-Fi Hotspot that make Froyo feel much more refined and usable.
Although there are times when the Android's UI does seem inconsistent and clumsy. The Music player for instance definitely needs a better UI. Google Talk for instance, does not let you switch accounts; you can only sign in to the Google account used to set up the phone. So if you need to use multiple accounts, you'll have to turn to Meebo or other similar apps. The favorites section of the dialer only arranges contacts alphabetically, there's no way to customize the order of that list. While nagging, these issues can be easily fixed via a software update. The keyboard in Froyo is still a disappointment, but this is largely attributable to the responsiveness of the screens being used in many Android devices. One of the main reasons why navigating the iPhone is a pleasure is because of the incongruously more accurate and responsive capacitive display. It will be interesting to see how the keyboard performs when paired with a display that matches the iPhone's caliber.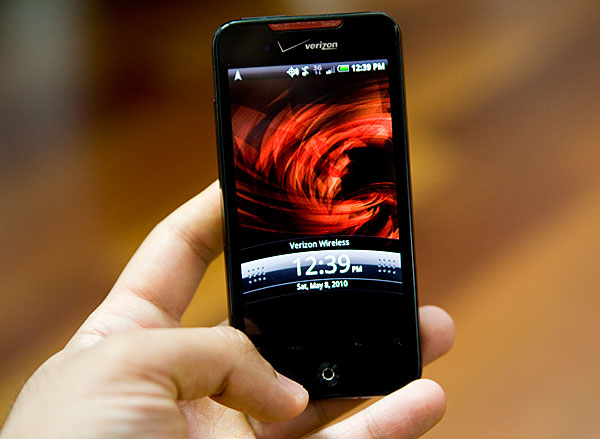 When oh when will you get to have some Froyo dear Incredible?
But, Android as a platform suffers from some outstanding issues as well. First and foremost is platform fragmentation. Froyo is the 4th update to Android in the past year, but hardly any devices (with the exception of the Nexus One) are actually running on v2.2. The nature of the Android ecosystem is like a double-edged sword. While it allows handset manufacturers the leeway to design custom UIs and choose underlying hardware configurations to cater to a wide price band, it also makes adopting the latest updates that much harder.
Therefore Google, as the promoter of the Android OS cannot guarantee a consistent user experience from one manufacturer to another. Once you bring tablets into the equation, you're looking at an even bigger mess. Google's partly addressed this issue by decoupling certain components of the OS and making them available as standalone downloads, such as Google Maps. In the long run though, Google needs to aggressively pursue this policy to at least bring about a semblance of a consistent user experience across its devices. Andy Rubin, Android's platform head recently announced that they would be adopting a, "one major release per year" cycle. This will allow Google and handset manufacturers some time to prepare their devices and upgrade their custom UIs, but more importantly, maintain a certain baseline user experience that can be guaranteed to all users.
I'm sure Google will address a lot of these issues in the upcoming releases, but till that time, Froyo makes the case for the Android platform as one of its best releases to date.