Sorenson Squeeze 6
We are using Sorenson Squeeze to convert eight AVCHD videos into HD Flash videos for use on websites. This application heavily favors physical core count and processor clock speed.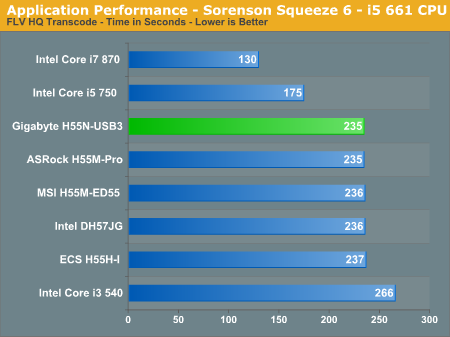 WinRAR 3.9 x64
This benchmark compresses our AT workload consisting of a main folder that contains 954MB of files in 15 subfolders. The result is a file approximately 829MB in size.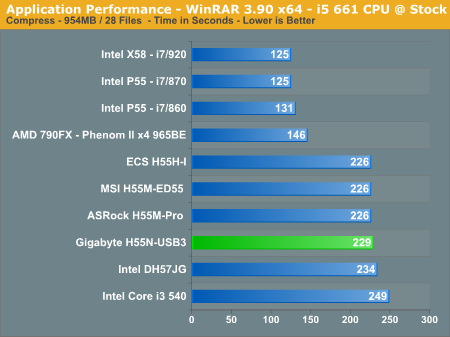 Bibble 5.0
We utilize Bibble Labs' Bibble 5 v2 to convert 50 RAW image files into full size JPEG images with the program's default settings. This program is fully multithreaded and multi-core aware.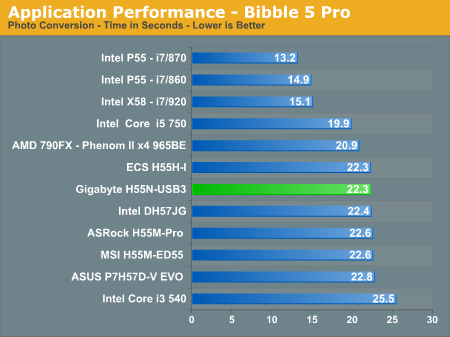 File Transfer to USB
In this test we use Sharkoon's USB QuickPort with a 1TB Western Digital hard drive and transfer a 1GB file from a 1TB HDD connected to the Intel PCH.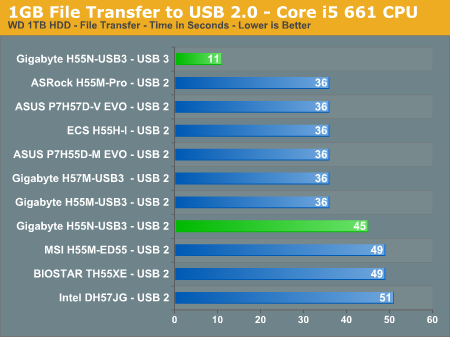 USB 2.0 transfer times are not class leading for the H55N-USB3, however, we can give one mark to Gigabyte for supporting USB 3.0 on this board as standard. Demands for the technology have not quite taken off yet, but there are some gains to be had even if you can't afford the fastest SSDs to team up with the Sharkoon drive bay. Of course, the importance of these gains comes down to how often you transfer large files over to an external drive, and if time is of the essence.