MSI GX640: Bring on the Games
We have an interesting matchup against the previous gaming laptops we've reviewed. The GX640 sports a lower-end i5-430M processor with a fast HD 5850 GPU. The HD 5870 is the current single-GPU performance leader, besting the GTX 285M by an average of around 15%. The 5850 has the same 4GHz effective memory bandwidth as its elder brother, but the 750MHz core clock of the 5870 is 20% higher than the 5850. That means the GX640 should offer performance similar to the GTX 285M for a much lower price—and with lower power requirements as well. Here's a recap of our test laptop.
MSI GX640 Testbed
Processor
Intel Core i5-430M
(2x2.26GHz, 32nm, 3MB L3, Turbo to 2.53GHz, 35W)
Memory
2x2GB DDR3-1333 (Max 2x4GB)
Graphics
ATI Mobility Radeon HD 5850 1GB GDDR5
(800 Stream Processors, 625MHz/4GHz Core/RAM clocks)
Display
15.4" LED Glossy 16:10 WSXGA+ (1680x1050)
Hard Drive
Seagate Momentus 7200.4 500GB 16MB
Optical Drive
8x DVD+/-RW
Battery
9-Cell, 10.8V, 7800mAh, 85Wh battery
Operating System
Windows 7 Home Premium 64-bit
Pricing
Starting at $1070 Online
Starting with the gaming benchmarks, we have a standardized test resolution of 1600x900, and we'll include results from the GX640 at the native LCD resolution with 4xAA where applicable. We chose the HD+ resolution as a nice compromise between HD+, WSXGA+, 1080p, and WUXGA LCDs, all of which are currently available depending on the laptop. Our 1600x900 results allow for apples-to-apples comparisons between the notebooks, but we understand most users will want to run at the native resolution so we have those results as well (in dark green).
We used the built-in benchmarking tools for every game except Battlefield: Bad Company 2, Empire: Total War, and Mass Effect 2, which we measured using FRAPS by playing through a section of the game. For games that support DirectX 11, we also tested it on the 5850 and will highlight those results (or 4xAA) in gold.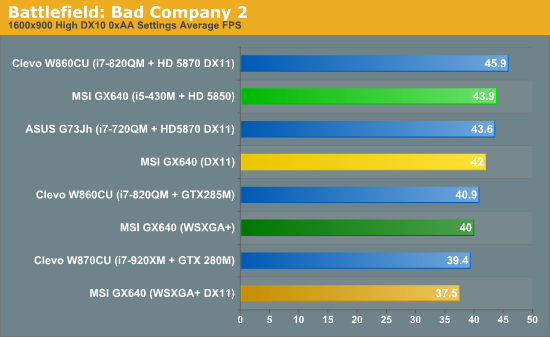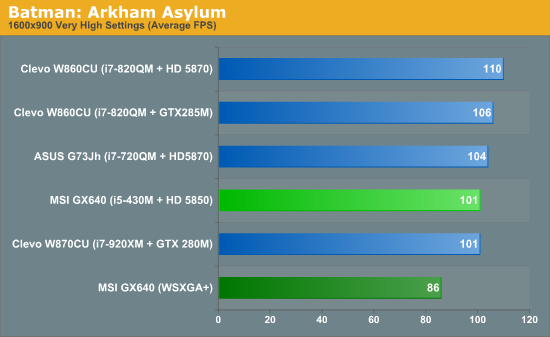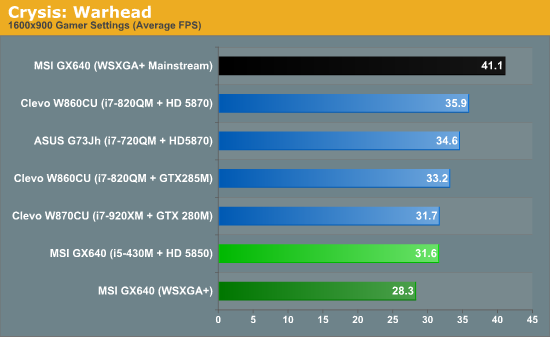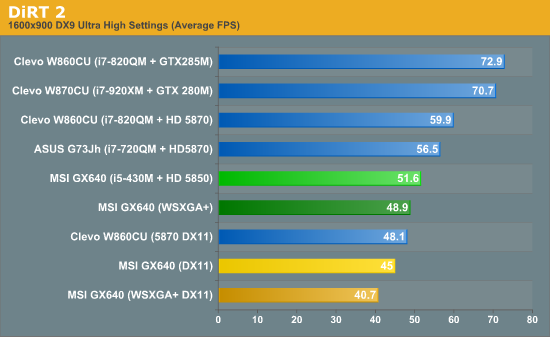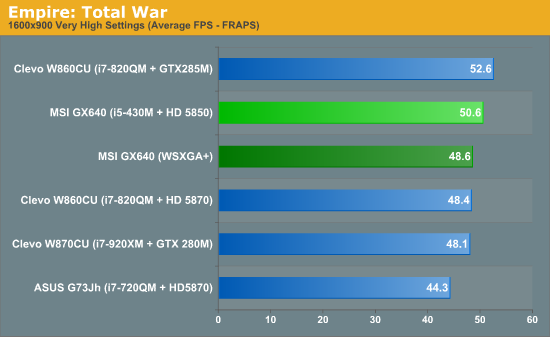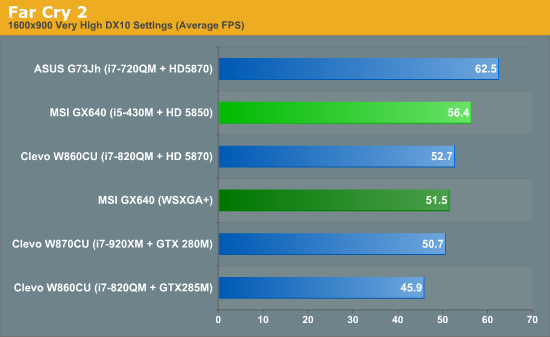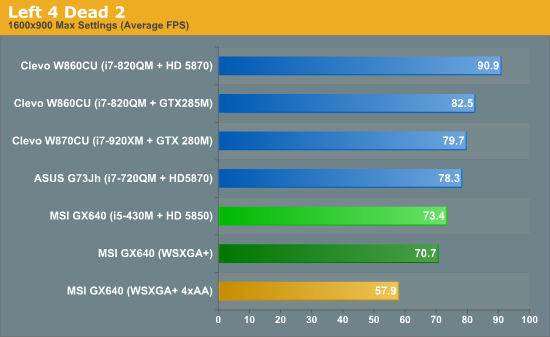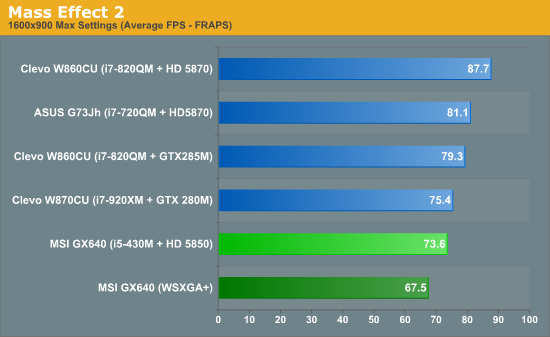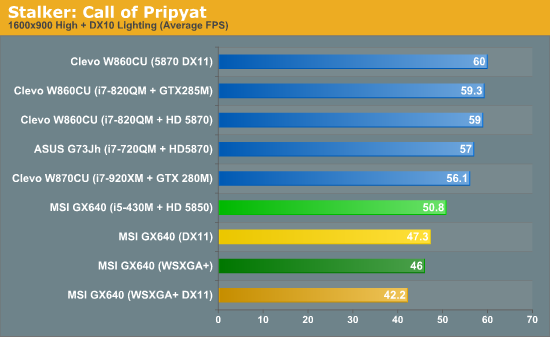 The HD 5850 ends up trailing the 5870 in most titles as expected, but the margin varies according to the demands of the game. Shader heavy games come closer to the 20% core clock difference, and in some instances the combination of i7-820QM with 5870 trumps the i5-430M with 5850 by more than 20% (L4D2 and Stalker DX11). In other games that depend more on memory bandwidth the laptops are a lot closer in performance. Oddly enough, there are even a few cases where the GX640 beats the G73Jh and W860CU—Empire Total War and Far Cry 2, to be specific. It's possible that the code on those titles is such that the quad-core chips can't hit their higher Turbo speeds, allowing the 430M to beat them. Overall, though, the GX640 places where we would expect, and it's more than capable of running any current title at high settings (Mainstream for Crysis) and 1680x1050.
As for the NVIDIA comparison, there are titles where the 5850 beats the 285M and others where NVIDIA leads. Most of the time the difference is ±7%, but DiRT 2 has the 285M leading by 41% (in DX9 mode), 17% in Call of Pripyat (DX10 mode), and 12% in L4D2. On the flip side, the 5850 beats the 285M by 22% in Far Cry 2 and 7% in BFBC2. Overall, the performance is generally close enough that we'd call the two "equal". In terms of extras, you need to decide whether you place more weight on CUDA/PhysX or on DX11 features.
Looking to the future, the NVIDIA information on their GTX 480M indicates that it will be around 30% faster than the 5870 in many titles. Given we're looking at a $500+ price premium, that may or may not be enough. More to the point, there aren't any other low-end DX11 parts coming from NVIDIA just yet, so the HD 5850 occupies a sweet spot in terms of laptop price and performance. You can get a laptop with a faster CPU or GPU, or even spend the money on a fast SSD. Those things bump up the price quite a bit, and short of GPU upgrades they won't do a lot for gaming right now. In that respect, the GX640 is a very impressive piece of mobile gaming goodness. A laptop with DX11 and 1680x1050 gaming for $1100 is going to be hard to beat, though you can ditch mobility and buy a basic desktop with an HD 5770 for quite a bit less and get better performance. As always, mobility has its price.