Physical Comparison:
Physical Comparison
Motorola Droid
Nokia N900
HTC Droid Incredible
Apple iPhone 3GS
Height
115.8 mm (4.56")
110.9 mm (4.36 ")
117.5 mm (4.63")
115 mm (4.5")
Width
60 mm (2.4")
59.8 mm (2.35")
58.5 mm (2.30")
62.1 mm (2.44")
Depth
13.7 mm (0.54")
19.55 mm (0.78")
11.9 mm (0.47")
12.3 mm (0.48")
Weight
169 g (6.0 oz)
181 g (6.38 oz)
130 g (4.6 oz)
133 g (4.7 oz)
CPU
Texas Instruments OMAP 3430 @ 550 MHz
Texas Instruments OMAP 3430 @ 600 MHz
Qualcomm Scorpion @ 1GHz
ARM Cortex A8 @ 600MHz
GPU
PowerVR SGX 530
PowerVR SGX 530
Qualcomm Adreno 200
PowerVR SGX 535
RAM
256MB LPDDR1
256MB LPDDR1
512MB LPDDR1
256MB LPDDR1
NAND
512 MB + microSD
32 GB + microSD
8GB + microSD
16GB or 32GB
Camera
5.0MP with Dual LED Flash
5.0MP Tessar with Dual LED Flash
8MP with Dual LED Flash
3MP
Battery
Removable 5.18 Whr
Removable 4.88Whr
Removable 4.81 Whr
Integrated 4.51Whr
Resolution
3.7" 854 x 489 LCD
3.5" 800 x 480 LCD
3.7" 800x480 AMOLED
3.5" 320 x 480 LCD
PPI
266
267
252
165
Digitizer
Capacitive Multitouch
Resistive
Capacitive Multitouch
Capacitive Multitouch
OMAP 3430 Continued:

As enthusiasts of the N900, Palm Pre, and Motorola Droid alike know, the 600 MHz clock is somewhat conservative, as many have been able to get up to 1 GHz relatively easily with custom ROMs and other kernel patches. In fact, the OMAP 3440 has a recommended clock target of 800 MHz, some 200 MHz higher than the recommended 600 MHz target for the OMAP 3430. Notably, the OMAP36x series running at 45-nm has recommended clocks of 720 MHz for all but the highest end OMAP 3640, which is 1 GHz. It's entirely likely that the difference between the OMAPxx40 and the lower clocked OMAPxx30 for each process target is binning, possibly explaining why some are able to get devices running at even over 1 GHz.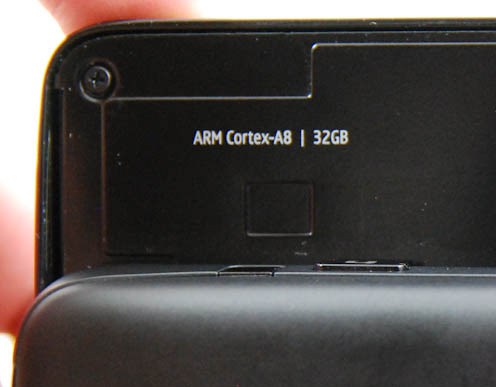 Of course, the primary comparison for this generation is arguably Qualcomm's popular Snapdragon SoC. The primary differences between these two popular SoCs are two things: the Qualcomm SoC includes celluar modems, but more notable is the difference in GPU. We've talked briefly before about how the QSD8250/QSD8650 both include Qualcomm Adreno 200 GPUs which are actually re-branded AMD z340 GPUs brought over with the IP Qualcomm bought when it acquired AMD's handheld graphics and multimedia assets division. Interestingly enough, the AMD z340 is related to the Xenos GPU in the Xbox 360. Standards support wise, however, the Adreno 200 and PowerVR SGX 530 both target OpenGL 2.0 ES, but performance wise we now know the PowerVR SGX 530 is superior performance wise over the z340. Keep in mind the iPhone 3GS has a slightly higher spec'ed version of PowerVR SGX GPU, an SGX 535.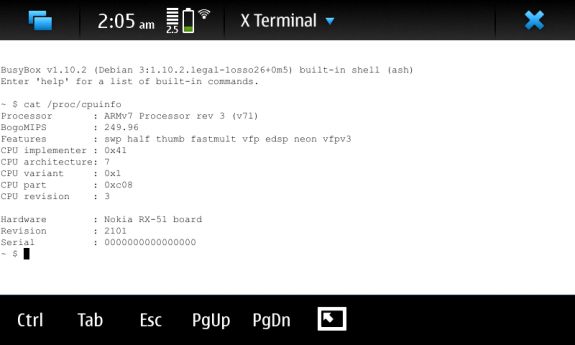 cat /proc/cpuinfo on the Nokia N900
It's difficult to be absolute about how much the performance delta between the Adreno 200/AMD z340 and the PowerVR SGX530 really is, as so much of the difference is the result of driver differences. Add in further complexities surrounding how well implemented features are on different smartphone OSes, and it becomes even more challenging to give you a real objective answer. Point is, without a common software stack, it's difficult to give a solid benchmark. That said, it's hard to argue that Imagination's PowerVR SGX series isn't faster in practice across the board.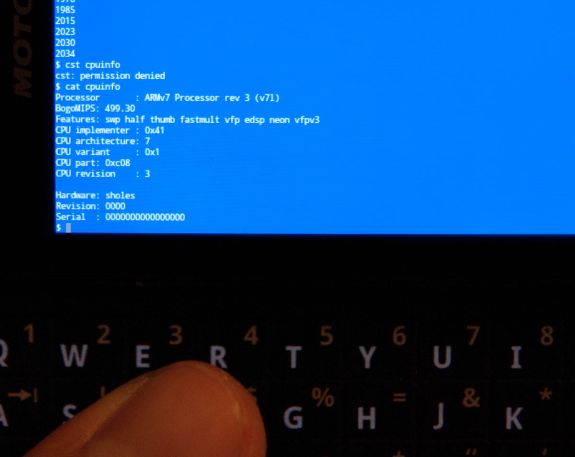 cat /proc/cpuinfo on the Motorola Droid
Of course, the untold story here is that although the 3430 ships with modest clocks (which the Motorola reduces by 50 MHz), it has seen largely uniform overclocks to 1 GHz. In fact, what's really interesting here is that in principle, a 1 GHz OMAP 3430 should outpace a 1 GHz Snapdragon SoC in a number of use scenarios because of the vastly better GPU onboard the 3430.