Final Words
If you can afford it, you're still better off spending $300 - $400 on an SSD than trying to get your feet wet with one of these value drives. The performance difference is significant enough to warrant it. Even the upgrade to Intel's 80GB X25-M G2 is a better idea given the drive's low cost per GB. If you are trying to get into an SSD as cheap as possible, perhaps for an older machine or netbook then these value drives are worth considering.
I'm going to assume that the workload for such a machine is going to be lighter than what most high end SSDs are exposed to, thus random read performance will probably matter more than peak sequential write speed for example. Intel's X25-V is very attractive, but its overall price would keep it out of systems on a tight budget.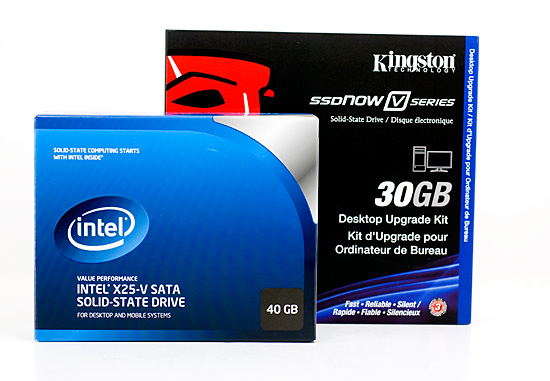 While OCZ and Kingston trade blows below $100 I'd give the overall nod to Kingston's SSDNow V Series Boot Drive. The 30GB drive is limited in capacity but provides very consistent performance, even under completely unrealistic workloads. You don't get great random read/write performance but you do get good overall performance. If you're building a machine for light workloads like web browsing then the Kingston drive should be sufficient. If you're going to be doing a lot of multitasking and have a heavier workload, the OCZ Onyx is a better bet below $100.
I wouldn't be doing my job if I didn't give you the disclaimer about waiting. Intel's X25-V will grow to 80GB in Q4, presumably at the same price point as the 40GB drive today (hooray for 25nm NAND). If you don't want to wait and can spend the money, the 40GB X25-V is a good solution. If you need a cheaper drive go for the Kingston for light use systems (e.g. web browsing netbooks) or the OCZ Onyx if you are running heavier, write intensive workloads. And if you're running an OS without TRIM support, Kingston's drive appears to be the most resilient of the bunch.