The LCD market continues to be one of the frequently updated segments in the consumer electronics segment, as OEMs and vendors alike are eager to bundle their high-end, high performance displays with professional workstations. The ZR30w belongs to that same pro market, offering a 10-bit panel with 1.07 billion colors - for an advertised 99 percent coverage of the AdobeRGB 1998 gamut and 30-bit per pixel color. HP claims that the ZR30w is the first 30" display to break 1 billion colors. When you're selling a 30" LCD to enthusiasts, every bit of performance matters, and as we'll show in a bit, the ZR30w doesn't fail to impress.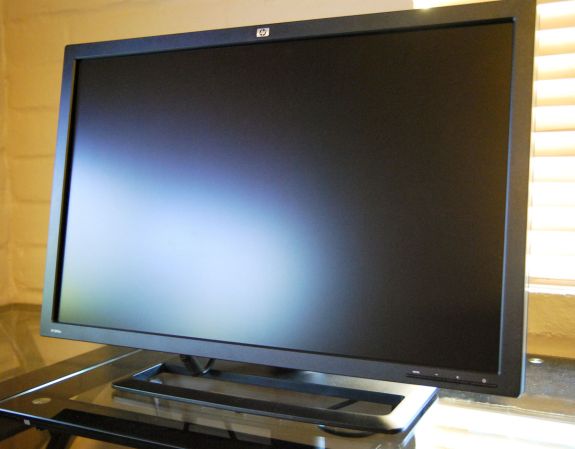 As already noted, the ZR30w is targeted primarily at enthusiasts and professionals who demand accurate color tracking and equally large gamut. As with all 30" displays, every detail counts, as this segment represents generally the best of the best for manufacturers. It makes sense, too, since enthusiasts and professionals alike who are serious about getting the absolute largest in display real-estate also care about color tracking and gamut. They expect top performance, and are willing to pay for it. Though similar real-estate can almost be captured with arrays of smaller panels, for most, the 30" segment remains the most lust-worthy among displays thanks to the truly uninterrupted space.

The last 30" HP LCD we touched was the venerable HP LP3065 back in 2007. The LP3065 is still available today as well at $1,349 on HP's website. The ZR30w is being introduced at a price point of $1,299 - some $300 below Dell's UltraSharp 3008WFP display. Interestingly enough, the ZR30w does away with the plethora of DVI-D ports we praised the LP3065 for having (almost doubling as a KVM switch). It trims down the 3 DVI-D ports in the LP3065 to 1 DVI-D port and a DisplayPort for the ZR30w. That's not a deal breaker, but you're still one input shorter a generation later, which is a bit puzzling. Considering other 30" displays include a plethora of input options, we find the ZR30's a bit spartan - an HDMI port or component would be welcome additions.
Before we go any further though, let's dive into the specifications:
HP ZR30w - Specifications
Property
Quoted Specification
Video Inputs
DVI-D, DisplayPort (both with HDCP)
Panel Type
S-IPS/H2-IPS (CN401808T6 unknown manufacturer)
Pixel Pitch
0.250 mm
Colors
1.07 billion colors (30 bits)
Brightness
370 nits typical
Contrast Ratio
1000:1 normal, 3000:1 (dynamic)
Response Time
7ms (g2g), 12ms (on to off)
Viewable Size
29.7" Diagonal
Resolution
2560x1600 (WQXGA)
Viewing Angle
178 degrees horizontal and vertical
Power Consumption (operation)
<130 watts typical, <185 watts maximum
Power Consumption (standby)
<2 watts sleep
Screen Treatment
Matte (anti-glare)
Height-Adjustable
Yes: 4" of travel
Tilt
Yes: -5 degrees to 35 degrees
Pivot
No
Swivel
Yes: -45 degrees to 45 degrees
VESA Wall Mounting
Yes - 100x100mm
Dimensions w/ Base (WxHxD)
27.3" x 19.3" - 23.3" x 10.8"
Weight w/o Stand
28.6 lbs
Additional Features
Integrated 4-port USB hub, HP Quick Release, optional speaker bar
Limited Warranty
3 years parts, labor, and onsite service
Accessories
DVI-D, DisplayPort, USB, and Power Cables
Price
$1,299.00
We've already talked about the ports, but in case you haven't used a 30" or equally high resolution panel before, note that dual link DVI is an absolute must. Luckily, HP ships a dual link DVI cable (I've seen a few monitors that require dual link DVI actually ship without dual link cables, which always results in a few nightmares) and makes note of it in the instruction manual.
Just don't expect passive DisplayPort to DVI adapters or other single link DVI interfaces to drive the ZR30w; it won't work. I experimented with a single link connection just for fun, and the ZR30w refused to show an image. There's nothing wrong with that, it's entirely expected. Just be sure you check your cables if things aren't making sense.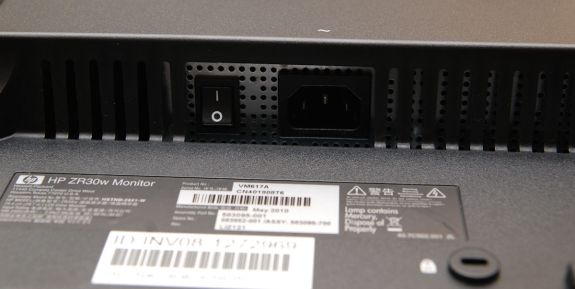 There's also an internal 4-port USB 2.0 hub. Two ports on the left side of the monitor, two on the bottom near the display inputs. Alongside the standard power connector is a power switch - been a long time since I've seen one of those on a monitor.