Basic comparisons in simple tests yield very similar figures for the ASRock board to the EX58-UD3R: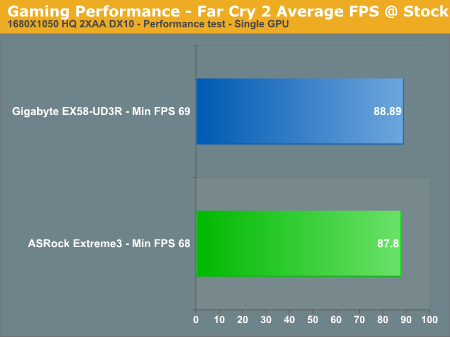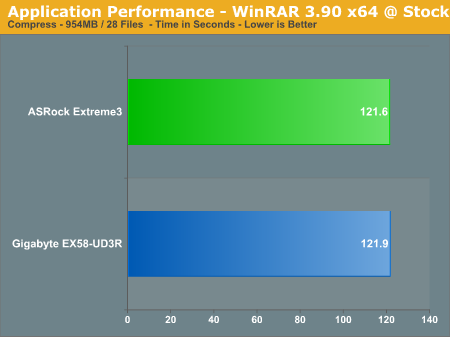 These results translate through our suite in general - the ASRock board performs similarly in 2D benchmarks, but is at a slight loss in all our 3D benchmarks.
Power Consumption
Our power consumption testing utilizes the same batch of components under similar circumstances in a bid to monitor variances between idle and CPU load conditions. We install the vendor supplied power saving utilities on each board (when available) and enable power saving modes that don't involve any kind of underclocking or CPU core frequency modulation in order to run an apples to apples comparison.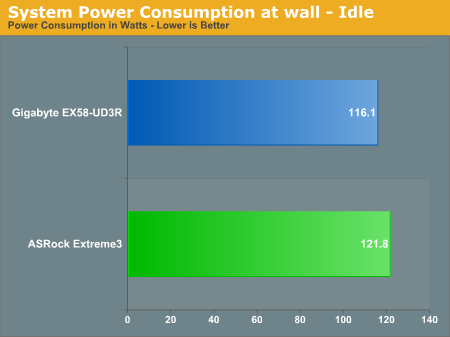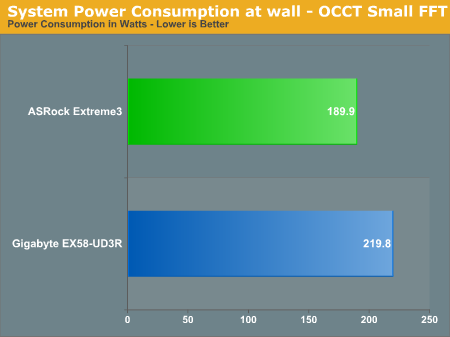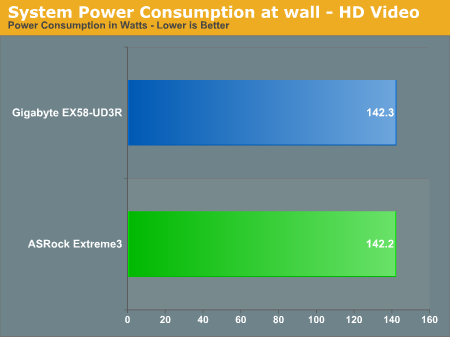 Under idle and normal loads, the ASRock board perfroms similarly to the Gigabyte. The biggest surprise here is the power usage under heavy load, where the ASRock draws approximately 30W less than the Gigabyte board - we're not entirely sure the reasons behind such a difference are, given the HD Video power usage values are essentially equivalent. Any X58 folders may prefer the ASRock board, if the cost of 30W is extrapolated over the course of a year.
Overclocking
Alongside BIOS tools, ASRock also provides software on the bundled CD, called OC Tuner, to help manage overclocks in the Windows operating system. However, using simply the BIOS, which we prefer, we were able to provide a very decent overclock of 4.1GHz on our Core i7-920 D0: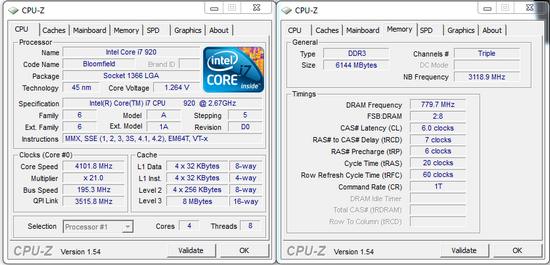 Using the Corsair H50-1 basic water cooling, on a push-pull fan arrangement, a 4.1Ghz clock speed reached a maximum of 80ºC under the Intel Burn Test (ambient 18ºC). The Intel Burn Test is overkill for temperature testing, but on an open test bench does go some way to modelling the overclock when it's in a case in the middle of summer. Under normal multi-threaded load, on the open test bench, temperatures rose to 75ºC. To achieve this setting, VCore was upped to 1.275V, IOH to 1.302V and VTT to 1.34V. With DRAM at 1.654V, all other voltages were switched from Auto to their lowest recommended setting. Left under the Auto setting, even at stock speeds, the VTT defaults to 1.48V and the CPU PLL to 1.92V, both above the lowest setting, which results in a hot-to-touch southbridge.
Overclock stability was tested with HyperPi, 300% MemTest and three hours of LINPACK, as well as the variety of benchmarks used in this review.