Gaming Performance: Better and Worse than ION1
Here's where things get a little iffy. The ION2 GPU is located behind a single PCIe 1.0 lane, that's a maximum of 250MB/s of bandwidth in either direction. The original ION had a full x16 connection to the chipset. There are going to be certain situations where the next generation ION platform is actually slower than its predecessor. In games that are more compute bound we should see the next generation ION platform win out. In those that are CPU bound, we may see the opposite.
In either case you can actually play some games, at very low image quality settings on the next generation ION, which is something you simply can't do on the base Pine Trail platform: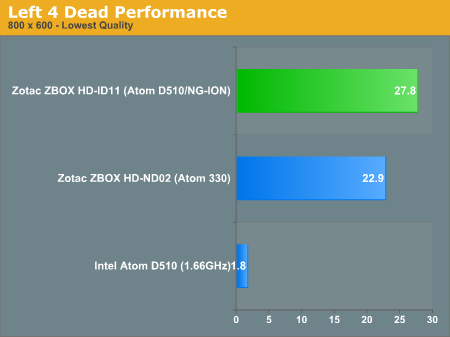 When there is an advantage, we saw anywhere from a 0 - 30% increase in GPU performance over the original ION. However when it loses, the older ION is about 5 - 10% faster.
3D Gaming Performance: NG-ION vs. ION
Low Quality Settings
Zotac ZBOX HD-ID11 (NG-ION)
Zotac ZBOX HD-ND02 (ION1)
Left 4 Dead (1024 x 768)
27.8 fps
22.9 fps
World of Warcraft (Good Quality - 800 x 600)
11.8 fps
11.2 fps
DiRT2 (800 x 600)
17.5 fps
18.5 fps
BioShock 2 (800 x 600)
18.6 fps
16.7 fps
Dragon Age Origins (800 x 600)
23.3 fps
17.8 fps
NVIDIA tells us that it's up to the motherboard manufacturer to determine how to allocate the PCIe lanes coming off the NM10 Express chipset. However it's hard to see a scenario where a company would sacrifice things like WiFi or Gigabit Ethernet for better gaming performance.
GPU Compute Performance: Still Slightly Slower than ION1
I ran a quick Badaboom encode converting a rip of the Weeds season 2 Blu-ray to an iPhone optimized format. For those of you who aren't familiar with it, Badaboom is a CUDA app that uses a supported NVIDIA GPU to do all video encoding. If you're not going for maximum image quality and just want a quick way of getting your video transcoded to a portable device, Badaboom is great.
Despite the increase in GPU and shader clock, the anemic x1 interface to the NG-ION GPU actually dropped performance compared to ION1. This is still something you can't do with the base Pine Trail system, but it's not exactly an upgrade over the original ION.
CUDA Performance: NG-ION vs. ION
Zotac ZBOX HD-ID11 (NG-ION)
Zotac ZBOX HD-ND02 (ION1)
Badaboom 1080p H.264 to iPhone Conversion
15.2 fps
15.4 fps