Acer Aspire 1410: Battery Life
Now for the part where we usually equivocate when we recommend the CULV machines over netbooks: battery life. Performance is without fail the biggest reason we push CULV units, and the high res screen also plays a role in it. But with far better performance and a larger screen, battery life is bound to take a hit when both systems use comparably sized batteries. And take a hit it does.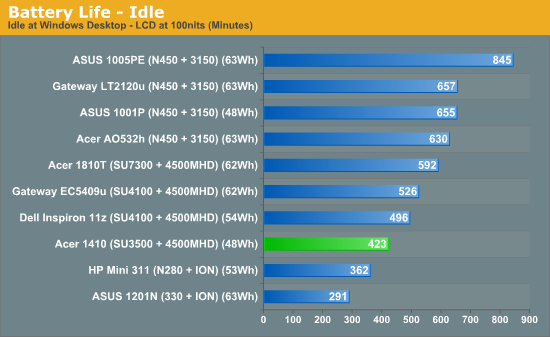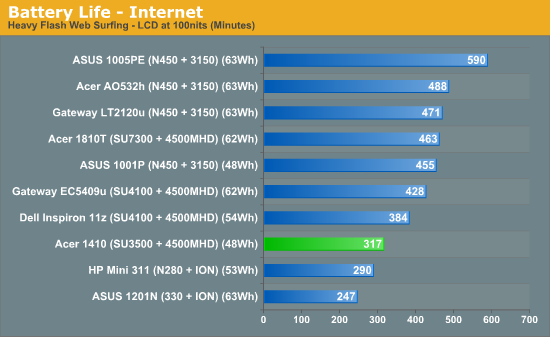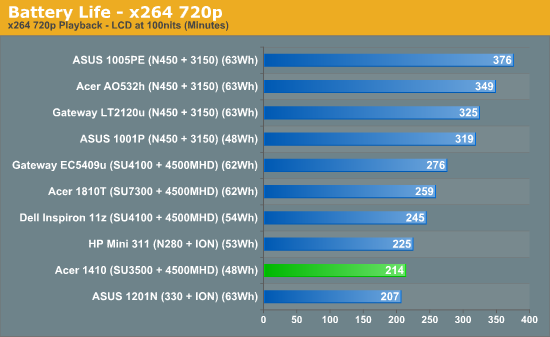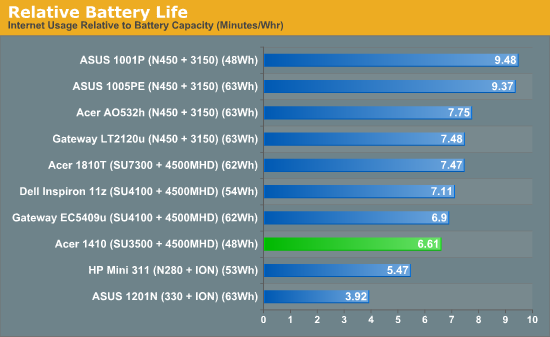 In battery life testing, we see numbers far short of those put up by the CULV units with higher capacity batteries, to say nothing of the more power efficient netbooks. On average, you can expect around 2/3 the battery life of the Acer Eee 1001P (48Wh battery) and 3/4 the battery life of the 1810T (63Wh battery). I was disappointed by the 1410's showing, especially compared to the dual-core CULV machines, However, in the relative metric all of the CULV laptops are quite similar, and CULV still trumps the early ION platforms. Still, the C2S SU3500 has half the TDP of the C2D SU7300, so even with a smaller battery I expected the AS1410 to be relatively competitive to the 1810T. Sadly, this is not the case. Even so, the battery life is still reasonable when evaluated on its own, with a 7 hour max life and well over 5 hours of internet browsing and light usage.