Moorestown: The Two Chip Solution That Uses Five Chips
Intel calls Moorestown a two-chip solution. That's the Lincroft SoC and the Langwell IO Hub. Intel says there's no architecture limitation for splitting these two up, it was just a way of minimizing risk. You put the bulk of the 3rd party technologies in the Langwell IO Hub and keep the important, mostly Intel controlled components in Lincroft. This is still the first SoC that Intel is going to market with, so splitting the design into two chips makes sense. The followon to Moorestown, codenamed Medfield, will integrate these two once Intel is comfortable.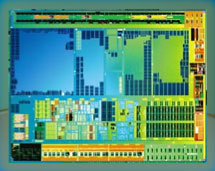 The 45nm, 140M transistor Lincroft die
Lincroft houses the CPU, GPU and memory controller and is built on Intel's 45nm process. This isn't the same 45nm process used in other Intel CPUs, instead it's a special low power version that trades 6 - 8% performance for a 60% reduction in leakage. The tradeoff makes sense since the bulk of these chips will run at or below 1.5GHz. And by the way, it's now called the Atom Z600 series.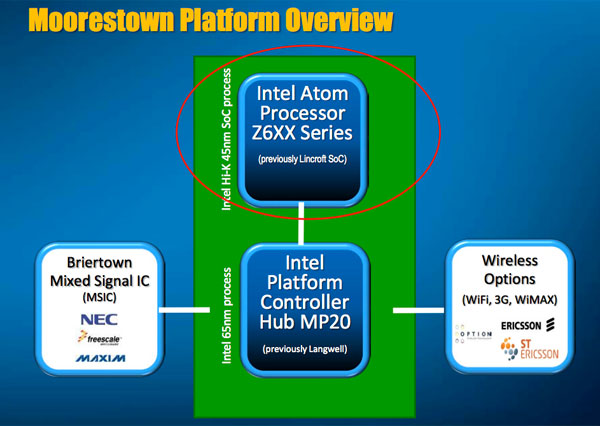 Transistor Comparison
Intel Atom Z5xx Series
Intel Atom Z6xx Series
NVIDIA Tegra 2
Manufacturing Process
45nm
45nm
40nm
Transistor Count
47M
140M
260M*
*Tegra 2 is a single chip solution, Intel hasn't provided specs for Langwell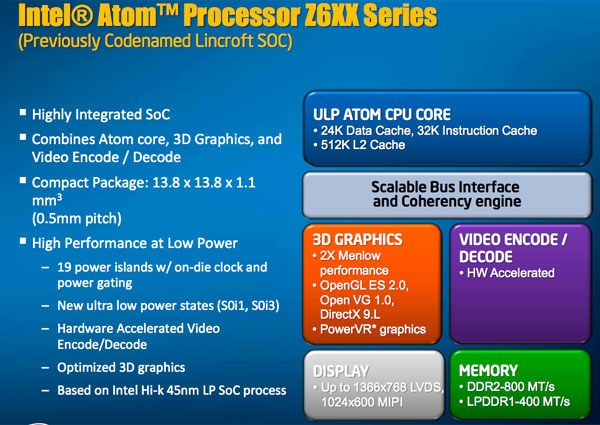 Langwell, now known as the Intel Platform Controller Hub (PCH) MP20, holds virtually everything else. It's got an image processing core that supports two cameras (1 x 5MP and 1 x VGA), USB 2.0 controller, HDMI output (1080p) and a NAND controller that can support speeds of up to 80MB/s. The whole chip is managed by a 32-bit RISC core.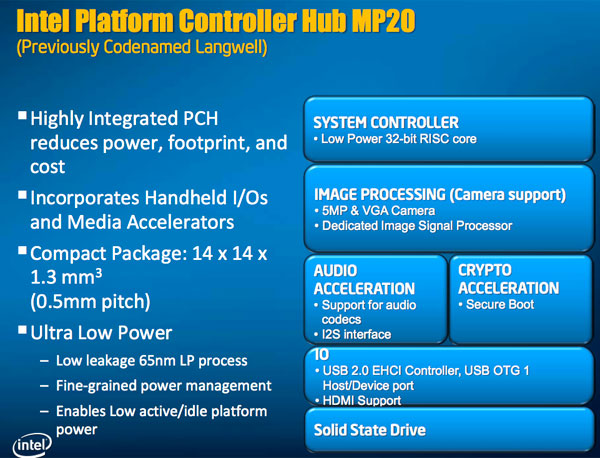 Langwell is a 65nm chip built at TSMC. TSMC has existing relationships with all of the IP providers for the blocks inside Langwell, so making it at TSMC is a sensible move (a temporary one though, with Medfield Intel will integrate all of this).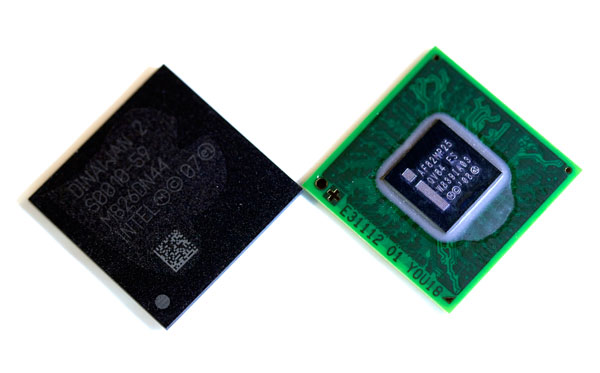 Langwell (left) and Lincroft (right)
While Lincr, err, Atom Z600 and the Intel PCH MP20 are enough for a traditional system, they are not enough for a smartphone. You need wireless radios, that's one chip for WiFi and one for 3G support. You need something to handle things like power management, charging the battery and controlling the touch screen. That's an additional chip, called Briertown.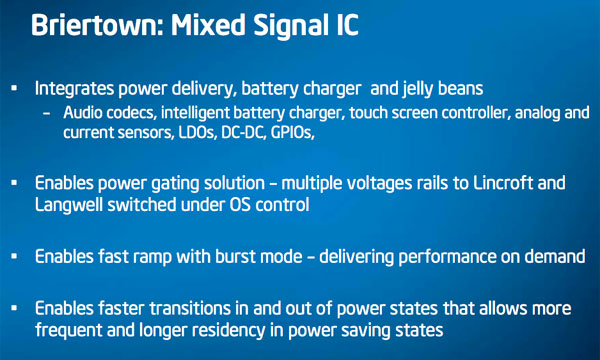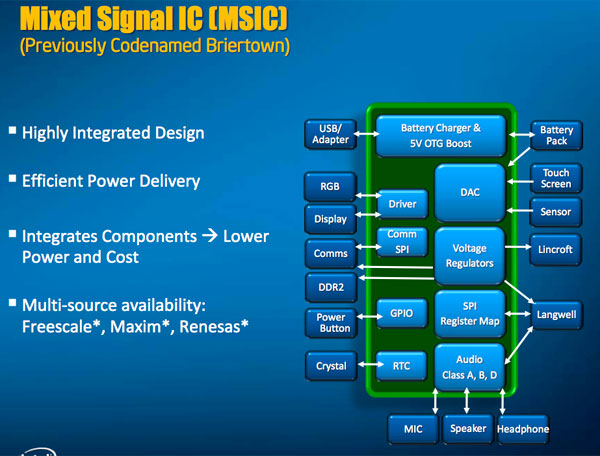 We're up to four chips at this point, but you need at least one more. While modern day smartphone SoCs ship with on-package memory, Intel doesn't yet support that. Obviously it's not impossible to do, Marvell, TI, Qualcomm and Samsung do it with all of their SoCs. Look inside Apple's iPad and you won't see any DRAM chips, just a Samsung part number on the application processor package. Intel doesn't have the same experience in building SoCs and definitely not in integrating memory so it's not a surprise we don't have that with Moorestown. Unfortunately this means a smartphone manufacturer will need as many as five discrete chips to support Moorestown.
Platform Size
Moorestown
CPU + Chipset
387 mm2
Total Platform Area
4200 mm^2
SoC Package Size
13.8 mm x 13.8 mm x 1.0 mm
PCH Package Size
14 mm x 14 mm x 1.33 mm
And now we know why Intel has been showing off its extremely long form factor prototype all this time: