The Vertex 2
With the Agility 2 and Vertex 2 drives, OCZ has completely abandoned Indilinx in the high end MLC space. While Indilnx's JetStream controller is still expected sometime this year, OCZ has clearly aligned with SandForce for the immediate future of its high end SSDs.
The Agility 2 we recently reviewed uses a standard SF-1200 controller and firmware. The Vertex 2 uses the same controller, but ships with a different (allegedly OCZ exclusive) firmware that enables higher small file random write speeds. This is a mass production firmware revision (based on 3.0.5) and is officially sanctioned by SandForce.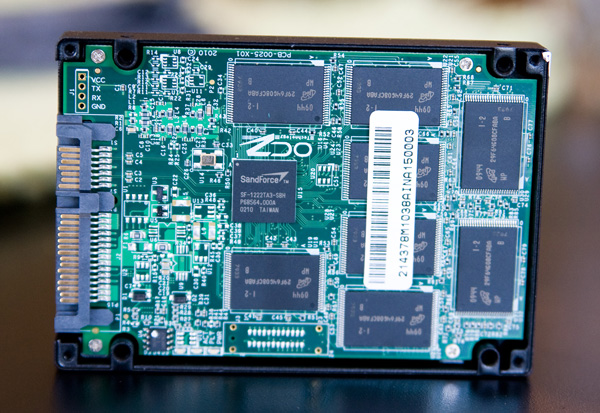 The drives carry a small price premium over OCZ's Agility 2 line:
OCZ SandForce Drive Pricing (MSRP)
50GB
100GB
200GB
OCZ Agility 2
$204.99
$379.99
$719.99
OCZ Vertex 2
$219.99
$399.99
$769.99
In theory, the Vertex 2 should be the fastest SF-1200 on the market. However, Corsair's Force F100 offers similar performance. The trick is in the firmware. Corsair ships its drives with SandForce's release candidate firmware (3.0.1), which has the higher small file random write performance. In order to work around a known issue with that firmware, Corsair disables a power saving state that results in slightly higher power consumption from the Force F100.
I've been using both drives and so far, they both work fine. But if you want the performance and to stick with SandForce's MP firmware, the Vertex 2 is apparently the only solution for now.