Last week, NVIDIA held a conference call and presentation to let us know about updates to their Verde driver program. Initially rolled out in 2008, the Verde program was a way to deal with the difficult problem of providing updated drivers for laptops. Most OEMs will only update their official driver if there's a critical bug, and a single game failing to run properly generally doesn't qualify as "critical". The original commitment was to provide at least quarterly driver updates, which was good though obviously there was room for improvement.
In February, AMD finally came up with a solution for the mobile driver dilemma. Similar to NVIDIA's Verde program, they would support the vast majority of mobile systems with driver updates. There were a few differences worth noting, however: first, AMD made their program opt-out instead of opt-in; second and more important, AMD committed to releasing mobile driver updates concurrent with their desktop drivers. In other words, AMD will have monthly mobile drivers for any supported laptop. At present, the only laptops that aren't included come from a few OEMs, specifically Panasonic, Sony, Toshiba. Also, laptops with switchable graphics (i.e. HP's Envy 13) are not on the list, for much the same reasons that NVIDIA doesn't support switchable graphics with their Verde program. In case you missed it, the reason switchable graphics platforms aren't included is that AMD/NVIDIA need to sync with an Intel driver, which makes things quite a bit more difficult.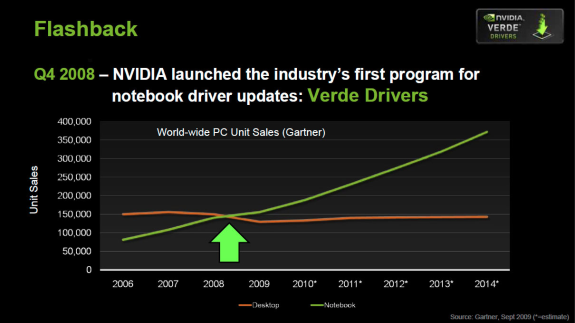 With their new Catalyst Mobility program, AMD technically had the lead for mobile GPU drivers. This of course brings us to today's announcement. NVIDIA and AMD/ATI both like to lay claim to being "first", but who did it first is about as useful as the "First!" posts you sometimes see on message boards. ATI had generic mobile drivers starting way back in 2004, but a lot of manufacturers had no interest in such support. In fact, IT departments are often against drivers that don't come from the laptop manufacturer, so over the years few laptops opted to work with the ATI mobile drivers. NVIDIA suggests (rightly in our view) that their Verde program has elevated mobile driver support to a new level, and with their work AMD seems to have had more success in getting manufacturers on board their new program. Now NVIDIA is matching AMD's monthly driver schedule by committing to release both desktop and mobile drivers at the same time.
With the Verde 197 Release (32-bit, Vista, and XP are also available), NVIDIA has laptop and desktop drivers that are essentially the same version. The laptops are currently version 197.16 while desktops are 197.45, but that's close enough in our book. We should start seeing the same version on both mobile and desktop platforms with the next release (which appears to be version 256), and that will also add support for all the latest Optimus laptops. The next release should come out in May.
Going forward, NVIDIA says that any official release available through their download pages (i.e. not a hotfix or a limited release for a new GPU) should come out with both mobile and desktop versions. Included with the 197 mobile driver is support for any GeForce 8M or later, Quadro NVS, and Quadro FX GPU. (Sorry, there's no new DX9 GPU support.) New to the list of OEMs on board with NVIDIA's Verde program are Sony VAIO laptops. The only current mobile solutions that don't get support are switchable graphics laptops (i.e. Alienware M11x, ASUS UL30/50/80Vt, etc.) If NVIDIA can work something out with Intel so they can bundle an Intel driver, we might see those brought into the fold as well, but don't hold your breath.
Honestly, that's the big news with the 197 release, but NVIDIA did add a few other features. They also brought out their CUDA, PhysX, and DirectCompute drums to make some noise again, but there's not much new to say there. Games like Batman and Mirror's Edge make good use of PhysX, and programs like Badaboom and vReveal leverage CUDA to accelerate video processing tasks. The only new feature in 197 is extended 3D Vision support for laptops, in particular with external displays. Going forward, we should see NVIDIA's 3DTV Play software in the near future which will provide 3D support without the need for NVIDIA's glasses with a supported 3D TV (i.e. no need for a 3D Vision kit). Blu-ray 3D support will also be coming in the next Verde release.
You can view all of the slides below, which provide some specifics at the end about which 3D displays will work with the current drivers. Hopefully we can now stop talking about mobile drivers as a problem, and simply review the hardware. Speaking of which, NVIDIA is still behind in one critical area on mobile GPUs: DirectX 11 support. Our crystal ball suggests that it might be six months or so before we start seeing mobile DX11 parts from NVIDIA (no surprise considering how power hungry Fermi is). On the AMD side, we'd guess that six months will also be enough time for them to come up with a solution similar to Optimus. I guess we'll just have to wait and see, as right now NVIDIA has the better GPU switching technology while ATI has DX11 GPUs.