3dsmax 9 - SPECapc 3dsmax CPU Rendering Test
Today's desktop processors are more than fast enough to do professional level 3D rendering at home. To look at performance under 3dsmax we ran the SPECapc 3dsmax 8 benchmark (only the CPU rendering tests) under 3dsmax 9 SP1. The results reported are the rendering composite scores.
Not all heavily threaded workloads will show the Phenom II X6 in a good light. Here Intel maintains the advantage: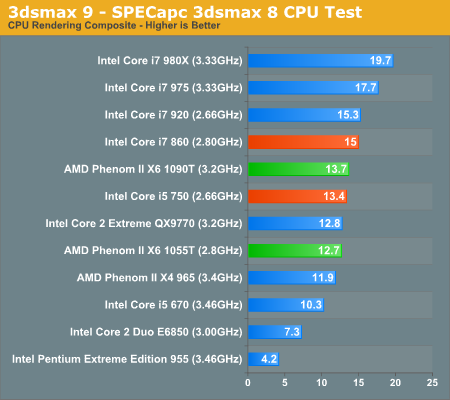 Cinebench R10
Created by the Cinema 4D folks we have Cinebench, a popular 3D rendering benchmark that gives us both single and multi-threaded 3D rendering results.
Single threaded performance is obviously an Intel advantage, but crank up the thread count and there's no match for the Phenom II X6. As we pointed out earlier, if you've got a lot of CPU intensive threads there's no replacement for more cores.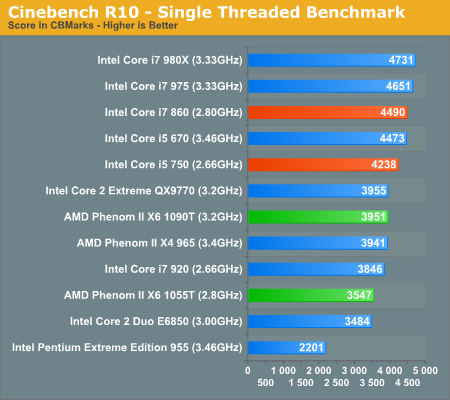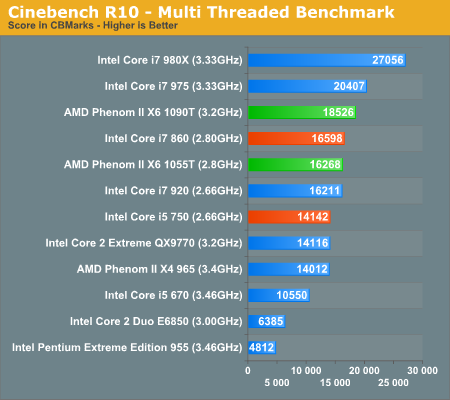 POV-Ray 3.73 beta 23 Ray Tracing Performance
POV-Ray is a popular, open-source raytracing application that also doubles as a great tool to measure CPU floating point performance.
I ran the SMP benchmark in beta 23 of POV-Ray 3.73. The numbers reported are the final score in pixels per second.
Once again, the Phenom II X6 does very well here.