Random Read/Write Speed
This test reads/writes 4KB in a completely random pattern over an 8GB space of the drive to simulate the sort of random access that you'd see on an OS drive (even this is more stressful than a normal desktop user would see). I perform three concurrent IOs and run the test for 3 minutes. The results reported are in average MB/s over the entire time.
I've had to run this test two different ways thanks to the way the newer controllers handle write alignment. Without a manually aligned partition, Windows XP executes writes on sector aligned boundaries while most modern OSes write with 4K alignment. Some controllers take this into account when mapping LBAs to page addresses, which generates additional overhead but makes for relatively similar performance regardless of OS/partition alignment. Other controllers skip the management overhead and just perform worse under Windows XP without partition alignment as file system writes are not automatically aligned with the SSD's internal pages.
First up is my traditional 4KB random write test, each write here is aligned to 512-byte sectors, similar to how Windows XP might write data to a drive: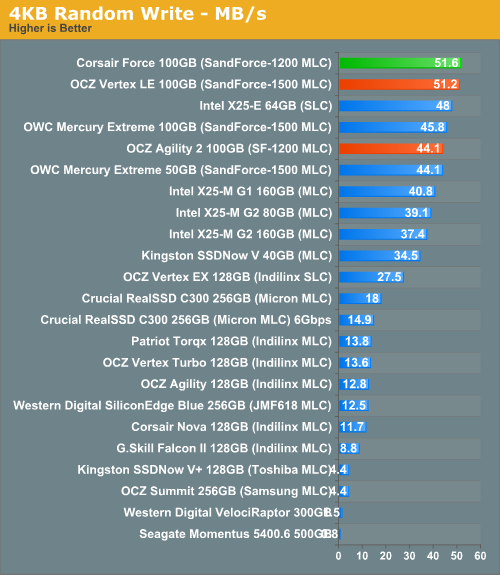 Here we see the first real impact of the SF-1200's final, shipping firmware. Random write performance drops down a bit, but not by a lot. However the SandForce controllers perform best when run in OSes that align across 4K boundaries: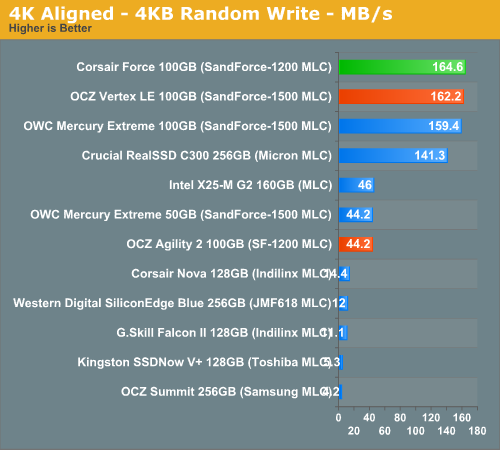 Here we see a dramatic drop. While the SF-1500 and SF-1200 (3.0.1) based SSDs manage over 160MB/s, the standard SF-1200 (3.0.5) can only push 44.2MB/s. That's still much faster than a HDD, but it ends up being slower than both a C300 and Intel's X25-M G2.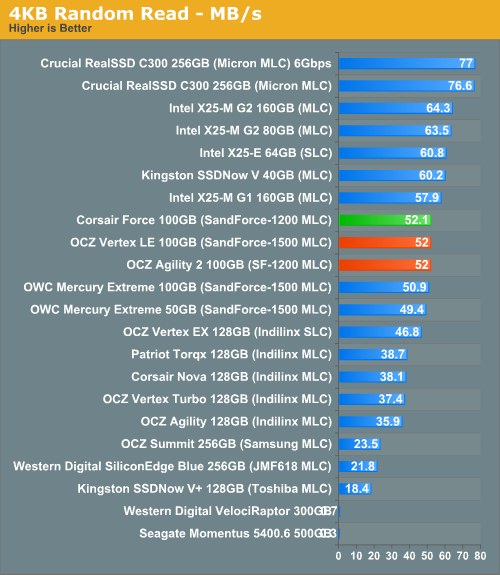 The performance limitation only applies to small file random writes. Random read performance remains unchanged with version 3.0.5 of the SF-1200 firmware.