Controversy, Corsair Responds
Last week SandForce called me to reveal something troubling. While version 3.0.1 of its SF-1200 firmware provided SF-1500 like performance on all drives, the mass production version of the firmware (3.0.5) would cap small file random write performance in line with the SF-1200 spec. This applies to all SF-1200 drives except for OCZ's Vertex 2.
SandForce's argument is that only version 3.0.5 is ready for mass production, however Corsair had already begun selling drives with version 3.0.1. Meaning Corsair's Force series SSDs being sold on the market today perform like OCZ's Vertex LE and Vertex 2, and not like the Agility 2.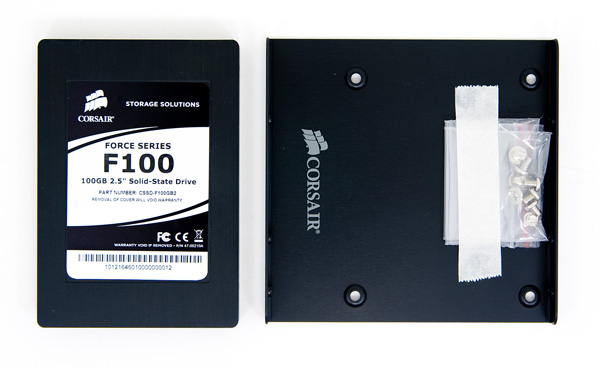 The 3.0.1 firmware apparently had a reliability issue with a power management state, however Corsair believes it has circumvented the problem by disabling the state. This comes at the expense of increased power consumption, but it also means that Corsair has no reason to upgrade to the 3.0.5 firmware on its drives.
Corsair appears committed to keeping 3.0.1 on its drives unless there's a real benefit to move to 3.0.5. This does pose a problem for OCZ and SandForce's exclusivity agreement stating that only the Vertex 2 would ship with SF-1500 performance, however that's an issue for those two to work out.
As always, I'm continuing to test Corsair's 100GB Force drive to see if there are any issues in real world applications. It's currently installed in my work notebook (MacBook Pro) which gets used quite a bit. As you well know, if I run into any problems I'll post about them right away.
The Test
| | |
| --- | --- |
| CPU | Intel Core i7 965 running at 3.2GHz (Turbo & EIST Disabled) |
| Motherboard: | Intel DX58SO (Intel X58) |
| Chipset: | Intel X58 + Marvell SATA 6Gbps PCIe |
| Chipset Drivers: | Intel 9.1.1.1015 + Intel IMSM 8.9 |
| Memory: | Qimonda DDR3-1333 4 x 1GB (7-7-7-20) |
| Video Card: | eVGA GeForce GTX 285 |
| Video Drivers: | NVIDIA ForceWare 190.38 64-bit |
| Desktop Resolution: | 1920 x 1200 |
| OS: | Windows 7 x64 |