X750: Potent for the Price
With the X-series, Seasonic delivers an outstanding performance. It's not only the high efficiency but also the good voltage quality and EMI friendly topology that make the X750 one of the most interesting power supplies on the market. With its double-sided circuit board, Seasonic sets the bar quite high and the semi-passive cooling will be great for users that frequently run at sub-50% loads. While the Enermax Pro87+ and Modu87+ are quieter at high loads, they're noisier at lower loads and still audible at sub-20%; with the fan shut off below 20%, the X750 is truly silent at low loads. Furthermore, the Sanyo Denki fan is a high quality design and should last a long time; the classical ball bearing is out of style and Enermax chose its Twister models wisely.
The selected line filtering stage from Yunpen is an excellent choice for interference suppression during relatively low loads; many manufacturers try to save money here in order to cut down resistance, which prevents optimizing the efficiency. Even though they are not necessary for a good thermal solution, it's good to see the continuing usage of Japanese capacitors. The 105 °C variants last a very long time and there are plenty of capacitors on the secondary circuit to provide good voltage filtering. While the idea of integrating a DC-to-DC converter with the cable management PCB may not have been their own, in practice it works well and their implementation is very good. Overall, the processing and soldering quality are very clean and the build quality is top notch.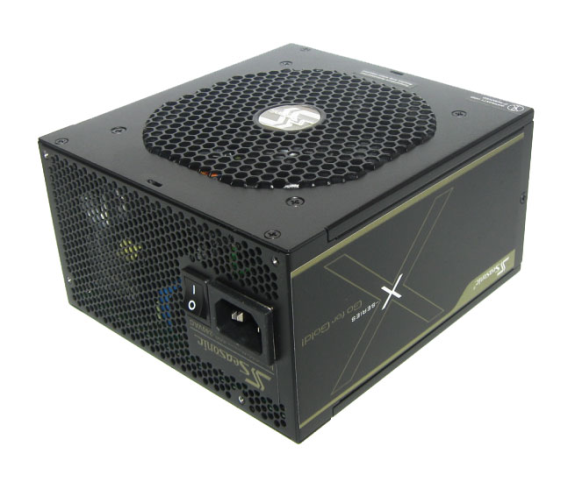 In terms of connectors, the X750 is well equipped. Users get four 6/8-pin PCIe connectors and eight SATA/Molex connections, allowing for a wide spectrum of HDD/DVD/fan configurations. Only triple-SLI computers would need more connectors, and we wouldn't recommend running such a system off a 750W PSU—and we wouldn't generally recommend 3-way SLI at all. For modern GPUs like GF100/Fermi (GTX 470/480) and Cypress (HD 5850/5870), the X750 will work well, though SLI with Fermi will need a larger PSU. The cable sleeves are well done and help keep everything looking neat and organized, as does the fully modular cable system. What would help now would be some aftermarket cable packages for users that need/want longer or shorter cables, but even without those the modular cables will make this PSU simple to install in a case. The dimensions of the X750 are also small considering the rated output.
The DC-to-DC converter and high voltage output on the +12V rail makes the X750 a great fit for users running quad-core processors with SLI or CrossFire GPUs. However, if you have an older system you won't need to worry as 125W on +3.3V and +5V are still more than adequate. On 230VAC grids, the Seasonic X750 reaches up to 91% efficiency, but even on 115VAC the 89% efficiency result is nothing to sneeze at. [Gesundheit!] The relatively large voltage drop on the +5V rail is a minor point of criticism, but the 5V rail isn't particularly important for a modern system. The small amount of ripple is very welcome, and the resonant topology reduces ripple at high load.
Seasonic started out building PSUs for a lot of other companies, but these days they're focusing more and more on end users. With improved build quality and aesthetics, a 5-year warranty, and a very competitive price they have a lot on their side. The X-Series is everything you would expect from a modern 80 Plus Gold certified power supply. It will work great with anything from entry level PCs up though high-end SLI/CrossFire systems. The only thing missing from the X-Series are products targeting moderate users (i.e. sub-500W PSUs) as well as 1000W+ behemoths suitable for running GTX 480 SLI.
The Seasonic X750 is available starting at $170 (150€), so as usual quality doesn't come cheap, but the current price is $50 less than the competing Enermax Modu87+ 700W and still less than the non-modular Pro87+ 700W. With similar qualities and performance (we'd give Enermax a slight edge in overall performance), the price gap makes the X750 is an easy recommendation if you have to decide between the two. However, if you're planning on running at higher loads, Enermax can do so without generating as much noise.