Stop and Smell the Roses Computing
In my original iPad piece i talked about how the couch surfing Internet device is something I'd wanted ever since i started AnandTech 13 years ago. It's sort of ironic that when the day finally came that a company made what I wanted, I don't have the time to actually sit on my couch and browse the web. Such is life.
Since my job revolves around doing a lot online I rarely get the opportunity to chill and play online. Something the iPad is great at. That's not to say that it's totally useless for someone like me. In fact, despite the ergonomics issues I found myself typing a lot of this review on the iPad simply because it's nice to step away from the desk and more overwhelming computing interfaces.
When I'm writing sometimes a simple change of scenery helps clear my head. Using the iPad for writing, responding to emails or even browsing the web is like a virtual change of scenery. It forces you to take a slower and more focused pace. It's stop and smell the roses computing, but without being frustrating. You lose the stress of a more overwhelming compute experience, which if you spend most of your day working on the computer is nice. I don't want to get too flowery with language here but it is a more intimate setting. The screen can be closer to you and you interact with it directly. This is particularly evident in web browsing. The line between browsing for work and fun for me is very blurry, so my browsing experience is rarely relaxed. The iPad fixes that.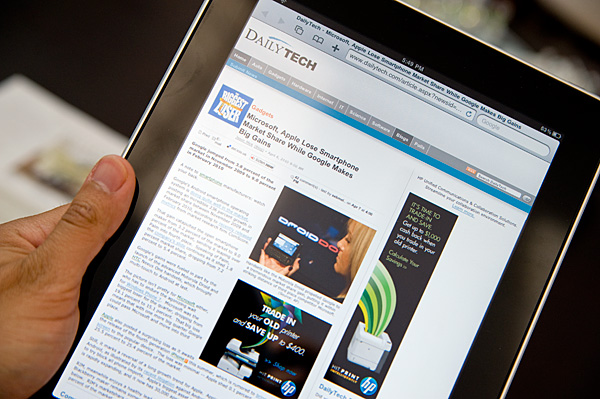 The iPad is a double entendre of computing. On the surface it's a clear option for folks who only do the simplest things with computers. Look a little deeper and there's actually use for those of us who don't fall into that category. It's your computer away from computers. An analogous duality actually exists with the Mac OS and it's easy to use vs. powerful nature.
It's actually this relaxed computing aspect that I feel most tablet makers will get wrong. These devices aren't notebook replacements but in the quest to enable things like multitasking and more usage scenarios I'm afraid that the simplicity will be lost. This is the Android vs. iPhone debate I brought up in my Nexus One review. Apple has the simplicity part down pat, so it's competitors use features to differentiate. In doing so you often lose one of the major selling points of the Apple offering.
Part of the relaxed experience does have to do with the total lack of multitasking on the iPad. Short of playing MP3s while you work, you pretty much can't do more than one thing at a time with the iPad. This is not as frustrating as you'd expect partly due to the faster-than-iPhone speed of the device. But it is a problem, something I believe Apple will address in tomorrow's iPhone OS 4 preview.
The iPad is relaxing to use. The interface is clean and not overbearing, and by virtue of the touch interface it acts more as a natural extension of you than a separate computing device. Maintaining those things while addressing core problems of the iPhone OS (e.g. Notifications, multitasking) will be challenging for Apple.