Notifications: Better than Apple, Worse than Palm
When Apple introduced its notification system on the iPhone, I was pleased. If you're using your phone and you get a SMS, a little bubble appears on the screen and you get to read/dismiss the SMS: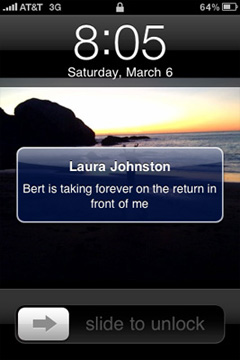 That was three years ago. The iPhone can do a lot more now and the notification system is beginning to show its age. It's annoying if you're trying to do something else with your phone and you keep getting notifications. And it doesn't scale well to getting tons of notifications, you're just shown the most recent with no indication of what came before it.
Palm improved on Apple's system by claiming a line or two of screen real estate and displaying notifications at the bottom of the screen. It was far less intrusive than Apple's method but still gave you the same functionality. If you wanted to see more, just tap the notification bar and you see more of the message. This works for IMs, text messages, etc...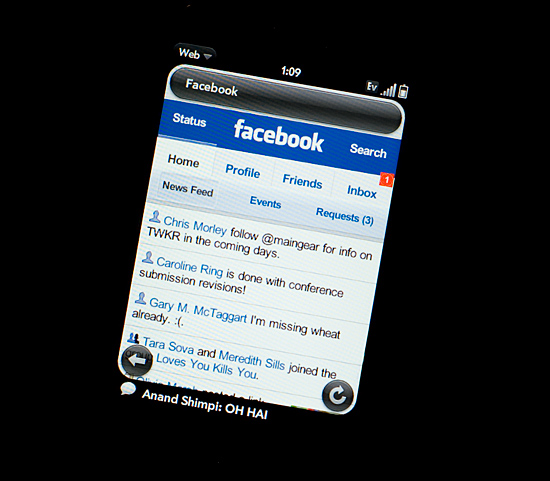 Notifications on the Palm Pre at the Bottom
Google takes a similar approach to Palm, although you don't lose any additional screen real estate. The upper left hand corner of the screen is reserved for notifications. It's a part of the status bar so there's no screen resizing at work. If you get a message, missed call, IM, or anything you get a preview in this corner. The entirety of any message is displayed here; if it can't fit on a single line, the message appears piecemeal.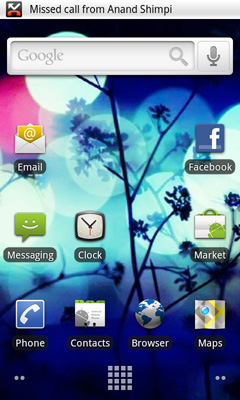 Notifications can build up over time. Here we have a missed call, USB connection message, debug mode message and Pandora running in the background all at the same time: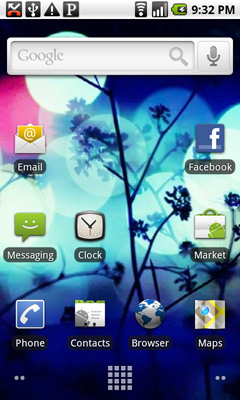 Kinda crowded, right? Here's where it gets awkward. To see all of your notifications simply place your finger at the top of your screen and drag down. You'll reveal all of your notifications in list form: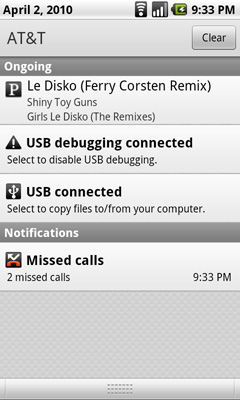 It feels awkward if you're used to using any non-Android phone. It's functional, it gets the job done, but it's just a strange UI construct. In fact, Android is riddled with such things.