Performance - Voice and SMS
Throughout the coverage radius, voice calls were basically as good as you'd expect them to be. Of course, right at the edge of the coverage radius there was noticable distortion and blocking like you'd normally expect. That said, calling works perfectly. I started with one device, and gradually added until I got to four devices.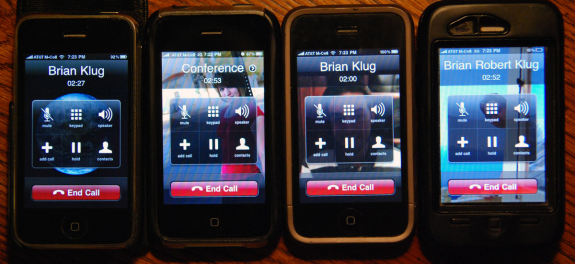 Every device calling me - more calling in 2 minutes than I do in a month
There's really not too much to talk about quality wise, calling and SMS both work like they should when you're well within the range of the MicroCell. I did notice that call setup seemed to take longer occasionally, but don't have any explanation for it. There was also the occasional call that failed to setup, but again that was relatively rare. There wasn't any more perceptible audio lag than normal as well, something I've read callers definitely perceive occasionally.
I realized this was a perfect opportunity to get some real numbers about how much bandwidth a phone call actually uses. To do so, I set myself back up machine-in-the-middle style, setup a network bridge, and watched traffic. I initiated a conference call with three phones to each other in conference mode, and made some noise. This isn't as elegant as Anand's setup for call testing, but it gets the job done. I ran the test a few times with both one and two calls going, three just yielded the most smoothing. In practice, you'll see that bandwidth use is very uniform:

Three calls going
With a little math, we can really get a feel for how much bandwidth each call session is using: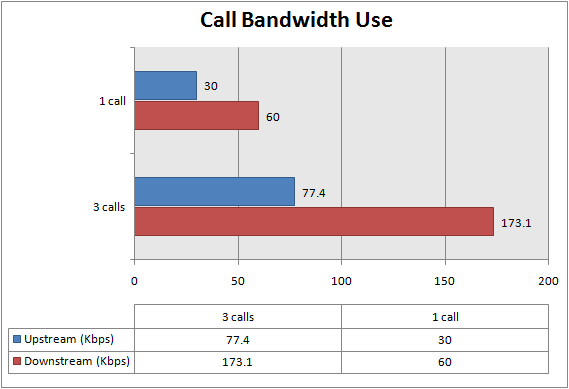 This seems pretty reasonable, if a bit asymmetric. Then again, it's obvious that Cisco is being very careful about using limited upstream bandwidth, why not limit the return path just as much? Bear in mind that the same kind of downstream/upstream asymmetry applies across AT&T's 3G network, so these measures seem valid.
I also initiated call between two devices on the MicroCell and let it sit to see whether the call would drop after a long time - a number of people on the AT&T forums noted issues with longer calls. I successfully got up past a half hour, after which I terminated the call. I'm confident that it would have lasted should I have left it going.