The Crosshair Problem
With my wall of panels constructed it was time to plug them all in and begin the easy part. At POST and while starting Windows, only two of the panels actually display anything. Installing the driver and going through the Eyefinity setup process is the same as for a lesser number of displays. I will say that driver interactions involving creating/manipulating the six displays are sluggish. You just get the feeling that there's a lot going on under the hood. I've included a video below that shows a complete driver setup of a 6 display Eyefinity system so you can see for yourself. Pay attention to how long it takes for each display to activate at some points during the install.
With the software configured I had a single large display that appeared to Windows as a 5760 x 2160 monitor. And here is where I ran into my first problem using an Eyefinity 6 setup. Dialog boxes normally appear in the middle of your display, which in my case was at the joining of two monitor bezels. Here's an example of a dialog box appearing on an Eyefinity 6 setup without bezel correction: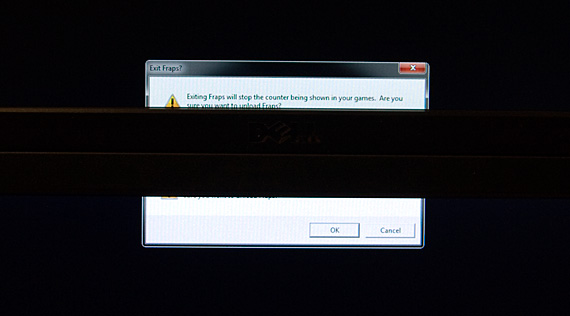 Note how the dialog box is actually stretched across both panels. It's even worse in games, but luckily as of Catalyst 10.3 AMD has enabled bezel correction in the driver to avoid the stretching problem. While bezel correction makes things look more correct in games, it does cause a problem for anything appearing behind the bezel: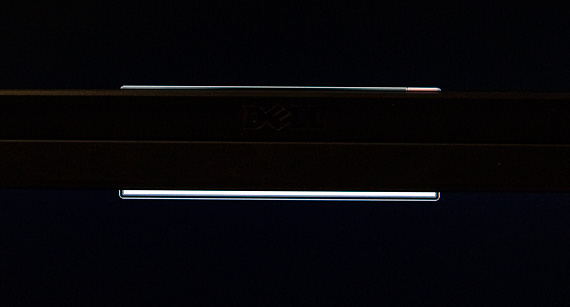 Half the time I didn't even notice when a little window had popped up asking me to do something because it was hidden by my bezels. This happens a lot during software installs where the installer is asking you a question while you're off paying attention to something else on one of your 6 displays.
In my previous coverage on Eyefinity I mentioned that the thickness of the bezels wasn't an issue for gaming. In a three display setup I still stand by that. However with six monitors, particularly because of this occluded center point problem, bezel thickness is a major issue.
It's an even bigger issue in certain games, particularly first person shooters because there's usually a crosshair in the middle of your screen. Take a look at what aiming in Battlefield Bad Company 2 looks like with an Eyefinity 6 setup: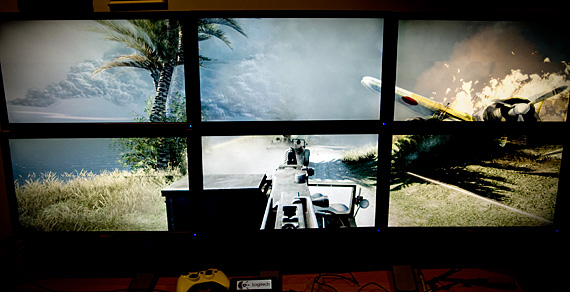 Somewhere behind that bezel is an enemy on a vehicle. You simply can't play an FPS seriously on an E6 setup, you have to guess at where you're aiming if you're shooting at anything directly ahead of you. Here's another example in S.T.A.L.K.E.R. Call of Pripyat: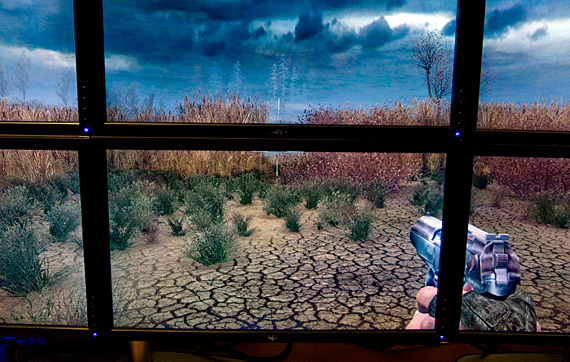 Eyefinity 6 was just not made for FPSes. The ideal setup for an FPS would actually be a 5x1 portrait mode, which is currently not supported in AMD's drivers. AMD is well aware of the limitation and is working on enabling 5x1 at some point in the future.
Racing, flight sims or other person titles are much better suited to this 6-display configuration. I recorded a video of our DiRT 2 benchmark as an example:
The experience in these sorts of games is much more immersive, although it is frustrating to only really be able to use a subsection of titles on such an expensive display setup. You may find that it's more affordable/immersive/useful to just take the resolution hit and get a good 720p or 1080p projector to hook up to your gaming PC instead.
The aspect ratio issues that are present with a 3x1 landscape setup aren't as prevalent in a 3x2 configuration. At 5760 x 2160 you're much closer to 16:9 than you would be at 5760 x 1080. Far more games stretch well to this resolution, although there's still a lack of good compatibility with the majority of games out there.
AMD claims it is working with developers on enabling proper FOV and aspect ratio adjustments for Eyefinity setups, but it's not always easy. AMD is also working on alternatives to deal with the crosshair problem - for example by making the games aware of bezel correction and shifting the position of the crosshair for Eyefinity users. The AMD Display Library SDK update includes resources for developers to use when developing for Eyefinity platforms.
Given the secrecy surrounding Eyefinity's creation it's not surprising that most developers haven't had the opportunity to include support for it in current titles. Going forward we should see more native support however. Some developers are viewing technologies like Eyefinity as a way of differentiating and promoting PC versions of console titles to help boost sales.