That old design lasted us a long time, didn't it? :) Welcome to the 2010 AnandTech Beta. We've done a lot of updating behind the scenes as well as (obviously) on the front end.
Most obvious is the brand new look and feel. For a site that reviews the latest and greatest tech, we can't get by looking like we're still living in 2004. Now when the 80s make a comeback we'll be on top of that, you've got my word.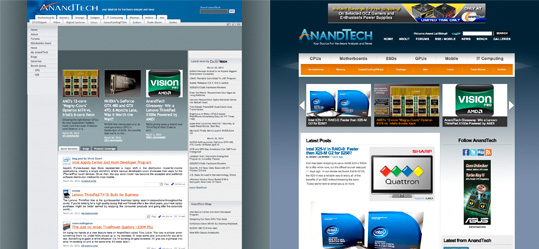 We've ditched the left hand column, streamlined some of the ads and widened the content column. While each article will still give you a preview of 10 comments, we finally have an option to view all comments on each review page. Right now we've got this set to 50 comments per page but we'll be tweaking as need be. We're also cutting down on the number of page loads you'll encounter. In view all comments mode there's no page refreshing between comment pages. We'll be bringing this feature to more parts of the site in the future. User friendliness is our drug :)
The front page allows for both linking to our superlong articles as well as shorter stories that can just appear on the front page for quick scanning. By default the latest 5 articles will appear in the rotating carousel up top, but if something super interesting comes up we'll promote it up there (similar to what did on the old site). The expanded summaries on the front page will give you more insight into what it is we're talking about in the article before you ever click anything.
Tags are enabled but not in full effect just yet. We'll be beefing up search, comments (the return of ratings!), galleries, Bench, user profiles and site layout/color customization over the coming weeks. We're planning on this being a regularly updated thing so if you see anything that warrants our attention let us know.
It's not all about a pretty face though, we're still going to be publishing the content that you demand from us. If you haven't seen it, be sure to read Ryan's GeForce GTX 480 & GTX 470 Review. And I'm commemorating today with a new SSD article addressing one of the longest running questions you've been asking: how do SSDs perform in RAID?
As always, thank you for your support over the years and for reading the site. It's been a pleasure to be able to write for you all over the past 13 years. Thank you guys for giving me and all of us the opportunity to do just that. If you haven't been able to tell by now, I love writing this stuff - and you all make it possible.