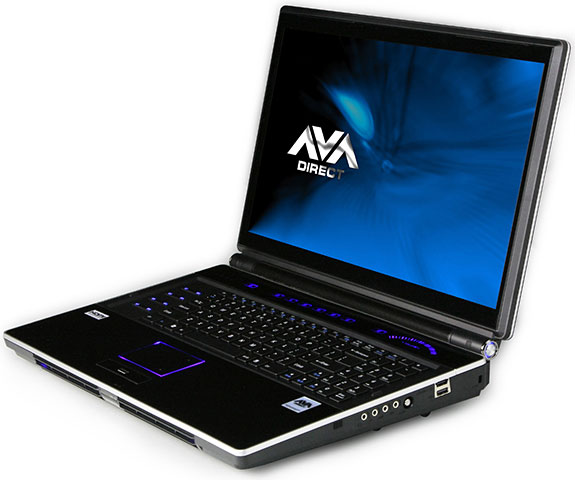 AVADirect, the custom computer manufacturer, has announced their "most powerful notebook for gamers." The powerhouse notebook is an update of the older Clevo M980NU, replacing the Intel Core 2 Duo and NVIDIA GTX 280M SLI with a Core i7 and a GTX 285M SLI to provide a sizable bump in performance. The new model, NBK-CLV-X8100, uses the Clevo X8100 chassis with the same 18.4" 1920x1080 LED-backlit screen as its predecessor.
At the heart of the machine is a choice of Intel Core i7 processors from the 1.6GHz 720QM, to either a 1.73GHz 820QM or a top of the range 2.0GHz 920XM. All of these i7 CPU's are quad-core with Turbo Boost technology for greater single core performance and Hyper-Threading for when quad-core isn't enough for your multitasking needs. The 820QM and 920XM also come with 8MB L3 cache compared to 6MB on the 720QM. You can read specifics about the Clarksfield CPUs in our launch article.
A variety of DDR3 RAM options are available from 2GB to 8GB. There are also many HDD/SSD options spread over three drive bays with RAID 0 or 1 available. A Blu-Ray reader/writer is also available as an option to make the most of the full HD screen, and the X8100 comes with HDMI, DVI and VGA video outputs.
Powering the huge screen is an NVIDIA GeForce GTX 285M SLI setup. Each GPU has 1GB RAM for 2GB total, though effectively it's the same as a 1GB single GPU. However, for such a graphically orientated notebook, it is a mystery why a previous generation GPU is used. While it's no slouch for graphical productivity applications, for gamers looking to upgrade, Direct X11 is the must have feature for the near future. NVIDIA's DX11 parts, the GeForce GTX 470 and 480, will be unleashed on March 26th, barely more than two weeks away, but no mobile variant has yet been announced.
Ignoring that fact though, we already have very competent DX11 cards from ATI. For example, the rather nifty looking ASUS G73J comes with an ATI Mobility Radeon HD 5870 and looks to perform exceptionally well. That means users are now going to have to decide between NVIDIA DX10/10.1 mobile GPUs or ATI DX11 GPUs, and with ATI's new mobile driver program we're inclined to go with ATI until NVIDIA starts shipping mobile DX11 solutions.
The latest Clevo offering also features built-in 5.1 speakers, a 7-in-1 flash reader, 2MP webcam, Bluetooth, ExpressCard 34/54, eight programmable buttons for gaming, and eight touch sensitive buttons for the usual notebook functions such as changing the volume. An integrated mini-PCI TV tuner with remote control is also an option. In a rather strange move, 802.11n is an "upgrade" starting at $30.25—apparently AVADirect wants users to be able to choose exactly what sort of hardware they get, even allowing them to forego the standard WiFi adapter. More perplexing is that in spite of the huge chassis that will attract many multimedia and gaming peripherals, there are only three USB 2.0 ports and a single Firewire 1394a port. Fortunately eSATA , which doubles as a fourth USB port, and gigabit Ethernet is present for storage and networking needs.
Chassis-wise it is largely identical to its predecessor, complete with a chiclet-style isolated keyboard with a full numerical pad. The lid and wrist rest feature a "Mirror-Black" finish, which will undoubtedly be a fingerprint magnet. A review of the chassis in M980NU guise is available here. To round things off, a variety of Windows 7 (and strangely Windows Vista) versions are available, and although battery life isn't specifically mentioned, it is likely to be non-existent should you ever wish to haul the 12.50 lbs. notebook anywhere. Unfortunately for a notebook of this specification, it only comes with a standard 1-year warranty; extended 2-year and 3-year warranties are available for $157 and $286, respectively.
To be honest it is hard to recommend such a machine. The aforementioned ASUS G73J couples the same Core i7 CPU with a DX11 capable GPU with the same, and in some cases better, specifications in all other areas, but in a much lighter chassis with a 2-year warranty from a very respectable $1599.99—and that's after the $100 extra surcharge due to demand (MSRP for the G73J is $1500). Did I mention the ASUS chassis is designed to look like an F-117 stealth fighter jet? Full details are available on the ASUS website.
Should you prefer the Clevo X8100 gaming notebook—it will certainly be faster than other gaming notebooks, thanks to the 285M SLI configuration, even if it doesn't support DX11—it is available at www.avadirect.com starting at $2472.55, though once you add the usual upgrades you'll likely pay a lot more. We specced out a system with the i7-820QM, 2x4GB DDR3, a 160GB Intel X25-M G2 SSD, and a pair of 500GB 7200RPM drives for mass storage; total cost of such a system comes to $3740.