This has been an interesting week to say the least for those of us stuck in the labs and not at AMD's DX11 GPU press briefings. Based on feedback from the Lynnfield launch article we have spent the last couple of days running additional benchmarks to address overclocking and clock for clock requests. Yes, we do listen and respond to the comments no matter how outlandish (you know who you are) some may be at times.
I will interject a personal note here, the emails/private messages that outlined a strong case for additional research and testing certainly held a lot more weight than comments like "You are on Intel's payroll...", "Worst review ever...", and the moonshot , "Illegal benchmarking methods..". First off, if we were on Intel's payroll we would not be working here (a logical conclusion, right? ;) ) As for the other comments, everyone is entitled to their opinions. We do our best to keep an open forum and let the comments fall where they may, but offering constructive criticism and facts to back up those comments is what actually causes change, not endless shock posts or attention grabbing statements. I still have hope in people abiding by the rules of Internet Etiquette, but apparently we are still a long ways off from that happening. I will step off the soap box, well, until the next article....
Just to set this up now, our overclock comparisons will be at 3.8GHz for the Core i5/i7 and Phenom II x4 965BE processors. Why 3.8GHz, well it is an easy number for all of our processors to hit on fairly low voltages with retail or mid-range air coolers. It is also an ideal clock range for the "set it and forget crowd" interested in 24/7 overclocking. Certainly we could go higher on air or water cooling and actually ran most of our Core i5/i7 numbers at 4.2GHz for the motherboard roundups. Our Phenom II x4 965BE is the hold up for higher numbers in our clock for clock comparisons.
AMD continues to have serious problems with their Phenom II processor range clocking above 3.8~4GHz on air with a 64-bit operating system. Unfortunately, there is nothing AMD can do to correct this in the current stepping, but they are actively working on improvements with each processor release. In fact, the latest Athlon II x2 processors are the first products we have that allow for 24/7 stable operation at 4GHz under Windows 7 x64. The quad cores are still lagging although our latest retail 965BE is showing promise around 3.92GHz in early testing. I state this now so it does not come as surprise later.
I will post several benchmark results later today based on our motherboard test suite. Anand will provide a more in-depth analysis next week along with an updated look at the Core i7/860. He might even have a surprise announcement from AMD. In the meantime, I have just about completed this additional testing and will return my focus on completing the first (of many) P55 motherboard article(s) that will be up in a couple of days. Our first review will cover the Gigabyte GA-P55M-UD2 among others. We recently received several other micro-ATX P55 motherboards and will look at those shortly. For now, this board is a perfect match for the Core i5/750 for our mainstream audience looking to upgrade an older platform.
Our graph below is an example of the information we will provide late today. Hopefully, this type of information will be useful for your purchasing decision along with our commentary about the results. I know there is not a Core 2 product listed, that will be forthcoming in the near future.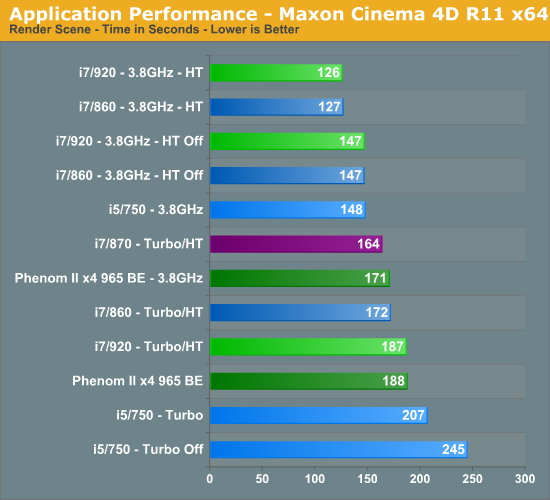 9/11 Update - I am still working on the FarCry 2 and H.A.W.X. benchmarks so the short update will be delayed until tomorrow morning.