It Slices, It Dices. But Wait, There's More!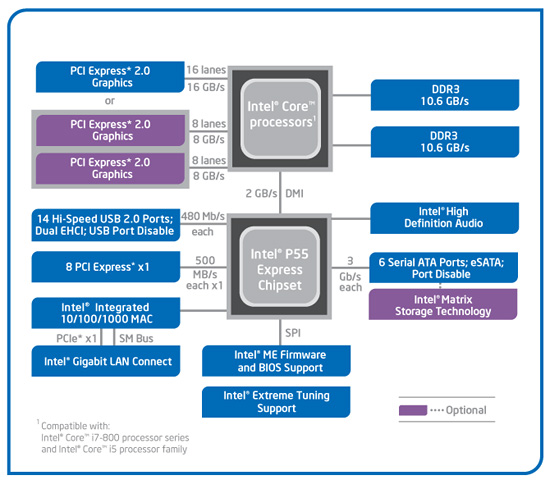 Actually, there is not more. A couple of years ago rumors were floating around that Intel's first Platform Controller Hub (PCH) would contain the latest in features like 6Gb/s SATA ports, USB 3.0, and full PCI Express 2.0 capabilities all at a price that even McDonald's would be envious of when launched. Of course, you know rumors are usually just that, silly rumors.

Instead, we end up with what I would conveniently call ICH10.1. Even Windows 7 agrees with us when loading drivers. Except that PCH is the new ICH, otherwise we are talking the same part, almost. There are a few minor differences between the P55 and ICH10R as we see below.
| | | | |
| --- | --- | --- | --- |
| | AMD SB750 | Intel ICH10R | Intel P55 |
| Additional PCI Express | None | 6 x1 PCIe 1.1 | 8 x 1 PCIe 2.0 |
| USB | 12 ports | 12 ports | 14 ports |
| SATA (300MB/s) | 6 ports | 6 ports | 6 ports |
| PATA | 2 channels | None | None |
| RAID* | RAID 0/1/5/10 | RAID 0/1/5/10 | RAID 0/1/5/10 |
| HD Audio Interface | Yes | Yes | Yes |
| Ethernet | Not Integrated | Intel Gigabit LAN | Intel Gigabit LAN |
| Northbridge Interface | 4 lane PCIe 1.1 | DMI 10Gb/s each direction, full duplex | DMI 10Gb/s each direction, full duplex |
The P55 gives you six 3 Gb/s SATA ports, 14 USB 2.0 ports, a Gigabit Ethernet MAC , HD Audio, and eight lanes of PCI Express 2.0 goodness all for $40. That price tag buys you two additional USB ports and two additional PCIe lanes over the $3 ICH10R. The PCI Express lanes are version 2.0 but Intel decided to limit their speed to PCIe 1.x specs at 2.5GT/s. Why? We think it is because the DMI link continues at 1GB/s in each direction, which means a decent 6Gb/s SAS/SATA RAID card and a few upcoming 6Gb/s drives (SSDs anyone) could easily saturate the link. The P55 and ICH10R both consume a little over 4.5W during normal operation. Considering the specifications on AMD's new SB8xxx chipsets, it appears we have a PCH Gap brewing.
How is performance? We are still trying to reach a conclusion and asked Intel for additional information. Overall, the two chipsets are about even in actual usage that includes file transfers and application benchmarks. The synthetic programs like HDTach and HDTune tell another story but one that we do not trust. Iometer shows both controllers neck and neck with our WD VelociRaptors in RAID testing, but a slight nod to the ICH10R in single disk testing with our OCZ Vertex 120GB SSD. We will have results in the upcoming P55 motherboard roundups (three total) starting later this week.