We will finish up our P55 previews this weekend (or later) with a couple of new boards from ASUS and Biostar. In the meantime, I just wanted to comment on the Gigabyte GA-P55M-UD2. I have over a dozen P55 boards in the labs with several more arriving shortly. Already, two motherboards have risen to the top in regards to overclocking performance and a couple of boards have really impressed me with their balance of great performance and excellent feature sets.
That said, this particular board has been the most fun so far in testing. However, I will confess that I am partial to solid performing, budget priced, uATX form factor boards so my comments on these products tend to have some rah-rah in them if they perform well. Speaking of performance, I cannot comment on the numbers due to the NDA. Even though we have half a dozen retail purchased processors, memory kits, coolers, and this motherboard, Intel is sticking to their guns about violating the NDA release on i5/P55.
So that leaves me with providing vague comments like the board having a very good performance to price ratio. Maybe something along the lines of "I just cannot believe it does not cost more" is appropriate considering the feature set and performance compared to a few other boards.
This does not mean the board is going to hit 272 Bclks or provide class leading performance. It just means that spending less than $105 for this board and pairing it up with a Core i5-750 is going to lead to some fun times for the P55 budget seekers, HTPC groupies, or the SFF gaming crowd. We have word from ASRock and Foxconn that they will be providing $100 uATX P55 boards but we have not seen the feature sets yet.
Let's take a quick look at the GA-P55M-UD2. I forgot to mention, you can purchase this board now (as we did) from Provantage for less than $105. Update - The board is sold out again but should be in back in stock shortly, probably at less than $100.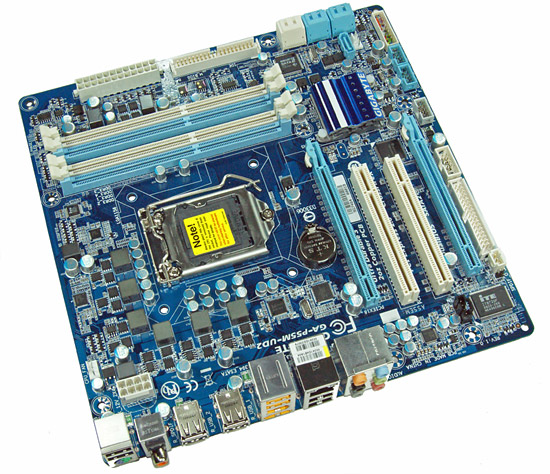 Considering the limited board space, Gigabyte did a very good job fitting all of the peripherals onto this board. About the only negatives we can think of is the continued inclusion of the floppy drive port and the lack of passive cooling for the MOSFET area. The board only sports two fan headers so that might also be a problem for users with two or more 3-pin case fans. The board does support CrossFireX operation although we highly recommend against this setup as the second PCIe x16 slot is actually an x4 electrical slot running off the P55 chipset. The board contains Gigabyte's UltraDurable 3 technology that features their 2oz. copper based PCB, solid capacitors, low RDS(on) MOSFETs, and ferrite core chokes.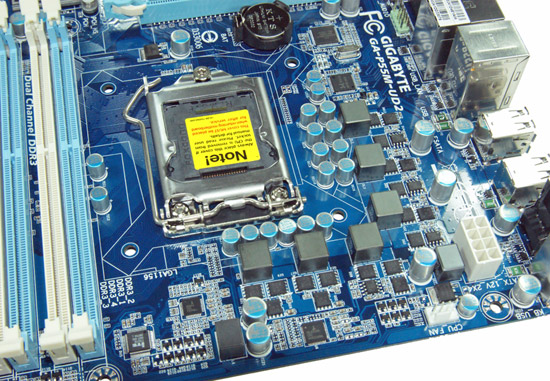 Gigabyte utilizes a solid six-phase PWM setup on this board. The CPU area is open for the most part and will accommodate larger coolers like the Thermalright MUX 120. Large push/pull coolers like the Vigor Monsoon III LT will block the first DIMM slot. If you plan on running this board with Bclk rates above 170 or so, we suggest additional airflow across the MOSFETs to ensure 24/7 stability when overclocking.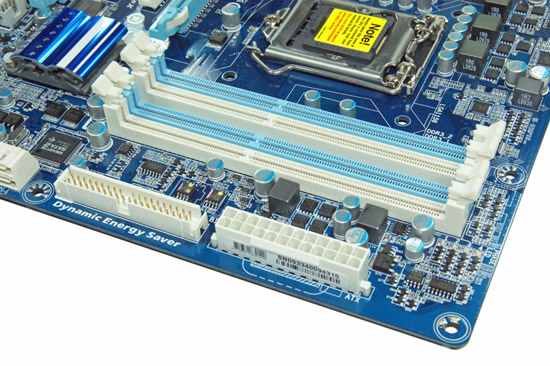 The IDE port, 24-pin ATX power connector, and the four DIMM slots are located in the lower right hand corner of the board. This board supports dual channel memory configurations and 16GB of DDR3 memory when using 4GB DIMMS. Installing the memory with a video card inserted in the first slot is difficult but not impossible.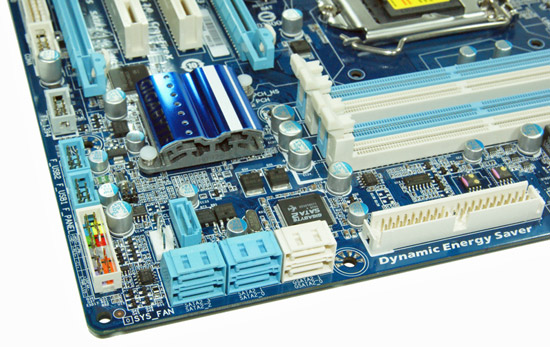 There are five (blue) SATA 3Gb/s ports provided by the P55 chipset that support RAID 0, 1, 5, 10. The sixth port available on the P55 (under the blue heatsink) is utilized on the I/O panel for eSATA. Gigabyte includes the JMicron JMB363 3Gb/s SATA chip that drives the two white SATA ports and provides IDE support. The front panel header, two USB headers, and the IEEE 1394a header are located at the edge of the board.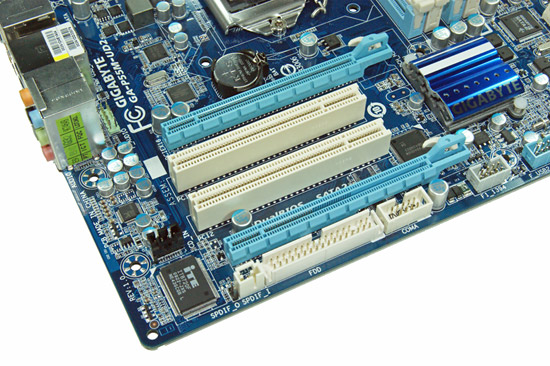 Gigabyte includes two PCIe x16 slots (x16 operation for the first slot, x4 operation for the second slot) and two PCI slots. The first PCI slot will be unavailable when utilizing a dual slot video card.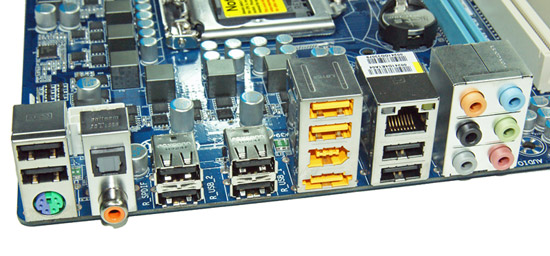 Last but not least is the I/O panel. We have ten USB 2.0 ports (total of fourteen on the board), combination PS/2 port, single eSATA port, IEEE 1394a port offered by the TI TSB43AB23 chipset, Gigabit Ethernet LAN port via the Realtek RTL8111D chipset, optical out/coaxial out S/PDIF ports, and the audio panel that provides 8-channel audio output via the Realtek ALC 888B HD audio codec.
BIOS Information
Apparently this preview did not have enough substance in it according to a few reader comments. I totally agree. However, I will state this one more time, we are bound by an NDA and cannot provide that substance for another week or so. That said, we can now show the general layout of the BIOS, thus providing a little more substance than we had yesterday. I will leave it at that for now.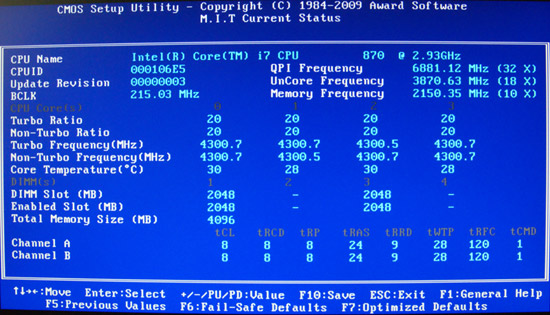 System Status Summary Screen - Those numbers are interesting for a $100 motherboard. The only question is if they are simulated or real.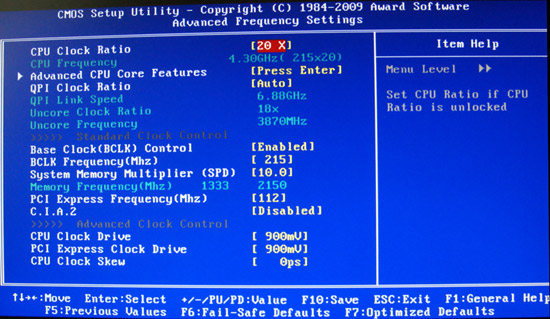 Same Advanced Frequency options as the more expensive Gigabyte P55 motherboards.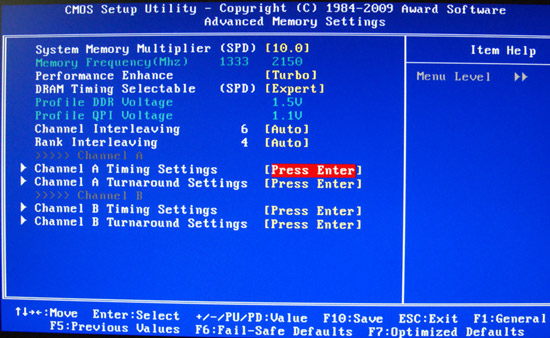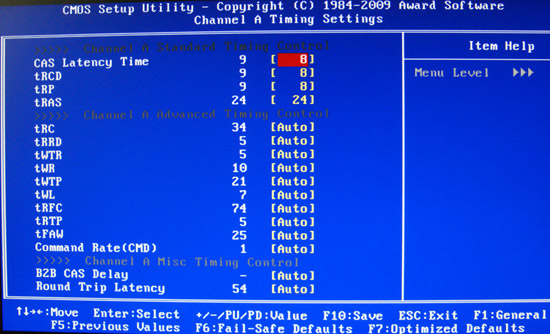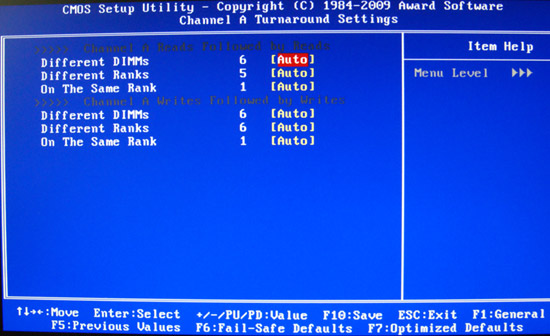 More than enough memory options for most of us...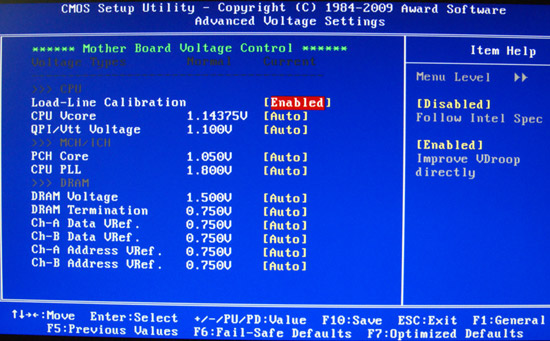 All the voltages you will need to hit 4.3GHz on air and it takes about five seconds to do it.