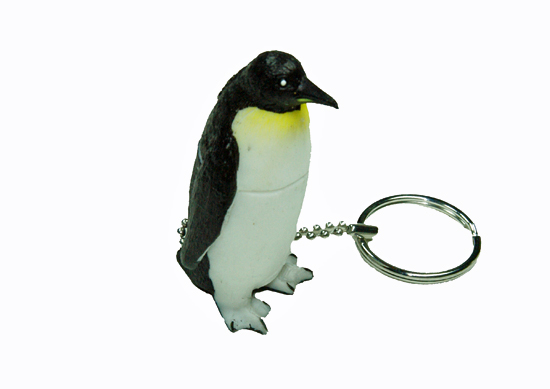 We receive all sorts of unique products on a weekly basis and I use the term unique loosely in this case. Let's just say a majority of these trinkets are barely good enough for target practice, much less taking up valuable shelf space. In fact, it is not every day we open a non-descript box in the lab and discover an Emperor Penguin snuggled amidst the packaging peanuts. Today was such a day and I have to say it was a pleasant surprise.
Actually, it was not a live emperor penguin, but a scaled down replica that doubles as a Bootable Linux USB (BLU) thumb drive. Linux, Penguins, USB drives, it's all good as far as we are concerned. I made a promise to myself to refrain from using words like adorable or cute when describing this product. However, the female visitors in the lab used both words around 27 times when playing with, err, using the drive today. If that was not bad enough, the fact that 5% of the retail purchase price of the Penguin Drive is donated to the World Wildlife Fund means that I foresee more of these drives ending up in my home.
Active Media Products also manufactures the Polar Bear and Panda USB drives in capacities up to 16GB that feature the same partnership agreement with the World Wildlife Fund. However, our Penguin drive is unique as it comes with a full installation of Ubuntu Linux, version 9.0.4, and is setup as a BLU. Besides having a great Linux distribution installed and ready for quick use, the drive can also be utilized as a normal USB 2.0 storage device on just about any Windows or Mac system that features USB support. Windows 7 recognized it as a ReadyBoost device the first time we attached the drive.
If you have ever had a Windows installation go south, and to be honest who has not. Then this drive makes for an excellent emergency recovery solution as you can quickly back up critical files in a matter of a few minutes. The penguin drive comes in capacities from 1GB to 16GB and is made from non-toxic silicone rubber. It is also free of PVC, lead, and mercury so it probably would not hurt a penguin in the wild. Pricing ranges from $8.95 to $39.95, which is reasonable for this product.
We suggest you consider one of these drives the next time you a need for a portable USB device, not just because they are cute, affordable, and help a good cause, but due to the fact that they are actually well made and performed admirably in our initial testing.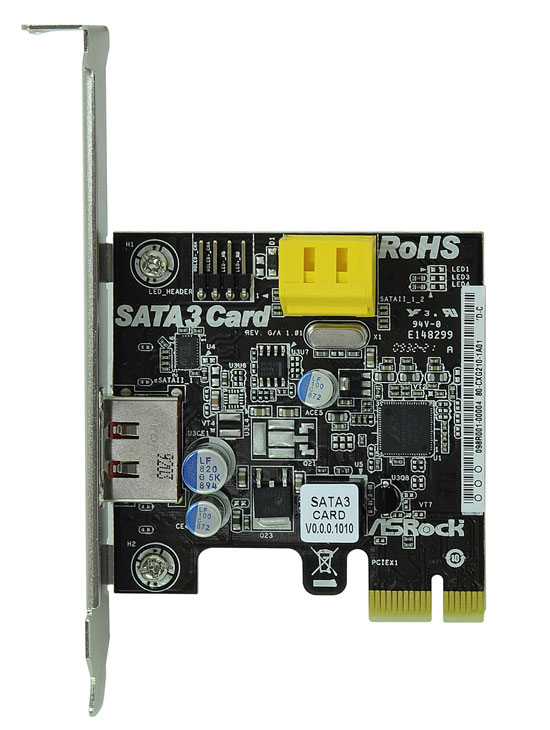 We discussed the problems that several of the motherboard manufacturers had with the Marvell SATA 6GB (88SE9123) chipset earlier this summer. The problems were so bad in certain (dual chipset) configurations that Marvell had to respin the chipset. That left the motherboard suppliers either dropping the extra 6G SATA ports all together or installing the JMicron 3Gb/s (JM363/362) controllers in its place for additional SATA connectivity.
ASRock informed us that although it is too late to include the revised 88SE9123 chipset on its P55 Deluxe board, it not too late to offer it as an upgrade option via a PCI Express x1 add-in card. If you purchase their P55 Deluxe board when it is launched next month, the package will contain the add-in card that features an eSATA port along with two internal 6G SATA ports. Kudos to ASRock for coming up with this option quickly and including in it their product, now we just need the drive manufacturers to release some 6G capable SATA drives.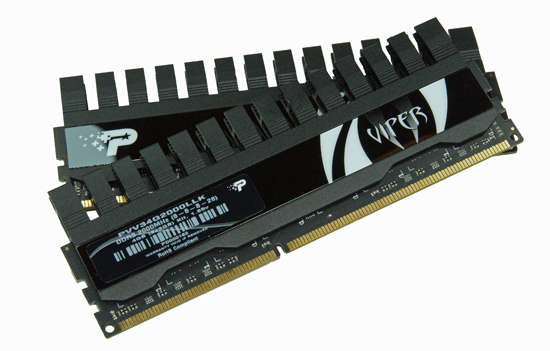 Besides a bevy of P55 motherboards arriving on a daily basis, we also have several P55 specific 4GB memory kits starting to make their way into the lab before the platform release next month. One of the first kits comes from Patriot Memory. Their new 4GB PVV34G2000LLK kit features 8-8-8-26 2N timings at DDR3-2000 on 1.65V. Our engineering kit contains the final IC and PCB selection, but the heatsink design will change before retail launch in a couple of weeks.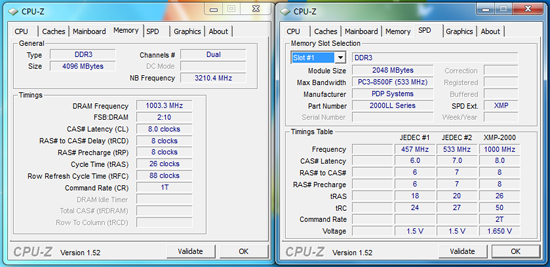 We decided to take this kit for a quick spin today and it had no problems running 8-8-8-26 1N timings at DDR3-2000 on 1.63V. We also set timings to 7-7-7-20 1N at DDR3-1600 on 1.58V on the same board. Look for this kit and others to be featured when the P55 platform launches (officially) shortly.
Speaking of the P55, if you were one of the lucky customers in the US to pick up a Core i5-750 or i7-870 at Frys last week and need a motherboard, then Provantage has an early selection of boards for sale. However, the prices are a higher than the suggested MSRP listings from Gigabyte and ASUS but that is the price to pay for being an early adopter.