One more P55 pictorial before we call it quits (that is our plan but no promises) as the actual product launch date is fast approaching us now. At least we hope it still is as a number of release dates are in play at this time. All of the proposed release dates occur in September and that is all we can say about it. Anyway, our P55 sample today is from ASRock. A company that you should remember in a few weeks as their ability to bring a full featured product to market at extremely competitive prices improves with each new chipset launch. We have been enamored with their X58 Extreme motherboard as it offers not only a feature set but performance that is competitive with X58 motherboards costing up to $100 more.
ASRock plans on using the same philosophy with their P55 Deluxe motherboard. This particular board will offer a solid hardware and software feature set, enthusiast friendly BIOS design, high quality electrical components, very good overclocking capabilities, and a price that should undercut similar boards from the big three. That said, our first experiences with the board have been very positive and we fully expect it to be a serious contender in the P55 market for users looking at balancing price against outright performance capabilities. Let's take a quick look at the board today.
Board Layout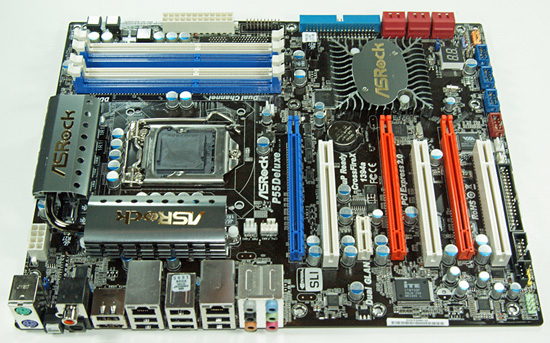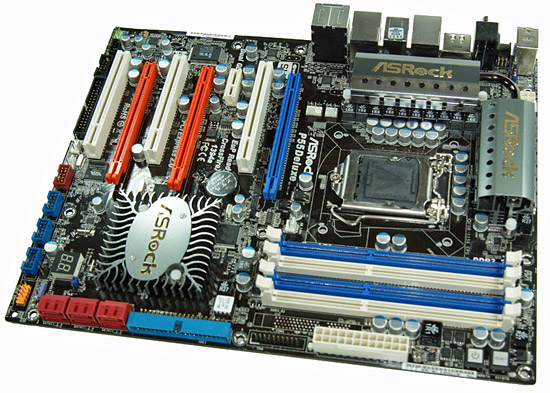 ASRock provides an excellent layout that works well for a variety of users. The P55 Deluxe features the VIA VT6308S chipset for IEEE 1394a support, Realtek ALC 890 8-channel HD audio codec, and dual Realtek 8111DL Gigabit LAN controllers. The board also features 13 USB 2.0 ports (six headers/ seven ports on the I/O panel), an eSATA/USB combo power port, and support for up to 16GB of dual-channel DDR3 memory with BIOS support up to DDR3-2600. ASRock tosses in power-on/reset/clear CMOS switches and a Debug LED panel for the open bench crowd.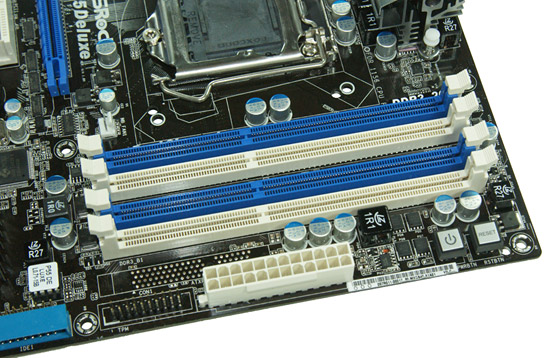 Nothing exciting here, just the usual four DIMM layout, 24-pin ATX power connector, and the power-on/reset switches.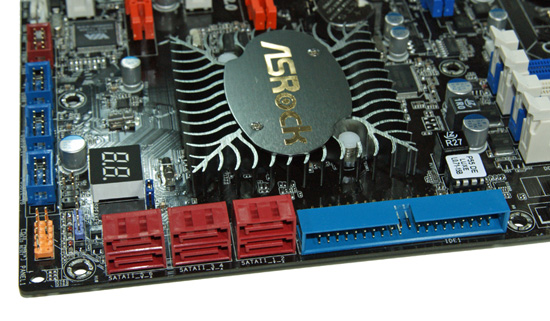 The P55 Deluxe features six (red) SATA 3Gb/s ports provided by the P55 chipset that feature RAID 0, 1, 5, and 10 support along with Intel's new version 9 Matrix Storage technology. The dark blue IDE connector is to the right of the SATA ports with the front control panel, USB headers, and IEEE 1394a header along the far left edge of the board. To the left of the large P55 heatsink is the Debug LED panel.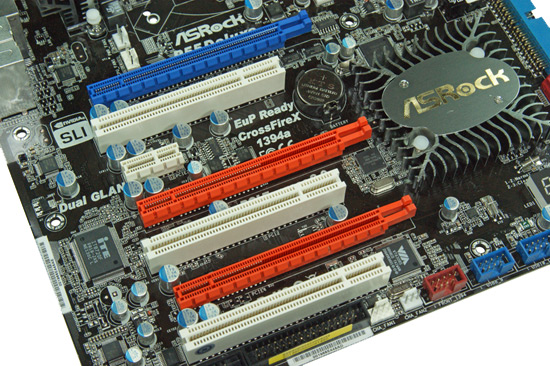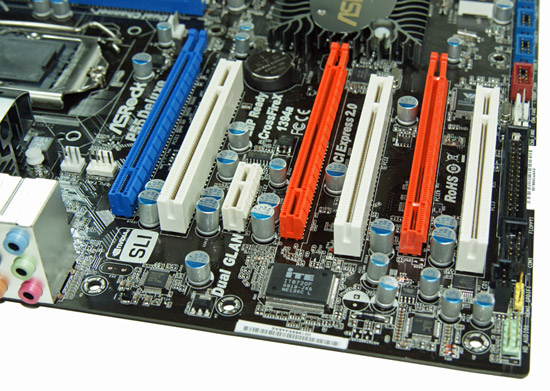 The board features a single PCIe 2.0 x1 slot, three PCI slots, and three PCIe 2.0 x16 slots (x16/x4 or x8/x8/x4). The x4 PCIe slot (third one on the right) is provided by the P55 chipset and is not designed for optimal graphic's performance although the board will support 3-way CrossFireX. The layout of the PCI/PCIe slots is very good and allows for a single PCIe x1, PCIe x4, and PCI slot when running dual SLI or CrossFireX configurations with dual slot cards.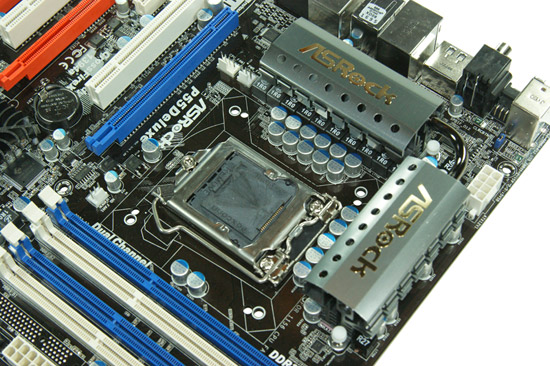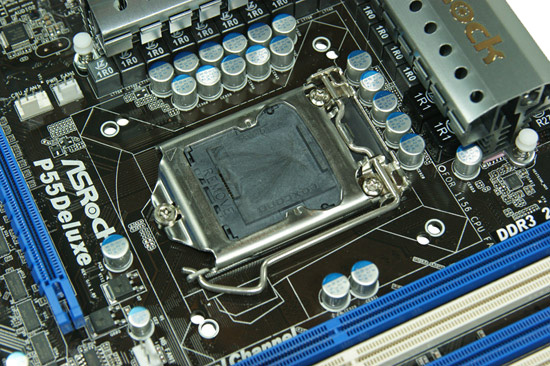 The CPU area is open and a push/pull CPU fan/heatsink design like the Vigor Monsoon III will not interfere with low-rise (heatsinks) memory in the first DIMM slot. The back of the board is clean and various air/water coolers that require a back plate have worked well in testing to date. We finally see Socket 775 mounting holes on a P55 board. The holes require the cooler to be slightly slanted but we have not noticed any cooling differences with this design compared to the S1156 units yet. ASRock is utilizing a 16-phase power system that has allowed easy 230 Bclk rates in early testing. For the more extreme overlcocking crowd, the capacitors around the CPU socket could present problems, but this is a trend we have noticed with all P55 boards to date.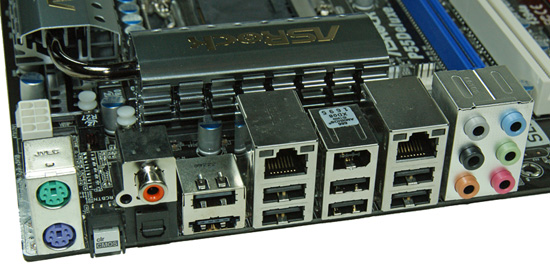 The rear panel features the standard PS/2 mouse and keyboard ports, optical/coaxial S/PDIF out ports, seven USB 2.0 ports, dual Gigabit LAN ports, IEEE 1394a port, audio panel, clear CMOS switch, and a handy eSATA/USB powered combo port.