Another day, another P55 motherboard preview although technically it is just a pictorial preview due to NDA requirements. I know, this is fast becoming a been there, done that event as it seems only ASUS and Gigabyte are currently previewing boards. However, this should change as MSI, ASRock, EVGA, Biostar, and even ECS have some interesting products that we hope to provide early coverage on shortly. Like me, you are probably wondering when all of this will end and we can get straight to the numbers, technology, and features of the P55 motherboards. Honestly, even that date is under NDA, but just bear with us for a few more weeks.
ASUS will have one of (if not) the widest range of product offerings based on the P55 chipset at launch. They will cover the gamut from entry level motherboards featuring the PRO series, to the mid-range with the EVO branding, then stepping up to the high end with the Deluxe products, and finally addressing the enthusiast sector with the ROG series. Final pricing is not yet available but based on chipset pricing and market conditions, expect to see P55 boards starting at $120 and topping out around $239 at launch.
ASUS was kind enough to visit with us last week and we had the opportunity to play with the P7P55D Deluxe motherboard. All we can say right now is that this motherboard deserves to be on the top of your wish list at product launch. This particular motherboard features ASUS' Xtreme Design initiative. This technology consists of their Turbo V, Turbo Key, Xtreme Phase, Anti-EMI, and StackCool 3+ features that we will outline in detail at product launch. Overall, the most impressive part of the package for the enthusiast will be the updated Turbo V application and improved PWM design. It certainly shows on this board with Bclks easily hitting the 245+ range along with memory clocking above 2500MHz.
Board Layout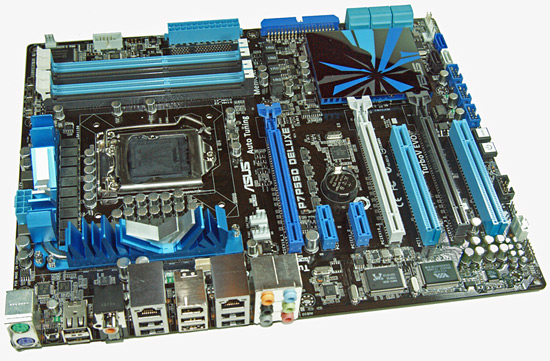 Taking a quick look around this board, we find the overall layout is excellent and designed with CrossFire X or SLI users in mind or those who value expansion capabilities over multi-GPU performance. ASUS utilizes the VIA VT6308P chipset for IEEE 1394a support, VIA VT2020 (BD192/24 ENVY HD) 10-channel HD audio codec (8+2 Streaming) with support for DTS Surround Sensation, and the Realtek 8112L/8110SC Gigabit LAN controllers for LAN operation including support for AI NET2. Why manufacturers will not utilize the native Intel Gigabit LAN support in the P55 is beyond us.
The VIA VT2020 actually provides nice onboard audio support with better output quality (subjective) than the standard Realtek ALC888/889 series. If the drivers come up to speed, we will have another competitive choice in on-board audio after ADI pulled out of the market last year. The board also features 14 USB 2.0 ports (six headers/ eight ports on the I/O panel) and support for up to 16GB of dual-channel DDR3 memory with standard BIOS support up to DDR3-2133. ASUS also included power-on/reset/clear CMOS switches for the open bench crowd.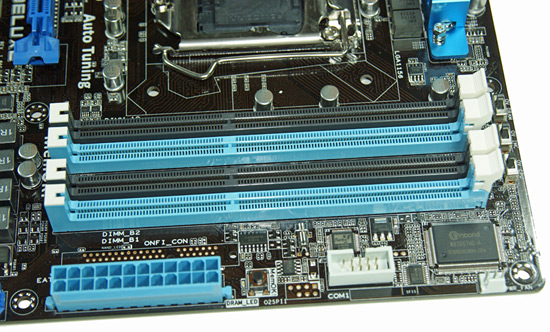 There are several features located in the memory slot area. First off, the memory slots feature ASUS' Q-DIMM single latch module technology that allows the video card to be placed along the edge of the memory slots without installation headaches. ASUS continues to offer their MemOK! technology that will reset the memory timings to safe values in case the user settings are too aggressive causing the system not to POST. While it sounds impressive, we have yet to need it as the BIOS recovery system will typically kick in and reset the board to stock values correctly.
The OV DRAM, OV IMC, and OV CPU switches lets the user override the BIOS limits on these settings, which are already more than high enough to void warranties or damage your CPU. However, for those needing that extra voltage, these switches could come into play for extreme overclocks.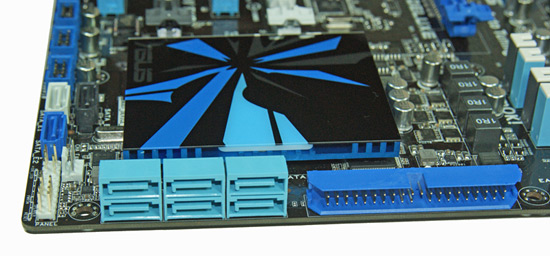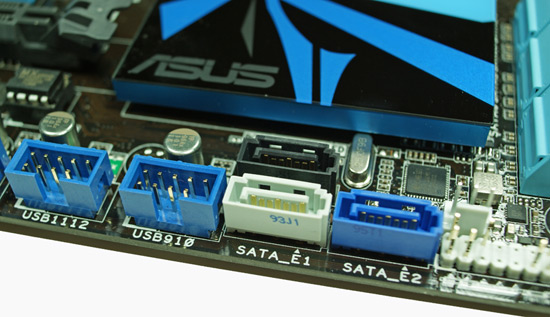 The P7P55D Deluxe features six (light blue) SATA 3Gb/s ports provided by the P55 chipset that feature RAID 0, 1, 5, and 10 support along with Intel's new version 9 Matrix Storage technology. The dark blue and white SATA connectors are powered by the JMicron JMB322 3Gb/s SATA chipset that features their Drive Xpert Technology for instant backup and simultaneous access to data with twin drives. The black SATA 3Gb/s port and IDE port are provided by the JMicron JMB363 chipset. The Marvell 6G chipset was originally scheduled for this board but has been removed until Marvell sorts their problems out.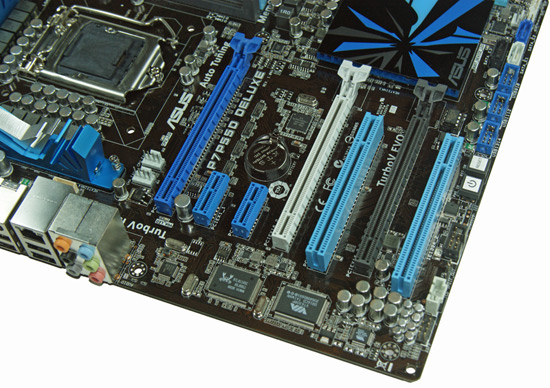 The board features two PCIe 2.0 x1 slots, two PCI slots, and three PCIe 2.0 x16 slots (x16/x4 or x8/x8/x4). The x4 PCIe slot is provided by the P55 chipset and is not designed for optimal graphic's performance. In fact, NVIDIA has pulled SLI support for this slot and we expect AMD to do the same for CrossFire X due to performance reasons. The layout of the PCI/PCIe slots is very good and allows for a single PCIe x1, PCIe x4, and PCI slot when running SLI or CrossFire.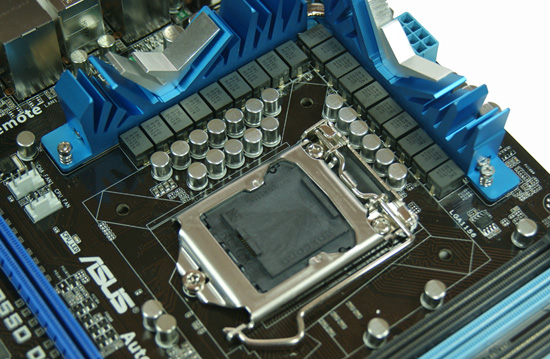 The CPU area is uncluttered for the most part and a push/pull CPU fan/heatsink design like the Vigor Monsoon III will not interfere with low-rise (heatsinks) memory in the first DIMM slot. The back of the board is clean and we expect various air/water coolers that require a back plate to work fine. What we would like to see is Socket 775 mounting holes on this board as an option as yet another socket change is wearing thin on us. ASUS is utilizing a 16-phase power system that has allowed easy 245+ Bclk rates in early testing. For the more extreme overlcocking crowd, the capacitors around the CPU socket could present problems, but this is a trend we have noticed with all P55 boards to date.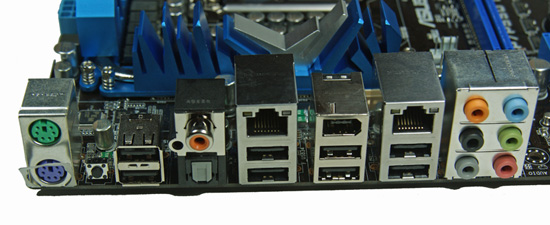 The rear panel features the standard PS/2 mouse and keyboard ports, optical/coaxial S/PDIF out ports, eight USB 2.0 ports, dual Gigabit LAN ports, IEEE 1394a port, audio panel, and a handy Clear CMOS switch.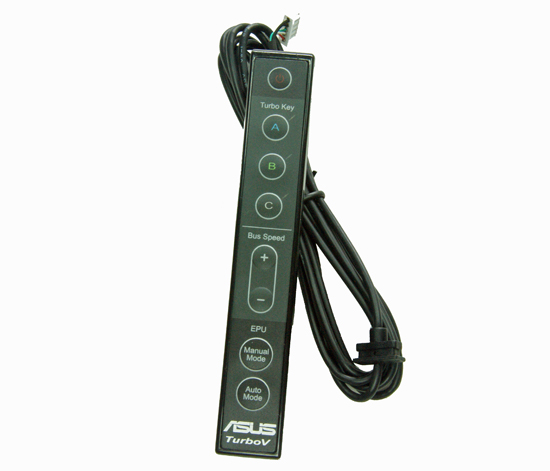 The remote control unit is part of the Turbo V package included with the board. At this time it allows you to utilize three presets to auto overclock your platform by 3% to 7% or setup saved profiles that you have created. Also, Bclk rates can be changed in real time. We tried this with 3DMark Vantage running and other applications without a problem. The EPU engine can also be manipulated in real time with this device.