If you have read my previous blogs, you know I like portable devices, especially those that get the job done without costing a lot of money. Today we will be looking at an external enclosure aimed at providing a positive experience for those on the go. Will the HornetTek Lycan live up to these expectations? Alternatively, will this be just an average piece of hardware that howls at the moon for attention.
With a name that inspires movies with supernatural werewolves on the hunt, we hope for something not as scary for our wallets. As a USB 2.0 only device this unit cruises along the path to data storage and retrieval at an expected leisurely pace. We will of course look at the quality, cost, and performance with an eye on the advertised one touch backup function.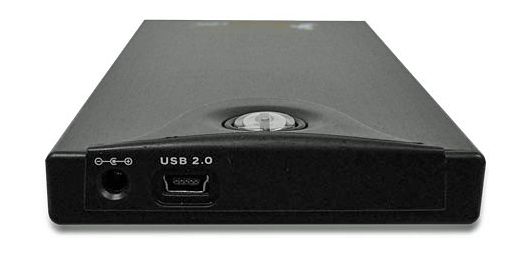 HornetTek makes the Lycan unit. It is a 2.5" SATA external enclosure with the following specifications:
· One-touch-backup button for automatic backup support

· Universal fitting for 2.5" SATAI/II HDD

· Backup4all software support for OTB function

· Hot swappable, plug and play

· Rigid aluminum housing for heat-dissipation (average temperature delta in testing was 2C)

· Bus powered for Low capacity HDD. No power adapter is required for low power consumption drives.

· Patented backup button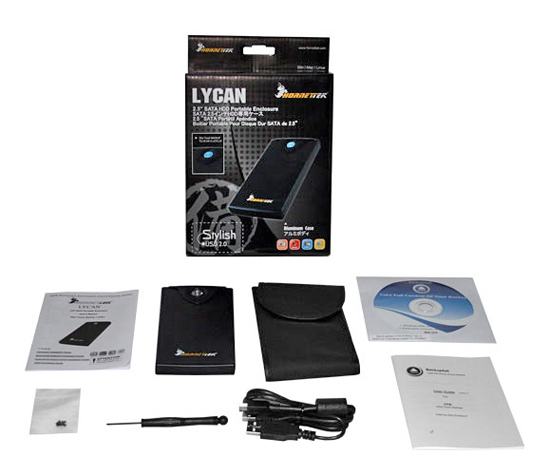 The Lycan kit contains:
1. The Lycan External Drive Unit

2. Driver CD-ROM+ Software Backup4All version 3.10 OEM (Currently users can upgrade the OEM to version 4 professional edition for $39.95; our screen shots are of the Professional version)

3. User Manual (short but to the point)

4. USB Y-Cable (for powered and non-powered USB buses)

5. Mini Screw Driver + Screws Pack

6. Carrying Pouch (velvet touch)
The one-touch backup button is a popular feature in these type of devices. To use the one touch method you will need to use the included software. I personally prefer to set a schedule so that I don't forget to run a backup. Sure it's simple to hit a button to activate a backup, but in my opinion it's easier to setup a scheduled backup. Of course that's just my opinion and you should do what works best for you.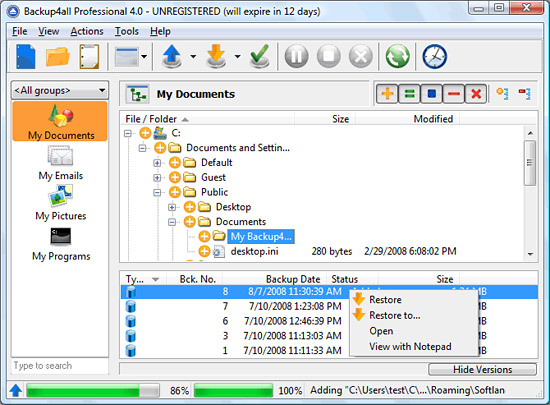 The one touch button works as advertised and setup of the software seems simple enough. Keep in mind that the version that comes with the Lycan will not backup files currently open in other applications. If you are planning on doing a full system backup you would need to upgrade to the latest full version of Backup4All (if you want to use their button to manually backup). If you prefer another method then of course the backup button probably will not work for you but I found that not to be that much of an issue either.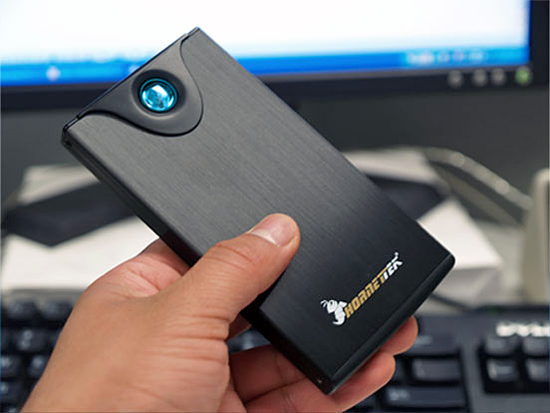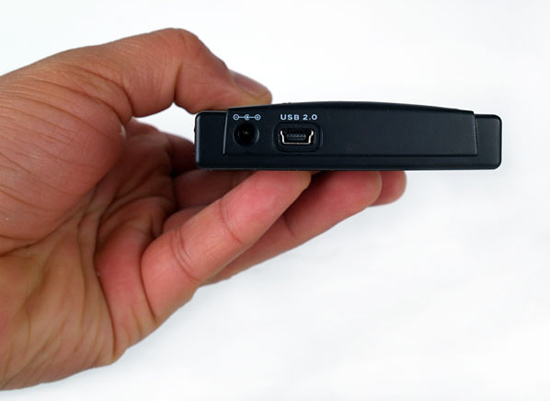 The construction quality of the Lycan is top notch with a solid black aluminum case weighing in at a fairly light .6 pounds and a having a small footprint of about the size of an average guys hand. One warning when installing a drive, the screws are tiny to accommodate the small size and weight so do not lose one!
The Lycan is supported by Windows 98SE/ME/2000/XP/Vista, Linux 2.4.1.0 or above and Macintosh OS 8.6 or higher. You can use most 2.5" SATA drives up to 500 Gigs so you should have plenty of portable storage. I have a few external drives, but when I go to a LAN Party this is the one I take for all my patches, updates, tools, or any other data I need to have on hand for others or myself.
On a side note I have had more than one comment on the coolness factor of this unit as the size and looks are small and sleek. The only negative I could really come up with is the USB 2.0 only connection, but for what most would use this for it is a great unit for the money. I included a couple of benchmarks in the Gallery just to show the difference between the native SATA connection on our Gigabyte GA-790FXT-UD5P board and the USB 2.0 connection on the Lycan. As you can tell, the differences are minimal for the most. In fact, backups using our particular drive were only about 15% slower via USB than on the SATA connection. Obviously, the type of drive you utilize will dictate the backup time but we did not have any issues with the transfer times.
The Lycan is a great way to reuse a notebook drive if you just upgraded to an SSD drive or if you picked one up at the local swap meet like I did with the Samsung Spinpoint MH80 160GB drive for a mere $15. It is widely available at several online stores so availability is not a problem.
I definitely feel that for the money, about $10 and some pocket change, that you receive a very nice package with the included tool, pouch, and even free software. In these tight times, it is ever so important to maximize the bang for the buck and I have to say that the HornetTek Lycan is one of the best portable units for the money.