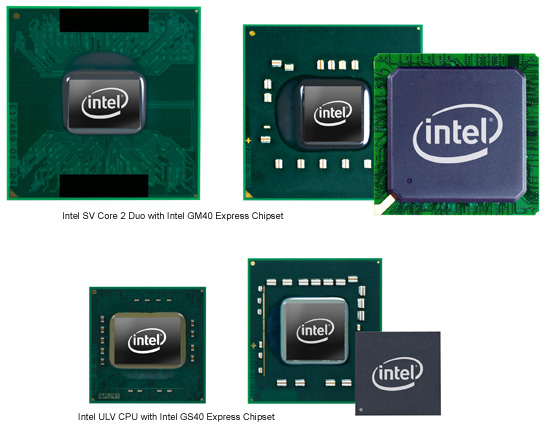 Intel is introducing new Ultra-Low Voltage (ULV) processors, Core 2 Duo processors, a speed bumped Standard Voltage (SV) processor, and finally a value based chipset (Mobile Intel GS40 Express) not based on the 945 chipset technology. These products join the recently released Intel ULV Core 2 Duo and Core 2 Solo processors based on Centrino 2 processor technology and Centrino processor technology respectively.

The new processors being introduced today are the T9900, P9700, P8800, and SU2700. The SU2700 processor features a 1.3GHz clock speed, 2MB L2 Cache, 800FSB, and a TDP around 10W that should easily enable very thin (0.8"-1") laptops with substantially longer battery life (around 8 hours with a 57WHr battery) in the sub $1000 market sector. The T9900 is the new dual core performance leader in the ULV market with a clock speed of 3.06GHz, 6MB L2 cache, 1066FSB, and a power TDP around 35W. Intel is also releasing the P9700 at 2.80GHz with the same features as the T9900 but with a 25W TDP rating. The P8800 features a dual core design, 2.66GHz clock speed, 1066FSB, 3MB cache, and a 25W TDP rating. Pricing for the new processors were not available and instead we received the standard platform cost ranges that these processors will be utilized in.

The new GS40 Express chipset is a cost reduced version of the GS45 and is aimed specifically at the new ultra-thin laptop market with the following features.
Improved game playability with more execution units (10, as compared to 8 in previous generation) However, gaming performance is still limited to older casual game titles but does fine with Flash based games and similar titles. The GS40 chipset does support Switchable Graphics technology on the Centrino 2 based platform that allows the system to switch from the integrated GMA 4500M to a discrete solution from AMD or NVIDIA.

Enhanced Intel Clear Video Technology with software features including ProcAmp, high-quality scaling, film-mode detection and correction, MPEG2, and WMV9 hardware acceleration..
Intel Graphics Media Accelerator 4500M offers a graphics core frequency of 400MHz (compared to 533MHz on the GS45) and up to 384 MB of video memory.
Integrated HD playback (Blu-ray) with native hardware-based decoding of HD video streams (AVC, VC1, MPEG). Native support for digital displays with Integrated HDMI with HDCP key.
FSB support set at 800MHz (compared to 1066MHz on the GS45) and supports both DDR3 and DDR2.
Intel's Turbo Memory is also supported on the Centrino 2 units and has been updated to support a high speed 2GB NAND module that can improve battery life, boot times, resume functions, performance in some cases.

Intel is also enhancing the Intel My WiFi technology introduced in Q1'09, with more devices that can wirelessly connect to notebooks with Intel Centrino® 2 processor technology – without using an Access point. The WiFi Link 5000 series is Intel's second-generation 802.11 Draft-N wireless LAN solution for use with the Centrino 2 and Centrino 2 with vPro platforms. Wired solutions continue on with the 82567LM, 82567LF, and 82567V chipset solutions. The wireless options are listed below.
Intel Ultimate N WiFi Link 5300 – This is the first shipping 450 Mbps Draft-N WLAN adapter that offers Wireless support for Intel's Active Management Technology (AMT) version 4.0. In addition, the Ultimate N WiFi Link 5300 is available in a PCIe Half Mini Card form factor for the ultra thin notebook designs.

WiFi Link 5100 – This adapter offers full 802.11 Draft-N compatibility with speeds up to 300Mbps.

Intel's My WiFi is based on WiFi Personal Area Network (PAN) technology. My WiFi is a combination driver and application technology that allows laptops with the latest WiFi Link 5300, WiFi Link 5100, or upcoming WiFi Link 1000 adapters to connect to a Wireless LAN and run a WiFi PAN simultaneously. Up to eight WiFi Certified™ devices are supported on the PAN, allowing personal devices to print, share, show and synchronize content to and from the laptop.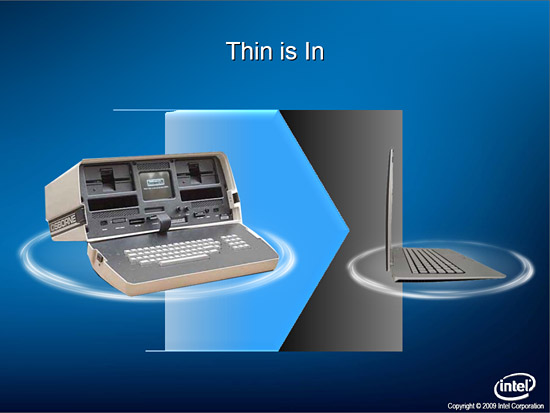 "Thin is In" was the mantra in Intel's press briefing today.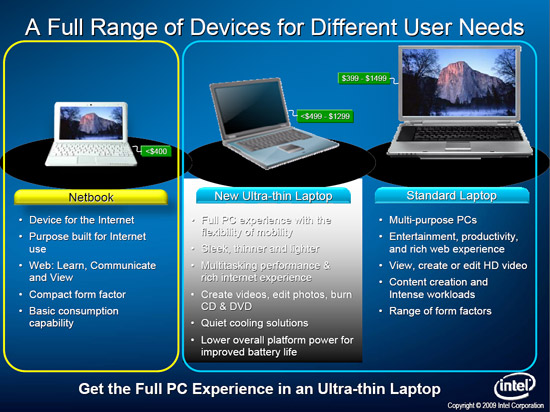 Intel believes the next big wave in notebook design (with Netbooks leveling off in the near future) will be very thin consumer laptop PC designs with long battery life, well rounded performance, and all of this at mainstream price points. In other words, an Apple MacBook Air persona with prices ranging from $499 to $1299.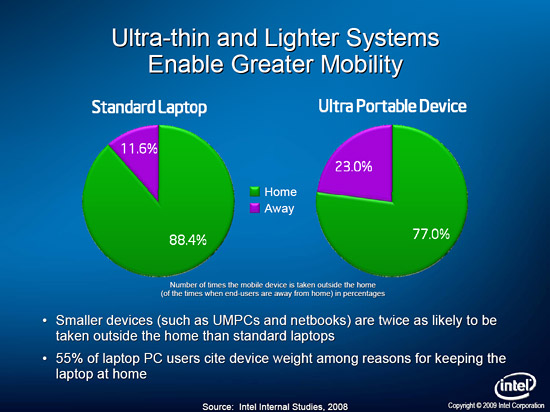 Intel's internal focus groups performed several studies over the course of the last year and found in their research that portable devices like UMPCs or Netbooks are twice as likely to be taken outside of the home than standard laptops. Over 55% of the respondents indicated that device size and weight were among the primary reasons for keeping a laptop at home.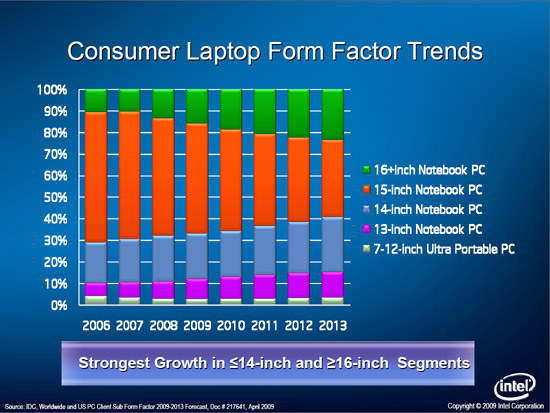 Intel also provided outside analysis that indicates the strongest growth in the Consumer laptop market will come from the sub 14-inch and greater than 16-inch panel designs. Intel considers any portable PCs with screen sizes below 10.2" to be a Netbook or possibly a UMPC design at the very low end. They are targeting the 11.6" and 13.3" panel market for their ultra thin notebook technology at this point. In fact, their internal estimates indicate that up to 20% of the portable market will be ultra-thin designs by the end of this year.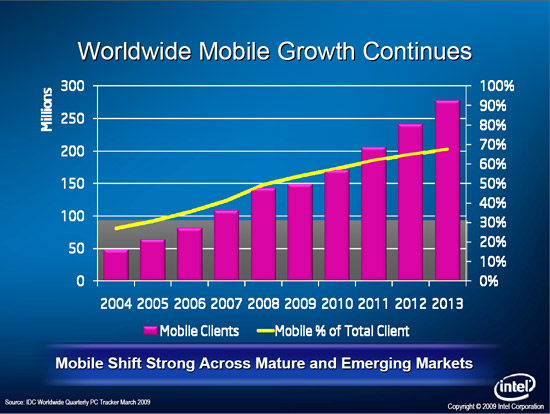 The Mobile PC market continues to grow at a steady pace with over 50% of PC shipments being mobile products as of late 2008 with the trend continuing this year and then reaching a 70% peak rate in 2013. Intel truly believes (we have heard the same from AMD) that the PC market will start to take off again by the middle of 2010 with double digit growth returning for the near future.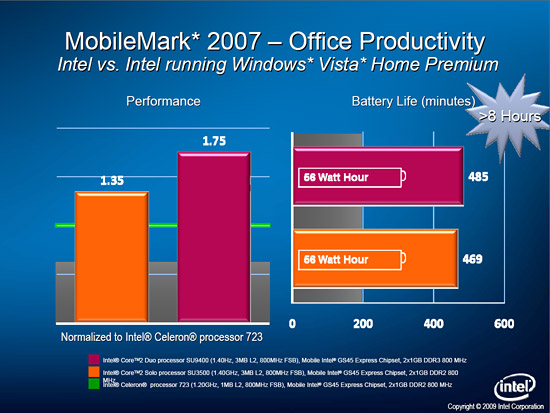 Of course, besides pushing the Ultra-Thin notebook design today, Intel also discussed performance and battery life with the new ULV processors. Their test system, an Acer Aspire 3810T with the 1.40GHz SU9400, GS45 chipset, 2GB DDR3-800, Seagate 250GB 5400RPM drive, 13.3" panel, 56W Battery, and Vista Home Premium was able to last 485 minutes when running the MobileMark 2007 Office Productivity test suite with a new beta BIOS from Phoenix Technologies that is optimized for the new ULV processors.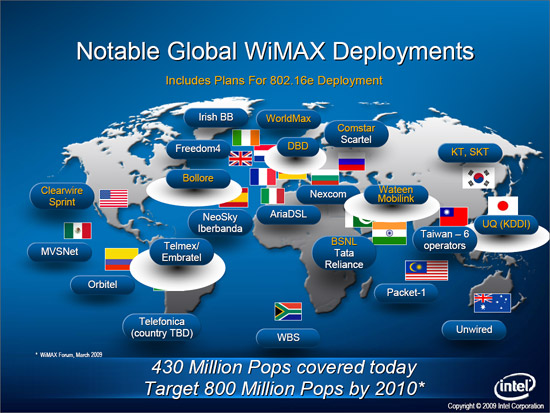 Intel is still heavily promoting WiMAX as the future in wireless communication, especially when paired with a mobile device like a Netbook or Ultra-Thin notebook (editor - especially when utilizing their chipsets). Although the WiMAX roll out time line and estimated number of Pops have been hurt by the worldwide recession, Intel still projects significant growth in this market through 2014. It appears at this time that the Russian and Taiwanese markets are experiencing the greatest growth trends in both users and infrastructure build out. Intel commented that 16 OEMs have announced full embedded WiMAX support for their laptop models with promises that over 100 different models should offer WiMAX capabilities by the end of this year.