As you may know most external drive enclosures do pretty much the same thing. They allow a simple method of adding additional external storage to your system and allow you to take this on the go if needed. In my opinion, the differences between these units fall under three main categories.
Quality. Is the unit built cheaply or is it designed to last? Does the unit keep the drive from baking itself? (Heat is the enemy you know)
Ease of use. Is the unit designed in such a way to allow easy installation and removal of the drive(s) you have?
Features. Does the unit allow for multiple connectivity options? Will it do your taxes for you? (well maybe not the last part)
There is also price to consider, and of course most of the time the cheaper you go the more sacrifices you will have to make on one or more of these categories. With this in mind today we want to look at a new unit on the market that makes the claim to fill the above categories, and do so without breaking the bank in the process. With the economic climate we are currently in saving a few coin is always a good idea, if, you don't have to sacrifice on what is obviously important.
You might have noticed by now that we did not mention performance first. Well, it is difficult to screw up an external drive enclosure and to date; all of the enclosures we have tested are basically equal in USB or eSATA performance. Where we do notice differences is in drive temperatures and acoustics. Each case design from the various suppliers all perform differently in this regard. We will discuss our results shortly, in the meantime let's take a quick look at this unique offering.
The unit in question today is the "Hover" by HornetTek, which also makes the claim: "Designed to be streamlined and stylish, the Hover suits the high quality demands of external storage users.".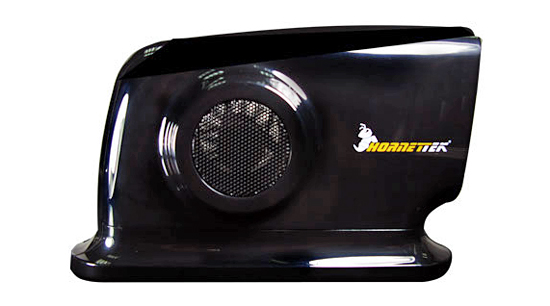 Does it? Well, looks don't rate as high in my book as quality or features but while you're at it, why not make it look cool! Of course, what is cool to some is an eyesore to others. Let's take a look at the advertised features of the Hover.
The Hover features:
Universal fitting for 3.5" SATA I / II HDD
Back panel Power ON/OFF switch
SATA I / II, speed up to 3G/sec
USB 2.0 support
Operates at High (480Mbps) or Full (12Mbps) speed.
Power: 24W AC Adapter UL/CSA/TUV/CE
AC input: 100-240 VAC. (47Hz~63Hz)
DC output: 12V / 2A
Material: ABS 94V0 shell (Aluminum Cover and internal metal Shielding)
Dimension (L x W x H): 225x 144.5 x 68 mm
OS Supports Win 2000/ME/XP/Vista, Mac OS 9.x/10.x and above, Linux 2.4.1.0 or above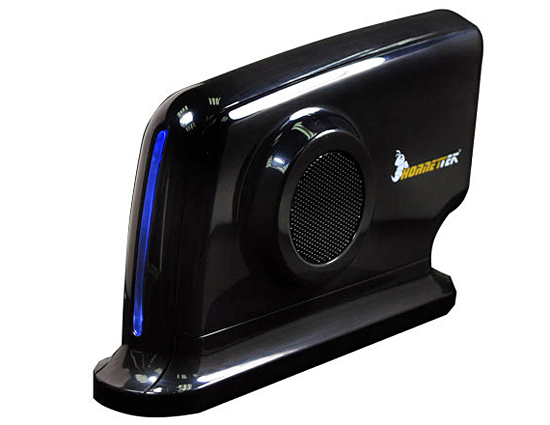 At first glance I will have to say the unit looks different, something like a mix between a souped up external drive enclosure and a fan blower with a touch of retro Alien styling. This may seem odd to some but it does actually make sense, as this unit has two 50mm fans, one on each side, which are built in to directly cool the drive with a few dozen exhaust ports (actually 23 holes about the size of the lead of a number two pencil) to allow the hot to exhaust. I like this design as it is simple and allows me to not have to worry about a hot drive causing premature failure. The fans are not really loud at all and after running a drive for a couple hours and checking the heat it is very close to the temperature as one installed internally in my Thermaltake Spedo case.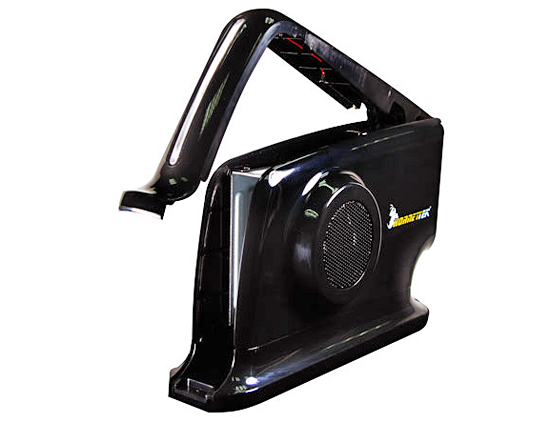 Another nice design aspect is the method to installing a drive in this enclosure. One screw at the bottom front of the unit allows for flip open easy access to the drive bay where you slide in your drive; bolt it down with a couple screws and in minutes you are ready to go. Careful with that screw however as it holds the mechanism that covers the drive and its bay. The screws are small but as long as you are careful, they do the job just fine.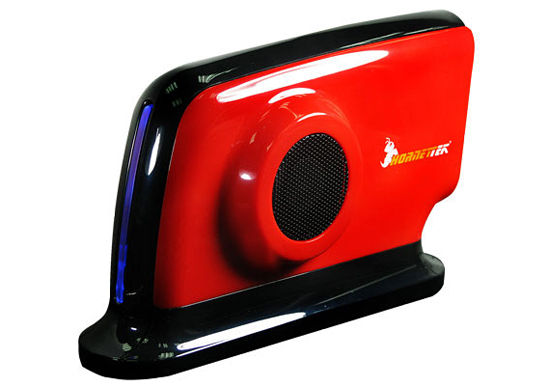 The unit is available in 6 different colors: black, blue, yellow, orange, red, and white so variety is not a limitation here. With a different look (retro Alien styling), very good cooling, and colors galore it seems to me as if we are starting to get a little more bang for the buck when it comes to external enclosures. Be forewarned the front of the unit has a vertical light strip about 3 inches long and about a 1/4 inch wide that is a fairly bright blue light that may annoy some although I didn't find it to distracting.
If you look at the Hover's build quality most would be very happy with the solid construction. The outer casing is hard plastic but does not seem flimsy or cheap. Internally the unit seems very solid and the metal shell holds the drive without worry. In regards to ease of use the unit is very well designed for installation and removal of drives when needed. I would like to point out that some sort of tool-less latch would have improved this design so that the drive could be added or removed without tools.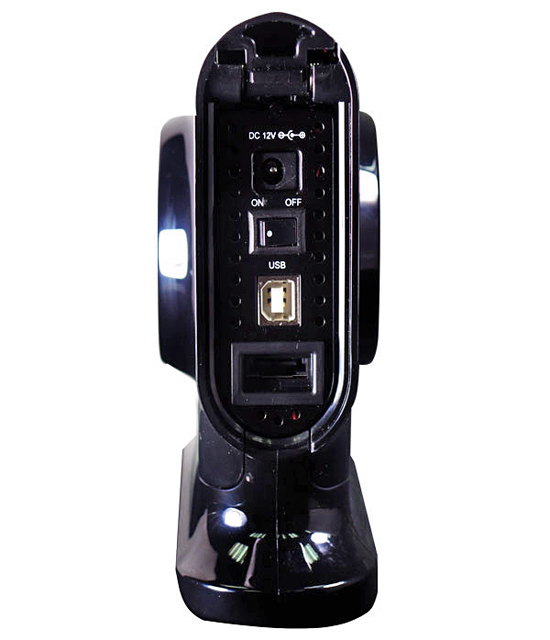 Still, you can add a drive to this unit in less than 5 minutes easy, so it isn't really that much of a concern for most users. For features, the Hover has eSATA and USB 2.0 connections, which are probably the two most used standards for PC's today. HornetTek could have added Firewire but left it out to save costs. In my opinion that was a smart move, but there will be users who insist on Firewire capability and will have to look elsewhere .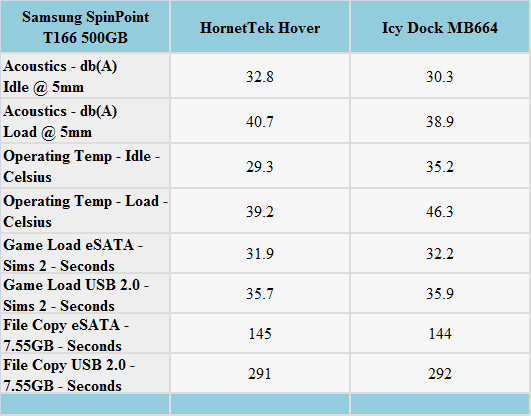 eSATA and USB speeds are on par with other units like the ICY Dock enclosure we compared it against. I have to give it to the guys at HornetTek the unit does run nice and cool while looking the part. However, in order to have the cooling performance advantage it does require an increase in acoustics. As mentioned earlier, the sound did not bother me and was not noticeable when sitting next to my case at the base of the desk. However, for those who might place the unit on the desktop next to the monitor, there will be a slight humming noise coming from the fans.
If you are in need of adding some external storage with your own hard drive this is a nice unit to get the job done. Keep in mind that most units out there do not have quite the cooling package, color selection, and ease of installation in an all in one package.
In closing I would have to say this is a really nice external enclosure with good features, quality, and looks, not to mention ease of use and a favorable price tag of about $35. Some will probably not be crazy about the styling of this unit, but it still performs very well. To be honest, you just can't please everyone now can you?