Just a few days left until the gates of CeBIT in Germany will open. Cooler Master sent us a few pictures of what they will be showing in their meeting room at CeBIT. Cooler Master's engineers had the idea to show off what a Cooler Master power supply can handle and built a system consisting of five Mini ITX motherboards with each one Intel Core 2 Quad Q9400s processor. The motherboards are nicely build into a single chassis. The Cooler Master ATCS 840 looks in fact pretty cool with these five systems installed getting the attention it was built for. The clue is that all of these systems are powered up by a single power supply: the Realpower M1000W. The pictures show all of the systems are fully loaded and working fine.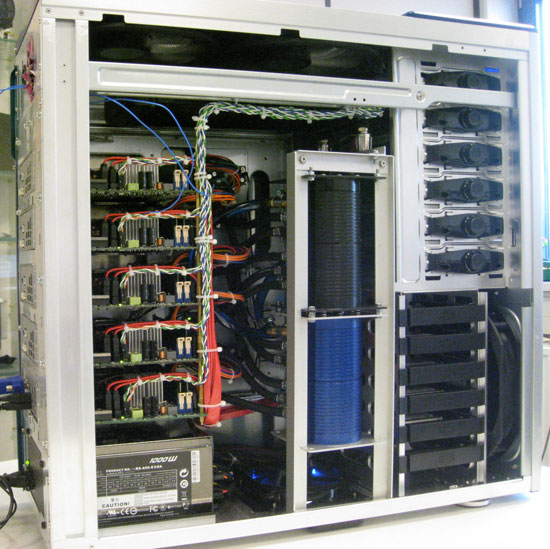 To make it clear that Cooler Master is not doing magic here. The processors have a TDP of 65 watts and fully loaded they might not even pull 300 watts from the power supply altogether. In addition there is water cooling, hard drives and fans but still the power supply might still run only at 60 to 70% of its rated maximum output. If there would have been space Cooler Master should have installed a few more systems maybe. Five systems with only one power supply will look already impressive to most of the visitors at CeBIT though and if you have seen Enermax showing off how they run four CPUs, a couple of graphics cards plus 24 hard drives with one power supply you'll know how to get the right attention. On a little side note I would like to add that the internal of the chassis looks really well made and it might give some ideas to the modding folks out there.
Maybe some people might realize now how low the power consumption could be with some setups and not following the hype about megawatts too easily anymore?