We have been testing the overclocking capabilities of the Phenom II X4 940 (seriously, who names these products?) for an AMD roundup and have hit the proverbial brick wall. It has not been for the lack of trying or even using a stellar motherboard to test these processors. The motherboard choices have ranged from some wicked little 790GX overclockers from ASRock, Gigabyte, and DFI to the flagship 790FX products from ASUS, MSI, and Foxconn. We even tried a few NVIDIA 780a based motherboards along with a slew of newly arrived AM3 compatible boards. We changed cooling, processors, video cards, disk drives, memory, and tried every available voltage setting. It did not matter. We could not break the 4GHz barrier and still complete our benchmark test suite.
The only commonality between our 30 different setups is the operating system. We recently standardized on Vista Ultimate 64 SP1 for testing. Granted, we had this same problem when our 940 engineering samples first arrived and we asked AMD about it. However, AMD never did get to the bottom of it before the launch date. We thought our results might change with retail processors. Alas, they did not. We have four retail CPUs, three with 0850 lot codes and one from the 0849 batch that all behave the same way under Vista 64.
Our final benchmark stable clock speed is 3.955GHz reached via a 17.5 core multiplier and a 226 HTT setting on our . This required a 1.6V VCore setting (with droop, real voltage is around 1.585V) on our DFI DK 790FXB-M2RSH motherboard. Memory speed is DDR2-1205 at 5-5-5-18 timings with VDimm at 2.060V. This is the setting we will utilize in our upcoming roundups. We mention it now as our Core i7 920 will operate at 4GHz and Q9550 at 4.25GHz, not exactly fair, but we are looking at platform capabilities on air cooling in the overclocked sections. As one would say, it what it is.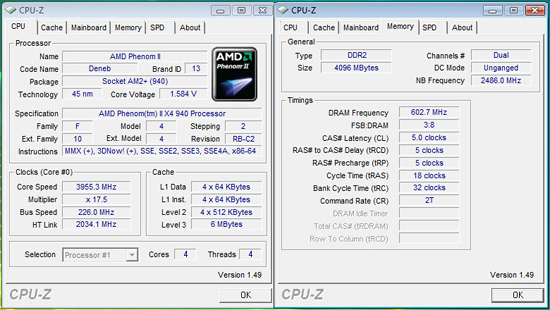 What is really strange is the behavior of the OS and Phenom II X4 940 at the 4GHz mark. We actually have 3.990GHz (19x210) stable for all tests except Crysis and the PCMark Vantage TV/Movies test suite. With that in mind, a simple change to 19x211 for a 4.009GHz clock speed results in the majority of our tests failing. We sometimes have trouble even entering Vista at 19x211, while 19x210 is about 97% benchmark stable. We have tried every possible combination (20x200, memory at DDR2-800, 1GHz NB speed, etc.) and even chilled the processor down to 16C and raised processor voltages above 1.7, nothing worked above 4GHz.
At least under Vista 64 as Vista 32 was much different. The settings mentioned earlier allowed us to reach a stable 4.275GHz (19x225) with the same components. However, we are not utilizing Vista 32 in testing anymore, especially considering our standard benchmarks are completed with 4GB and 8GB configurations on the DDR2 platforms. As such, it appears at this time that any overclocking comparisons will be limited to under 4GHz on the AM2+ and AM3 platforms. We have addressed this problem with AMD again and hopefully an answer is forthcoming. In the meantime, we figured out a way to get a screenshot above 4GHz before we received the standard BSOD routine. At least it is a consolation prize at this point.